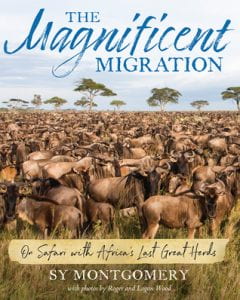 Montgomery, Sy. The Magnificent Migration: On Safari with Africa's Last Great Herds. Houghton Mifflin Harcourt, 2019. 162 p. $24.99. 978-0-544-76133-1. Grades 5-8. 
Noted nonfiction writer Montgomery joins with wildebeest expert Dr. Richard Estes and others to witness the amazing migration of the wildebeest (gnu) on Africa's Serengeti. She narrates the entire journey, inserting the notable backgrounds, expectations and hopes of the various travelers involved. Readers learn of the life cycle of wildebeests (a life of constant migration) and their impact on other species, the ecosystem, and humans. Montgomery succeeds in communicating a sense of awe of the animals and the scenery surrounding the researchers, and shares numerous specific events and important information on other migratory animals worldwide, such as monarch butterflies, Christmas Island red crabs, and Arctic terns. This pulls in readers who may be unfamiliar with wildebeests, but certainly recognize migratory stories of other species. Notably, she highlights the North American buffalo, once so numerous that in 1871, a soldier on horseback was surrounded for six days by a single herd (59) and now hunted nearly to extinction and relegated to comparable tiny plots of land. Their demise, she maintains, impacted the species, weather, economics of the North American region for years–and serves as a warning to protect remaining wildebeest populations and migration as well. With this book, Montgomery proves the worth and beauty of this species and region, leaving us to agree, "the whole world has a stake in keeping this greatest African savanna ecosystem alive…Serengeti must not die!" (Estes, The Gnu's World 2013). 
THOUGHTS: Beautifully photographed and shared by experts, this book invites readers to explore wonders of the world. This book is best for mature readers who can handle the life and death of various species, as well as the mating experiences described. A fine addition to animal research and understanding for middle or high school libraries.
591.56 Animal Migration          Melissa Scott, Shenango Area SD
---
Chokshi, Roshani. Aru Shah and the Song of Death. Rick Riordan Presents, 2019. 978-1-368-05203-0. 365 p. $16.99. Grades 4-7.
The second book in the Pandava series drops readers in the middle of a search for a demonic presence, complete with rampaging zombies. Aru and her Pandava sister, Mini, reincarnations of Hindu demigods, are on a mission to find the bow and arrow of the god of love. Unfortunately, the last person seen with the magical implements looked an awful lot like Aru. To prove her innocence and maintain her place among the celestial gods, Aru must locate the weapon within 10 days. Going with her is Mini; Brynne, another Pandava; and Aiden, the cute boy who lives across the street from Aru, with a few secrets of his own. After a quick shopping trip at the magical Costco, the four begin their quest. While Aru and Mini have experience working together, the addition of Brynne and Aiden requires a rocky adjustment for all of them. Will the foursome pull together in time to save Aru's future? The nonstop action and humor are liberally sprinkled with Hindu mythology, and the spunky heroines are a welcome addition to the mythological fantasy genre.
THOUGHTS: Percy Jackson fans should flock to this funny, adventure-filled series, as well as anyone who loves wisecracking demigods.
Fantasy (mythology)          Nancy Nadig, Penn Manor SD
---
Ruby, Laura. York: The Clockwork Ghost. Walden Pond Press, 2019. 978-0-062-30696-8. 446 p. $17.99. Grades 4-8. 
Tess and Theo, the Biedermann twins, and their friend, Jaime, are back for more puzzle-packed adventures in book two of Laura Ruby's fascinating series, York. For those who have not read the first book, Ruby succinctly recaps the story in the first chapter. The three friends attempted to keep an unscrupulous businessman from purchasing their apartment building, one of several in New York City erected by the legendary Morningstarr twins who were inventors of mechanical marvels, by solving the centuries-old Morningstarr Cipher. In this next installment, the action never stops as the intrepid trio desperately soldier on following the cipher's clues. The mystery is compounded by numerous mysterious blonde ladies in red dresses, and when Tess's therapy cat, Cat, is impounded when a blonde woman claims he bit her, Tess is frantic to retrieve her chimera pet. The story introduces readers to several types of codes as well as early computer programmer Ada Lovelace and other historical characters. The cryptic ending ensures there are more books to come, and readers will be impatiently waiting for the third volume.   
THOUGHTS:  A truly delightful steampunk mystery with relatable, ethnically diverse characters. The action keeps readers on the edge of their seats, and the explanation of various codes makes them feel like they are solving the Cipher right along with the three friends.
Science Fiction          Nancy Nadig, Penn Manor SD
---
Williams, Alicia D. Genesis Begins Again. Caitlyn Dhlouhy, 2019. 978-1-481-46580-9. 364 p. $17.99. Grades 5-9.
Genesis is thrilled to be bringing a group of girls home after school; finally, she thinks, she has been accepted by the popular clique. But delight quickly changes to mortification when Genesis sees her family's possessions laid out on the front lawn. She knows what this means: they have been evicted, and the all-too-familiar routine begins again. Her father spends too much time drinking and gambling, and Genesis suspects it's all her fault. She's not pretty or light-skinned like her mother, which her father points out to her when he's mean-drunk. Genesis decides to change herself, to become someone her father will love. But she eventually discovers it is more important to love herself. The story deftly explores self-image as well as prejudice among African Americans. Is it better to be paler, to be able to pass as white? Is straighter hair more desirable? Genesis is disturbed to hear her grandmother's reminiscence of her own father who would not let his daughters "marry down," or marry a darker-skinned man, stories that only increase Genesis's desire to lighten her skin.
THOUGHTS: Besides deftly addressing the issue of self image in teen girls, this book provides an unusual insight into African American culture and deserves to be in all collections.
Realistic Fiction          Nancy Nadig, Penn Manor SD
---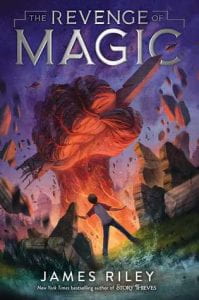 Riley, James. The Revenge of Magic. Aladdin, 2019. 978-1-481-48577-7. 400 p. $17.99. Grades 4-7.
Fort Fitzgerald was having a great time seeing the sites of Washington, D.C. (except when his father insisted on embarrassing him) until everything turned crazy. The earth shook, the visitors at the monuments started walking calmly away from the mall, and then a giant fist emerged from the ground. A voice in Fort's head is loudly urging him to RUN, but he turns back to find his father, and that's when he sees his father grabbed by the giant fist and pulled underground. Six months later, Fort is invited to enroll in a school to learn magic, powers that emanate from a set of ancient manuscripts found 13 years ago. Magic to destroy monsters like the one Fort saw. While Fort is thrilled at the thought of hurting the monsters, it soon becomes obvious that several factions at the school do not want him there, calling him dangerous. Few students befriend him, and he is given impossible tasks to complete in the classroom. But Fort is determined to stay, by any means possible, including the assistance of a student no longer at the school, who reaches out to Fort's mind, as well as a small band of friends with unique powers of their own. Everything he learns makes him more determined to learn enough to seek his revenge. This first book in a new series is action-packed from the first pages. Readers will enjoy Fort's journey learning magic spells, and the secondary plot of why Fort is deemed dangerous promises more books to come.
THOUGHTS: Magic/adventure fans will find much to enjoy with this book. Lively plot and engaging characters will leave them anxious for the next book.
Fantasy (Magical Realism)          Nancy Nadig, Penn Manor SD
---
Older, Daniel José. Freedom Fire. Arthur A. Levine Books, 2019. 978-1-338-26884-3. 277 p. $16.99. Grades 3-6.
Magdalys Roca and her friends, human and dinosaur, are back in this action-packed sequel to Dactyl Hill Squad. After a short plot recap that will assist readers new to the series, the story picks up with the Dactyl Hill Squad, refugees from the Colored Orphan Asylum in New York City, flying pterosaurs south to New Orleans, looking for Magdalys' brother who was injured in the Civil War. After literally dropping in on the Louisiana Native Guard, an all-black unit fighting for the North, however, the group is soon forced to realize that they cannot avoid becoming involved in the war. Magdalys' dino wrangling skills are too valuable to the Union Army. Older creatively works a Civil War history lesson into the nonstop action leading up to the Battle of Chickamauga, mixing historical figures and events into the dino action. The black soldiers of the Louisiana Native Guard talk with the youngsters about why the are fighting, and Magdalys comes to understand that no matter how high she flies on her beloved Pterosaur, Stella, she cannot rise above taking sides in this ugly war. The story is captivating, with an all-star cast of characters and dinos. The action rarely pauses, and young readers should flock to this series. Older supplies a plethora of author notes to assist readers in determining fact from fiction ("There were no dinosaurs during the Civil War era!"), including information on the Civil War, dinosaurs and weapons.
THOUGHTS: There is so much to love about this series. Students may read it for the dinos, but they will take away much more. This series should be a middle grade first purchase.
Historical/Sci-Fi          Nancy Nadig, Penn Manor SD
---
Myklusch, Matt. Order of the Majestic. Aladdin, 2018. 978-1-534-42487-6. 421 p. $18.99. Grades 3-7.
Myklusch, author of the Jack Blank Adventures series, creates another endearing hero and intriguing world with Order of the Majestic. Joey's innate cleverness has finally gotten him into big-time trouble. A semi-serious slacker, Joey has, nonetheless, managed to ace his standardized tests. His parents are delighted with their prodigy of a son and seek to enroll him in the elite Exemplar Academy despite Joey's repeated pleas not to. However, Joey is left speechless when the entrance exam for the school consists of learning magic tricks and ends with him suddenly transported into a different world. Joey meets Redondo the Magnificent, an elderly magician, and learns that magic is real. He quickly becomes embroiled in a bitter battle for the future of magic. While Joey feels inadequate to be part of the fight, having no magical heritage, his quick wit and super-hero knowledge aid him as he attempts to prove to Redondo that he belongs in the magical world. While many plot points feel like they owe a good deal to Harry Potter books (particularly "the wand chooses the wizard"), the characters and setting are engaging and readers, will quickly become swept up in Joey's adventures.
THOUGHTS: Fans of magic and wizardry, particularly those who are not ready for Harry Potter, will flock to the new series. 
Fantasy (Magical Realism)          Nancy Nadig, Penn Manor SD