Brockenbrough, Martha. Cheerful Chick. Illustrated by Brian Won. Arthur A. Levine Books, 2019. 978-1-338-13418-6. $17.99. Unpaged. Grades K-3. 
The first of her nest to hatch cheerful chick "came out peeping" in full cheerleading costume reminiscent of mid-20th Century cheerleaders. Determined to fulfill her dream of creating a barnyard team, cheerful chick practices her routine with daisy pom poms. The adult animals have no time for cheerful chick as each is too busy or bothered by her pep. Disheartened after all the animals turn her down, cheerful chick begins to rethink her dreams. When she decides to be who she wants the rest of her nest joins in and a fun cheer closes the story with a now supportive group of barnyard friends. Brokenbrough subtly encourages children to be who they are no matter what others say, while Won's digital illustrations mixed with paint and pencil enhance the light-hearted, cheery feel of this text.
THOUGHTS: This fun rhyming text would be a great read aloud opportunity to get students up and moving.
Picture Book          Maryalice Bond, South Middleton SD
---
Johnston, Tony. The Magic of Letters. Illustrated by Wendell Minor. Neal Porter Books, 2019. 978-0-823-44159-4. $18.99. Unpaged. Grades K-3. 
Led by Minor's whimsical rabbit, children are told that "Letters hold magic." Colorful graphite and collage illustrations convey Johnston's message of the power of letters and words. This text would serve as a great small group read aloud for primary classrooms where children are practicing letter recognition. Older or more skilled students could have fun making their own words or nonsense words with pre-cut magazine letters to mimic the illustrations. Some sentences like "The flibbertigibbet ate an enchanted quesadilla and became an acrobat, who slipped on a trout – clunk!" may be a little daunting for emerging readers. Small group reading will ensure this work helps children experience the magic that letters hold.
THOUGHTS: This entertaining read will show children that they can have fun with letters and words and is a great book to accompany alphabet review or nonsense word units.
Picture Book          Maryalice Bond, South Middleton SD
---
McDaniel, Breanna J. Hands Up! Illustrated by Shane W. Evans. Dial Books for Young Readers, 2019. 978-0-525-55231-4. $17.99. Unpaged. Grades K-3. 
Throughout her childhood, a young girl raises her hand. From getting ready in the morning and playing with her parents to being excited in class "pick me, Ms. B!" and reaching for a library book on the top shelf, she experiences many positive hand-raising situations. There is also the occasional fall too where she raises her hand for help. Evans' colorful, textured illustrations enhance the light, cheery feel of the text. Diverse raised hands are reaching for a jump ball and giving high fives before the text ends with a peaceful gathering of various people holding signs like "Black Lives Matter," "Spread Love," and "Water = Life," bringing a subtle social awareness to young children. A note from the author and artist explain their motivation for telling this story in this way, and young readers will see themselves reflected in a positive light as they raise their hands. McDaniel and Evans give power to the words "hands up" and show children (whether they realize it or not) this phrase is not only limited to the police.
THOUGHTS: Some children may miss the subtle message this story conveys, but others do not have that choice. Add this book to elementary libraries looking to diversify their collection or add social justice awareness.
Picture Book          Maryalice Bond, South Middleton SD
---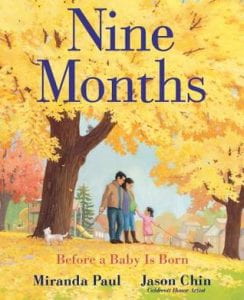 Paul, Miranda. Nine Months: Before a Baby is Born. Neal Porter Books, 2019. 978-0-823-44161-7. 32 p. $18.99. Grades K-3.  
A young family comes inside from playing in the snow. A few months later they are gardening, and Mom's belly has grown. Before long it's time to build a crib. Meanwhile, the reader gets a sneak peek of a life that is growing behind the scenes. This book expertly captures all of the miraculous changes that take place while one family awaits a new arrival. From fertilized egg to infant, each rhyming two page spread follows as a family of three becomes a family of four. Lifelike and occasionally, life-sized watercolor illustrations of in-utero development during each month in pregnancy are featured on the left of each vignette. On the opposite side, the illustrations follow the family through seasons and milestones as the baby grows. A new baby on the way brings many exciting changes, and this book beautifully captures that feeling.
THOUGHTS: Young children will be mesmerized by this gentle but stunning glimpse of a baby's development. While this book is sure to become a favorite in any growing family, there is also a lot of teaching potential thanks to the anatomical illustrations of an unborn baby. This book is the perfect balance of science and family to help children understand pregnancy while leaving the door open for a biology-based gentle introduction to sex education. 
613.9 Picture Book          Jackie Fulton, PSLA Member 
---
Bolts, Russ. Bots #1: The Most Annoying Bots in the Universe. Little Simon, 2019. 978-1-534-43688-6. 124 p. $16.99. Gr K-3. 
What happens when scientists send rockets with cameras inside to find the end of the universe? For a long time…nothing. Until one day, long after everyone (even the scientists) have lost interest the cameras finally reach Mecha Base One where they are undetected by the all-robot inhabitants. Back on earth, humans are rapt when video of the alien planet begin streaming. Hilarity ensues when two blundering besties Rob Ot and Joe Bot encounter the cameras and begin filming their antics for a dedicated following light years away. 
THOUGHTS: Black and white graphics combined with just enough text for beginning readers and a healthy dose of humor make this a great introductory graphic novel for early elementary students or an enticing hi-low selection.
Graphic Novel           Jackie Fulton, PSLA Member
---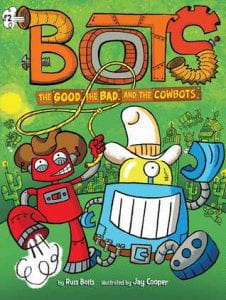 Bolts, Russ. Bots #2: The Good, the Bad, and the Cowbots. Little Simon, 2019. 978-1-534-43691-6. 124 p. $16.99. Gr K-3. 
Rob Ot and Joe Bot are back, and this time they are headed on a field trip to the Wild Robo-West to learn about life in robot frontier towns. Hilarity ensues when the Bots try their best to become real life Cowbots. Spittoon spitting and cattle herding prove to be a bit too advanced, so the tour guide moves right along to stagecoach robbing. Fortunately for the Bots, even the baddest bot in town is no match for Tinny Bot who rides into town just in time to save the beloved Bots from becoming scapegoats to an evil plan. 
THOUGHTS: Black and white graphics combined with just enough text for beginning readers and a healthy dose of humor make  this a great introductory graphic novel for early elementary students or an enticing hi-low selection.
Graphic Novel          Jackie Fulton, PSLA Member
---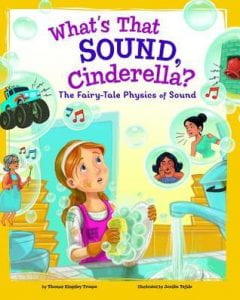 Kingsley Troupe, Thomas. What's that Sound Cinderella? The Fairy-Tale Physics of Sound. Picture Window Books, 2019. 32 p. $7.95. 978-1-515-82897-6. Grades K-4. 
Kingsley Troupe, Thomas. Keep it Simple, Rapunzel! The Fairytale Physics of Simple Machines. 978-1-515-82895-2.
—. Move on up that Beanstalk, Jack! The Fairy-Tale physics of Forces and Motion. 978-1-515-82894-5.
—. What's the Matter, Three Little Pigs? The Fairy-Tale Physics of Matter. 978-1-515-82896-9. 
Modern fairytales meet STEAM inspiration in this classic Cinderella story with a twist. As usual, Cinderella is abused by her nasty stepsisters, but that doesn't stop Cindy from making scientific observations about the properties of sound. When the stepsisters are loud and clumsy, Cindy notes that sound vibrations can travel through walls and can even be seen in a bucket of mop water. When it's time for Fairy Godmother to arrive to get ready for the ball, things really get loud! Instead of traveling by coach Cindy, jumps right into her monster truck and learns all about decibels on her way to the palace. When the clock strikes midnight, Cinderella mentally reviews everything Fairy Godmother has taught her and manages to make it home just before the magic ends. When the Prince comes in search of the girl who fits the glass high-top she left behind, it is sound that brings Cindy to his attention. Full color digital illustrations add to the modern feel of this book. It's refreshing to meet a Cinderella who is distracted by scientific observation rather than romance. Small facts are scattered throughout the text and reviewed in a way that enhances the storyline without disrupting the joy of reading a fairytale. Last pages feature a glossary, extension questions, and additional resources.. 
THOUGHTS: This book is a great addition to any fairytale collection. It's also a great springboard for STEAM lessons and discussions about the five senses and observation. I really love that this book captures everyday science and makes it relatable for young children.  
534 Picture Book          Jackie Fulton, PSLA Member
---
Biedrzycki, David. SumoKitty. Charlesbridge, 2019. 978-1-580-89682-5. 48 p. $18.99. Gr. K-3
When a scrawny stray kitty follows a group of rikishi (Japanese Wrestlers) home to their Heya: the place where they sleep, train, and eat, she has a field day eating all the food scraps she can handle, until…she is caught by the manager. About to be put out on her scrawny tail, a cry comes from the grandest wrestler of them all, Kuma, "MOUSE!" Kuma's fear of mice helps Kitty strike a bargain – she will have all the scraps she wants as long as she keeps the mice away. She has found paradise! As the days pass, the wrestlers train and eat. Kitty eats too. And eats. And eats and…until one day, the mice come back and Kitty is too heavy and lazy to chase them! Kitty is banished. Kuma brings food to her outside and explains that "the cat that does not cry catches the mouse." and "you can fall down seven times, as long as you get up eight!" From then on, Kitty watches through the doorway, and when Kuma trains, Kitty trains. She works as hard as the rikishi, and the next time a mouse frightens Kuma, Kitty catches him with her best Sumo Kitty moves! The Rikishi are inspired by SumoKitty!
THOUGHTS: Children will delight in these gorgeous pictures, funny characters, and Japanese vocabulary sprinkled throughout the book. Wonderful lesson about not giving up!
Picture Book          Eva Thomas, Unionville-Chadds Ford SD
---
Amado, Elisa. My Friend. Groundwood Books, 2019. 978-1-554-98939-3. 40 p. $18.95. Grades K-3
What happens when you find a best friend who looks nothing like you?  What happens when no one around understands why you are friends? The main character in My Friend takes children through being friends with someone who is different than them. The main character's family emigrated to the US from an Asian country. She finds a best friend at school, and the other students don't understand. Then she invites her friend to her house. This is when she realizes how different they are. The main character is suddenly embarrassed by her family's loud arguments at the table and the songs they sing together afterwards. When her friend asks to go home early, she is afraid that they are no longer friends. The next day, though she gets to school and her friend is waiting just like always.
THOUGHTS: This is a great book to show how even people who are different can be friends. Perfect for beginning of kindergarten and first grade when students are learning about how to be friends and that not everyone looks and speaks like them.
Picture Book           Arryn Cumpston, Crawford Central SD
---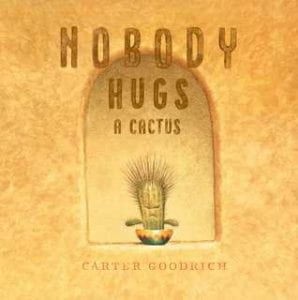 Goodrich, Carter. Nobody Hugs a Cactus. Simon & Schuster, 2019. 978-1-534-40090-0. 42 p. $17.99. Grades PreK-3.
Hank the cactus is as prickly on the inside as he is on the outside. He sits in a pot and looks out his window and loves his quiet solitude. As different desert characters come by (a tumbleweed, tortoise, jack rabbit, and coyote), Hank gets more and more upset. He then yells at a cowboy who replies: "it sounds like you need a hug, too bad no one will hug a cactus." Hank insists he does not want a hug but then starts to think, and realizes that may be a hug wouldn't be too bad, but who will hug him? Hank realizes for the first time that he is lonely. Hank finds himself in trouble when a cup gets stuck to his face and he can't get it off. Hank learns a lesson of humility when Rosie the tumbleweed comes and takes it off his face and doesn't even wait for a thank you. Hank wants to do something for Rosie, so he grows her the prettiest flower. This book is full of amazing desert colored pictures. The style and color fits perfectly into the desert landscape, and the front and back spreads tell the story on their own.
THOUGHTS: I love this book for the multiple lessons that it could be used to teach: This book could be used for the older students to introduce a biome or desert project. It could be used around Earth Day to talk about the garbage that gets stuck to Hank. This book would be a great social story for younger grades for talking about being kind to others, even when they are not kind to you.
Picture Book          Arryn Cumpston, Crawford Central SD
---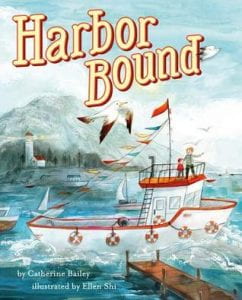 Bailey, Catherine, and Elen Shi. Harbor Bound. Disney/Hyperion, 2019. 40 p. $16.99. 978-1-484-79952-9. Grades K-3.
Bright bold pictures pull you right into this rhythmic poem-like story of stormy seas. With few words on each page, readers are guided through the pictures as you watch the story unfold.  
THOUGHTS: I love how the bold colors in the picture contrast with the calm rhyming words of the poems. The story would be great introduction to poetry or could be used in art to show use of color, line, and shading.
Picture Book          Arryn Cumpston, Crawford Central SD
---
Park, Linda Sue. Gondra's Treasure. Clarion Books, 2019. 978-0-544-54669-1. Unpaged. $17.99. Grades K-2.
East meets West in this charming picture book by Linda Sue Park. Gondra is a little dragon whose parents hail from different parts of the world. Her mother is a Western dragon, which means she has wings and breathes fire, while Dad is from the East and breathes mist and carries a magic pearl. Gondra tells us all about her parents as she tried to understand how she fits in. Does she show more characteristics of a dragon from the East or from the West? She realizes that she has features of both her parents and that just being herself is what makes her special. This dragon family does not need gold or magic pearls because they have each other which is their real treasure. Reinhardt's illustrations are whimsical and show the uniqueness of each dragon. The drawings of Gondra are adorable, and she is always pictured with her stuffed animal (a cow!) and with her pet Siamese cat. Children will enjoy poring over the illustrations and will chuckle to find that Gondra has brought familiar dragon tales to bed, like My Father's Dragon. In the back matter, Park discusses some theories about the origin of the dragon myth and possible reasons why cultures on opposite sides of the world developed a similar mythical creature.
THOUGHTS: Young readers who love dragon books will enjoy this one. A worthwhile purchase for elementary collections. 
Picture Book          Denise Medwick, Retired, West Allegheny SD