Smith, Ronald L.  The Owls Have Come to Take us Away. Clarion Books, 2019. 978-1-328-84160-5. 215 p. $16.99. Grades 6 and up.
Written in the matter-of-fact tone of Gary D. Schmidt's Orbiting Jupiter, but with the insidious, surreality of Kenneth Oppel's The Nest, Ronald L. Smith's latest offering is a strange blend of science fiction and heart-wrenching realism. Simon, our narrator, is a twelve-year-old boy whose favorite pastimes are playing EverCraft, reading fantasy and science fiction books (especially about aliens, or "Grays" as Simon calls them), and writing his own fantasy novel entitled Max Hollyoak and the Tree of Everwyn, chapters of which are interspersed throughout the book. He and his family live on an Airforce base in Maryland, one of several he's lived on over the years. Given his nomadic lifestyle, Simon struggles with his social life. He is bullied at school, partially because of skin color (his mother is black, his father is white), and partially because of his hobbies and interests, and his only friend, Tony, is away in Mexico for part of the summer, leaving him lonelier and more isolated than usual. When his parents force him to go camping, Simon experiences a terrifying and traumatic event out in the woods: he has an encounter with a Gray. His proof? There is a small scoop in his stomach, and he can feel something hard (an implant?) underneath his skin. Although Simon tries to keep this a secret, eventually he confesses to his parents, who, understandably concerned, send him to a psychiatrist. Simon does find unwavering support from Tony, and, surprisingly, from his older brother's girlfriend, Miranda. She introduces Simon to her father, an avid believer, who holds regular meetings with other true believers, all of whom have had their own alien encounters. As the novel progresses, the tone becomes increasingly urgent and ominous, as Simon's predicament grows steadily more bizarre and fantastic. Like Simon, the reader will be left wondering what is actually going on – is this an elaborate fabrication from the mind of a wildly imaginative young boy, or is Simon truly experiencing alien encounters? Smith skillfully navigates the ingrained skepticism of the adults in Simon's world, with the inherent belief of children in otherworldly realms of possibility. The ending of this book will come as a shock to some, and a vindication to others.
THOUGHTS: Hand this book to any middle grade reader who claims they don't like science fiction – after reading The Owls Have Come to Take us Away, they will be sci-fi converts.
Science Fiction          Lauren Friedman-Way, The Baldwin School
---
Kilbourne, Christina. Safe Harbour. Dundurn, 2019. 978-1-459-74518-6. 264 p. $12.99. Grades 6-9.
Fourteen and alone in a new city would be hard enough. Harbour, however, is alone in a new country. Her dad sent her to Canada from her home state of Florida with the promise to sail their boat up and meet her. Harbour isn't worried though; she has her dog, Tuff Stuff, her credit card for essentials, and emergency cash, along with her cell phone to keep in touch with her dad. They are camping in a ravine with plenty of coverage not to be seen or bothered. Harbour soon makes friends with Lanie who is another homeless girl who has plenty of street smarts and loads of compassion for Harbour's unique situation. Life is good until her credit card is declined, and winter is quickly approaching. Even with sleeping bags rated for negative twenty degrees Celsius, Harbour isn't ready for what winter brings. Lanie and Harbour grow closer as Lanie helps prepare Harbour for winter and the possibility that her dad will never come.  Harbour starts sharing some stories about her dad, which is the first glimpse into a bigger problem. Harbour is convinced that there is a plot to blow up all the cities in the United States and that she has to keep Tough Stuff safe because her dad put a chip under his skin that has proof of this conspiracy. As we follow Lanie, Harbour, and Tough Stuff through the story, readers start to feel that there is more to her dad than Harbour knows and that maybe he knew he wouldn't make it. The question is why send her to Canada and why instruct her to camp in that specific ravine. Harbour's father loved her. Even when he was struggling with his schizophrenia, he had a plan to keep his daughter safe and put her where she needed to be. Harbour and Lanie are great characters that show friendship in a very raw way. Lanie sticks by Harbour though floods, panic attacks, and a lost dog to finally help her find a happy ending.
THOUGHTS: This book would be great for middle grade lit circles as it gives a lot of openings for discussion of what makes a good friend as well as mental health.     
Realistic Fiction           Arryn Cumpston, Crawford Central SD
---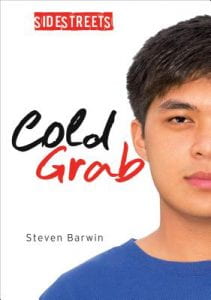 Barwin, Steven. Cold Grab. Lorimer, 2019. 978-1-459-41379-5. 194 p. $8.99. Grades 6-9.
While originally published in Canada in 2018 Cold Grab will be published for the first time in the United States in 2019. Angelo, a sixteen year old boy from the Philippines, has been forced to move to Canada live with his mom. His mom moved to Canada when Angelo was young to make a better life for him. The problem is that Angelo didn't want to leave Paolo, his grandfather and their fishing boats. Angelo is slow to adjust to life in a new country, but he does quickly become friends with Marcus. Marcus introduces him to other Filipino students with whom he hangs out. Angelo soon becomes concerned with if these are the right friends for him when they take him on his first "mission" to steal from people at Easton Center. Angelo is soon too caught up in all the money that he is making by being a part of the gang. Soon it is Angelo's turn, but is he ready? Angelo's thieving ways continue until he is caught between a rock and a hard place. Angelo stole a Mario Lemieux rookie card from Yvonne's employer. The "Queen" with no proof fires Yvonne because of the theft and presses charges against Angelo, though there is no proof of his actions. Can Angelo trust his friends to stick up for him when times get tough, or does he learn the hard way that some people are only out for themselves.
THOUGHTS: This book is a great look into what life may be like for students coming to a new country and trying to figure out a new country. Angelo has a lot of normal sixteen year old emotions of anger and frustration with parents, along with the confusion and loneliness of being in a new place.  This would be a great book for students who enjoy realistic fiction books with a believable plot.
Realistic Fiction          Arryn Cumpston, Crawford Central SD
---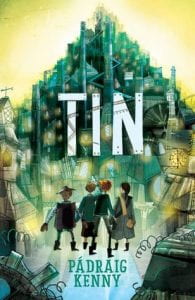 Kenny, Pádraig. Tin. Chicken House, 2019. 278 p. $16.99. 978-1-338-27755-5. Grades 5-8. 
What does it mean to be human? What makes memories stay? What makes memories so important in the present? Christopher is the only "proper" human amid the mechanicals built by Mr. Absalom, his boss. Mechanicals are legal but only child-size and largely for servant functions; strong regulations are enforced by the Agency.  Christopher treats the mechanicals well, even when he, too, is treated badly by Absalom. Jack, Round Rob, Gripper, and their repairer Estelle all wish for better-made bodies, which Mr. Absalom promises will happen if he's able to make a sale. But times are difficult in this mechanical world, and that never happens. Then an accident reveals that Christopher is not fully human, and the Agency swoops in to remove him from Absalom. Suddenly, Christopher is alone, facing piercing questions from engineer Blake, realizing he's been living a life based on "patched" (added) memories, but he's exceptionally important to Blake. Why? Jack, Round Rob, Gripper, and Estelle set out to get Christopher back, and in the process locate Cormier, the finest engineer ever to make mechanicals. Blake is determined to restore his engineer father's dream of powerful mechanicals to defend Britain, and he pushes Cormier to reveal his secrets. The men struggle once more to fight for deeply-felt morals and a chance to vindicate or resurrect family. 
THOUGHTS: Kenny creates a harsh alternative post-WWI history where humanity's advances leave empty mechanicals–and humans–in their wake. Not all nuances of mechanicals (emotions, souls, etc.) are unraveled, but Kenny presents a sufficient history as a backdrop for a story that allows for deeper questions of morality and humanity. Ideal for deeper-thinking fantasy and science fiction readers who love robotics, the focus here is on friendship and humanity.
Science Fiction          Melissa Scott, Shenango Area SD