Rinker, Jessica. Gloria Takes a Stand. Bloomsbury Children's Books, 2019. 978-1-681-19676-3. 48 p. $17.99. Grades 1-4.
This book explains to young readers how Gloria Steinem became a well-known feminist and human rights activist. The use of action words throughout, (listened, marched, observed, wrote) both in the text and in pull-outs, is an effective way to highlight to the reader that change needs action. Gloria is described from a young age as being someone who questioned society's definition of what being a woman meant. She thought "decisions are best made by the people affected by them." Rinker does a great job of using Steinem's own words to help describe her thoughts. The book includes author and illustrator notes, a timeline of important events in U.S. Women's History, and a bibliography. The artwork is colorful and interesting, and the open layout with action words that described Steinem in bigger, bolder copy was well done.
THOUGHTS: I enjoyed this book, and I think it is an ideal way to get young readers interested in biographies. It might also inspire a young child to be like Gloria and work for equal rights for everyone.
Biography          Bridget Fox, Central Bucks SD

---
Higgins, Ryan T. Bruce's Big Storm. Disney Hyperion, 2019. 978-1-368-02622-2. Unpaged. $17.99. Grades K-3.
Endearingly grumpy Bruce the bear prefers to keep a low profile in his neighborhood of Soggy Hollow, but it's hard to do that when his four geese children and three mice housemates are so darn friendly. When a nasty storm is set to hit the Hollow, Bruce's house becomes the central spot for friendly neighbors to wait out the storm (much to Bruce's chagrin). Things grow hairy when a little bunny is stuck outside during the big storm and Nibbs the mouse decides to take Bruce's favorite umbrella, march outside to the rescue, and is whisked away with the bunny. Cue Bruce, everyone's favorite neighborhood curmudgeon, who decides he must save his umbrella (and possibly the animals)…but this wind is mighty strong! The neighborhood animals must ban together to save the day in more ways than one. Ryan T. Higgins created a winning character in Bruce, forever shown with furrowed brown and sullen manner, whose inner soft side shows up at precisely the right moments. Make sure to check out the fantastic front and back endpapers for a few funny differences!
THOUGHTS: Combine it with Bruce's other stories or read it on it's own; either way, readers will love crotchety Bruce and his growing community of affable animal friends. 
Picture book          Lindsey Long, Lower Dauphin SD

---
Howes, Katey. Be a Maker. Carolrhoda Books, 2019. 978-1-512-49802-9. Unpaged. $17.99. Grades PreK-2.
Maker culture inspires lots of great picture books about children creating, imagining, testing, and experimenting, but Katey Howes' story Be a Maker pushes beyond these ideas. Our little girl wakes up in a bedroom (wonderfully decorated with posters of female astronaut Mae Jemison and Rosie the Riveter, books on Hedy Lamarr and Helen Keller, and a chalk drawing of Albert Einstein on her easel), and the story questions, "Ask yourself this question in the morning when you wake: in a world of possibilities, today, what will you make?" We see our little girl make towers, become a one-girl band, build a spaceship, make a new friend, create some food art, start a lemonade stand, and help some neighbors building a new playground. As our girl and her new friend stand on playground equipment at day's end and look around at their diverse neighbors sharing a meal and playing at the new playground in the park, the story questions, "Ask yourself this question as the sun begins to fade: in a day of making choices, are you proud of what you made?" This simple, rhyming story prompts readers to ask themselves a basic but oh-so-important question about the way we're shaping our life through our decisions. Did we make decisions to be kind? To help others? To share our talents? To create something new and exciting? I plan to buy this book for my 4-year-old daughter and read it with her many times over.
THOUGHTS: This simple, thought-provoking story goes beyond making with our minds and hands and extends to making decisions with our hearts. 
Picture book          Lindsey Long, Lower Dauphin SD
---
Hudson, Katy. The Golden Acorn. Capstone Editions, 2019. 978-1-684-46036-6. Unpaged. $17.95. Grades PreK-2. 
The Golden Acorn Hunt is just days away, and eight-year champ Squirrel plans to add another trophy to her impressive collection. The problem? This year's race must be run with a team! Squirrel has a posse of friends ready to join her team, but she has little faith in their abilities, even after a crash course in Squirrel's Treetop Boot Camp. The start of the race finds Squirrel speedily zooming ahead of her friends, only to double back with an annoyed attitude to help a friend in need. It's not until Squirrel finds the Golden Acorn on her own and realizes that it's much too large for one squirrel does she understand why this year's race is a team event. In the end, Squirrel's team doesn't win, but they do finish the race together and Squirrel realizes that her friends are the true prize. Hudson's story will be perfect for a preschool storytime about friendship, kindness, working together, or a lesson in being a gracious loser in games. Illustrations are chock-full of clever details and funny touches.
THOUGHTS: A simple, heart-warming friendship story paired with beautiful autumn illustrations worthy of pouring over with a little reader. Find a cozy spot outside and enjoy under fall foliage! 
Picture book          Lindsey Long, Lower Dauphin SD
---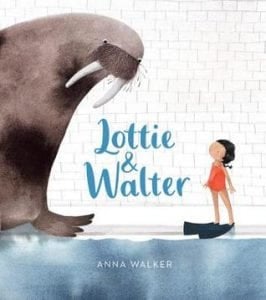 Walker, Anna. Lottie & Walter. Clarion Books, 2019. 978-1-328-47038-6. Unpaged. $17.99. Grades PreK-2. 
Lottie's swim lessons are a disaster. She's so sure that a Lottie-eating shark is lurking in the pool that she's too scared to even dip a toe in the water. One day, Walter arrives at the pool while Lottie sits by the water. Walter heads home with Lottie and she soon learns that he's a delightful singer, enjoys dinners of fish fingers (her favorite!), and plays hide-and-seek with the best of them. Oh, and Walter is a walrus. Swim lessons end with a pool party, and though mom, little brother, and Walter don party hats and watch from the bench, Lottie still can't pluck up the courage to jump in…until she hears a familiar song from the deep end. Swimming with Walter gives Lottie the courage she needs to overcome her fear. The story ends with a full-page spread of Lottie's swim class, laughing and playing, with a happy-looking Walter smack in the middle of the group. Walker uses soft, hazy watercolor illustrations that pair nicely with a story set near water. 
THOUGHTS: A gentle springboard for discussing fears and supportive friends. 
Picture book          Lindsey Long, Lower Dauphin SD
---
Willems, Mo. The Pigeon HAS to Go to School! Hyperion Books for Children, 2019. 978-1-368-04645-9. Unpaged. $16.00. Grades PreK-2. 
Parents, students, teachers, librarians everywhere, take note…the pigeon HAS to go to school. The well-known and highly-loved pigeon paces through the pages, dramatically agonizing over every question in his mind ("What if the teacher doesn't like pigeons?" "What's up with those heavy backpacks?" "What will the other birds THINK of me?"). Parents of school-aged children certainly will recognize some common concerns between elementary-aged children and the pigeon, including a tiny admission from the pigeon ("I'm…scared."). Theatrics continue when the pigeon realizes that school might actually be a great place, and the cherry on top? He gets to take a BUS to school! Fans of the pigeon books will love his newest story, complete with Willems' signature illustrations, but anyone starting a new year school will appreciate the pigeon's comedic expression of fears and excitement. Check out the front and back endpapers for an added surprise.
THOUGHTS: A start-of-school winner that will be enjoyed all year long. 
Picture book          Lindsey Long, Lower Dauphin SD
---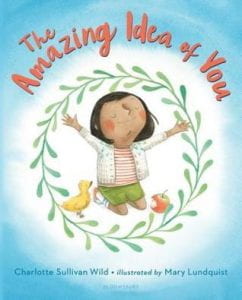 Wild, Charlotte Sullivan. The Amazing Idea of You. Bloomsbury, 2019. Unpaged. 978-1-681-19183-6. $17.99. Grades K-3.
This uplifting metaphorical story is about the hidden potential in each of us. Wild begins the story with an apple and explains that the seed hiding inside will blossom and grow into a tree. She gives other examples of living objects that grow and change, such as a caterpillar to a butterfly and egg to a baby bird. Then readers see an illustration of an expectant mother, accompanied by the author's words that "someone waited…for the promise of you curled inside…" Wild then asks, "What ideas are hidden inside of you?" The story ends with a child planting an apple seed and after time passes, a beautiful orchard develops in that place. The message here is that it takes time and work for your full potential to be realized. Lundquist's softly colored illustrations were created with gouache, pencil, and watercolor. She uses a lot of white space for most of the art, and the muted colors lend a contemplative feel to the story.
THOUGHTS: This is a great book for character units and will help build self-esteem. Wild's book could also be used in career units to allow children to see how goals can be achieved over time and with work. It works well as a read aloud and is a worthwhile addition to any elementary collection.
Picture Book          Denise Medwick, Retired, West Allegheny SD
---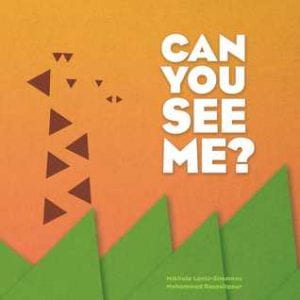 Lantz-Simmons, Mikhala, and Mohammad Rasoulipour. Can You See Me? Andrews McMeel Publishing, 2019. 978-1-524-85372-3. $17.99. Grades K-3.
A cleverly written book designed to create animals in an abstract way. The authors utilize basic shapes and designs, with a small riddle for children to figure out what animal is hidden in the picture. While some are easily identified, other creatures are slightly more difficult to identify. Try your best to solve the riddle, both with and without text, to see if you know what is hidden in the picture!
THOUGHTS: A clever book with riddles that children could solve to help identify different animals. Provides a first look at discovering realistic items in an abstract way.
Picture Book          Rachel Burkhouse, Otto-Eldred SD
---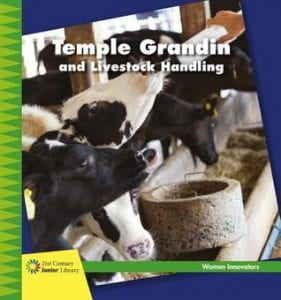 Loh-Hagan, Virginia. Temple Grandin and Livestock Handling. Cherry Lake Publishing, 2019. 978-1-534-13234-4. $18.95. Grades 2-5.
This information text provides readers with a brief synopsis of the life of Temple Grandin and the work that she provides with livestock, as well as living with autism. After a brief introduction to who she is, readers learn that Temple Grandin grew up differently that most children. After learning that she was not dumb, Temple Grandin discovered working with animals and connecting with them. Temple Grandin helped discover and evolve humane ways to work with animals, providing a calming atmosphere for animals as they are raised for specific jobs.
THOUGHTS: A great introductory book for learning about Temple Grandin, the work she did, and living and working with autism. This could be a book used as an introduction to several different topics.
636 Agriculture & Animal Husbandry          Rachel Burkhouse, Otto-Eldred SD
---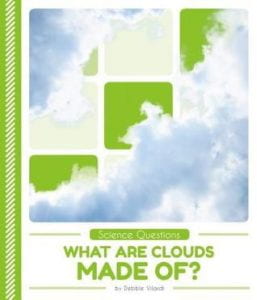 Vilardi, Debbie. What Are Clouds Made Of? Abdo Pop! 2019. 978-1-532-16214-5. $18.95. Grades K-3.
This young informational text takes readers through what clouds are actually made of. Each page, accompanied by Cody Koala, provides insight to readers on the water cycle, worded in a way for young readers. Additional QR Code images and scattered throughout the text to provide more information through technology, adding to the readers interest in what clouds are actually made of. This book is part of ABDO's Cody Koala Science Questions series which includes 8 titles.

THOUGHTS: This simple text is detailed, but provided in a way for it to be simple for young readers to understand and follow. The images provided and nicely captured pictures of real clouds in different formats, providing an enriching experience for young readers.
551 Meteorology          Rachel Burkhouse, Otto-Eldred SD
---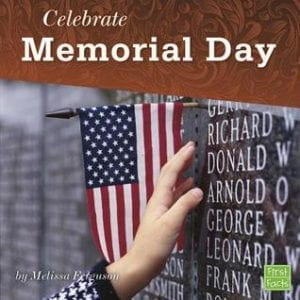 Ferguson, Melissa. Celebrate Memorial Day. Pebble, 2019. 978-1-977-10266-9. $19.49. Grades K-3.
An easy to read and understand book about Memorial Day, this book provides early readers with information on a holiday that they may not really understand. Additional fact pieces are provided to give students either extra information on a topic or to go into more depth on an item was discussed. This book includes photographs and illustrations of important events, providing connections to history and personal life.

THOUGHTS: A great first read for Memorial Day, this book is helpful as it can provide readers with information on something that they may not completely understand. It is done so in an age appropriate way for young readers.
394.262 Holidays          Rachel Burkhouse, Otto-Eldred SD
---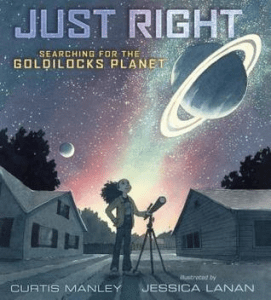 Manley, Curtis. Just Right: Searching for the Goldilocks Planet. Roaring Brook Press, 2019. 978-1-250-15533-7. Unpaged. Grades 2-5. $18.99.
According to NASA.gov, an exoplanet is defined as "any planet beyond our solar system." In this book, Manley explores the history and methodology of the discovery of exoplanets. The author explains that the idea of the existence of other planets is not new, but was espoused by philosophers and astronomers over the centuries. Since the discovery of an exoplanets in 2011, the focus now is whether these planets are inhabited like Earth. In order to be like Earth, a planet must reside in a "habitable zone" in its solar system, where conditions like temperature must be just right so that all the water does not freeze or evaporate. There is an interesting discussion of other important factors, like magnetic fields, planet size and atmosphere. The author then reviews the tools and methods that astronomers use to find exoplanets. Manley explains all technical terms and theories in language that is easy to understand. Jessica Lanan's drawings play an important role with helping the young reader grasp the concepts, aided by the use of captions and labels. The illustrations not only show the planets and tools, but Lanan cleverly uses the illustrations to visually tell an overlying story of an African American girl who visits the planetarium with her family and shows her interacting with the concepts being discussed. For instance, on the page discussing planets that are "too hot" for life, the girl is seen reacting to the heat. At the end, there is a picture of her looking out of the window to the sky and then she receives a telescope from her parents. The back matter contains further information on detecting exoplanets and suggested resources. The endpapers have a timeline called "Discovering Our Place in the Universe."
THOUGHTS: This is a must have for all elementary collections. Librarians will want to update their astronomy collections to include this valuable work on a relatively recent discovery. This narrative text makes for a great read aloud to complement units on the solar system. Children will enjoy reading this book on their own and perhaps like the girl in this book will find themselves dreaming of the possibilities beyond our solar system.
520 Astronomy          Denise Medwick, Retired, West Allegheny SD
523.24 Solar System
576.839 Biology, Life