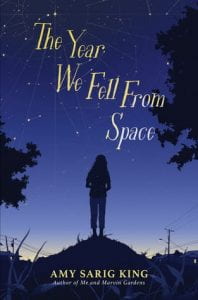 King, Amy Sarig. The Year We Fell From Space. Arthur A Levine Books, 2019. 978-1-338-23636-1. 272 p. $16.99. Grades 3-7.
Liberty is a girl with a unique talent going through an incredibly hard family situation. Her love for stars and star maps, in which she creates her own constellations and meaning from the night sky, is shaken when her parents announce that they are divorcing. Liberty and her little sister, Jilly, are left with many questions and not many ways to cope at first. Their reactions, however, are both heartbreaking and relatable, insightful and hilarious throughout the experience. Liberty works to adapt to middle school, bullies, old friends, and her father's seeming disappearance. As changes continue, readers see into her confused heart and mind and wit with brutal honesty and emotion. The talking space rock that Liberty discovers certainly adds to her confusion! Amy Sarig King (known as A.S. King to older readers) also faces the stigma of mental illness, depression, and therapy with the same honesty and deftness, including endnotes to raise awareness and seek help. The Year We Fell From Space is like a shooting star that shines brightly, creating a moment that won't soon be forgotten.
THOUGHTS: The themes of divorce and depression are very raw and relatable in the story, but may be a lot for some younger readers. No two cases are the same, but she goes through such an emotional roller coaster that many readers will at least partially relate. Topics like dating after marriage and dealing with mental health matters are not black and white, and King weaves through all the shades of gray with empathy. This is a powerful story highly recommended for middle grade collections.
Realistic Fiction          Dustin Brackbill, State College Area SD
Liberty Johnson loves space, and she is determined that people are going to look at space a different way. She looks at the constellations and sees shapes and people, and that makes her feel special. What doesn't make her feel special is that her father moved out and hasn't really talked to her or her sister since. What also doesn't make her feel special is her sister is refusing to go outside, for any reason. And her mom, who in Liberty's mind should be miserable that her father left, is really happy. Add a talking meteor that fell from the sky, and things just aren't going the way Liberty wants them to go.
THOUGHTS: This book dealt extremely well with mental illness. Nothing is sugar coated, and the father figure doesn't magically get better by the end of the book. The relationships between the characters feels well thought out and is complicated, as most real life relationships are. The magical element is true to Amy Sarig King's work, and adds some levity to the plot.
Realistic Fiction          Mary Hyson, Lehigh Valley Academy
---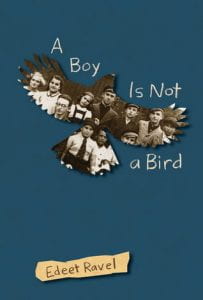 Ravel, Edeet. A Boy Is Not A Bird. Groundwood Books, 2019. 978-1-773-06174-0. 232 p. $16.95. Grades 4-8.
Ukraine during 1940 is an ideal place for Natt, full of food, fun, and family. Even though the Nazi Germans are starting trouble, Natt is assured that they will be clear of any conflicts. Of course, all of that slowly begins to unravel when the Soviets move in and begin Stalinist tactics of taking over the village. Natt's world starts slowly getting crushed, but his parents seek to find the most optimistic view for every hardship. Are they only putting on an act for Natt? Can his father get out of prison before getting shipped to Siberia? On which side will Natt end up, and what makes a hero during a time of war? One thing is for sure – A Boy Is Not a Bird, and he can not fly away from this dangerous time. Ravel has created an insightful historical fiction novel with a first person account that was based on true stories from her own fifth grade teacher. The layers of this book and the questions that remain will only create anticipation for the sequel.
THOUGHTS: This less familiar part of WWII history gets full attention as Natt sees the coming war through a child's vantage. Especially around the halfway mark when the reader will find a disturbing turn to Natt's mindset. It would make for a great example text for Notice & Note Signposts, if they are familiar. Recommended.
Historical Fiction          Dustin Brackbill, State College Area SD
---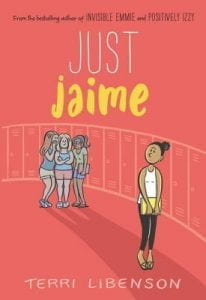 Libenson, Terri. Just Jaime. Balzer & Bray/Harperteen, 2019. 978-0-062-85108-6. 224 p. $22.99. Gr. 5-8.
Having a best friend makes middle school a lot less awful. But when Jaime's best friend, Maya, starts acting weird around her, Jaime fears the worse. Maya has found a new circle of friends to hang with at the end of 7th grade, cutting Jaime out via a text message. Jaime struggles to understand what she did wrong and how Maya could have changed so much. After an emotional breakdown in French class, Jaime decides to move on and find a new group of friends, including her best guy pal, Anthony. Meanwhile, Maya struggles with the gossip and mean girl attitude her new friend Celia seems to have. Maya begins to wonder if she made a big mistake. The end of the year field day puts the "old best friends" against the new – will Maya and Jaime find their way back to each other? A must read for fans of Invisible Emmie and for all middle schoolers!
THOUGHTS: Libenson does it again! In the third of the Emmie & Friends series, Libenson will grab the hearts of all middle schoolers and parents. The use of narrative text and cartoons to tell the story of Jaime and Maya's dissolution of a friendship is relatable, heartwarming, and all too true. A must read!
Realistic Fiction         Jillian Gasper, Northwestern Lehigh SD

---
Hoena, Blake. The Boston Marathon Bombing: Running for Their Lives. Capstone Press, 2019. 978-1-543-54196-0. 112 p. $24.49. $587.76 set of 24. Gr. 4–9.
Braun, Eric. Fatal Faults: The Story of the Challenger Explosion. 978-1-491-47077-0.
Burgan, Michael. Total Devastation: The Story of Hurricane Katrina. 978-1-491-48452-4.
—. The Salem Witch Trials: Mass Hysteria and Many Lives Lost. 978-1-543-54197-7.
—. Hiroshima and Nagasaki: The Atomic Bombings that Shook the World. 978-1-543-57256-8.
—. The Battle of the Bulge: Nazi Germany's Final Attack on the Western Front. 978-1-543-57259-9.
—. Breaking Barriers: The Story of Jackie Robinson. 978-1-515-77932-2.
—. Turning Point: The Story of the D-Day Landings. 978-1-515-73607-3.
Doeden, Matt. Impact: The Story of the September 11 Terrorist Attacks. 978-1-491-47079-4.
Freeburg, Jessica. Fight for Survival: The Story of the Holocaust. 978-1-491-48454-8.
—. Collapse and Chaos: The Story of the 2010 Earthquake in Haiti. 978-1-515-73606-6.
Gunderson, Jessica. The Wound Is Mortal: The Story of the Assassination of Abraham Lincoln. 978-1-491-47076-3.
Otfinoski, Steven. The Battle of Iwo Jima: Turning the Tide of War in the Pacific. 978-1-543-57258-2.
—. The Battle of Alamo: Texans Under Siege. 978-1-543-54198-4.
—. Captain Sully's River Landing: The Hudson Hero of Flight 1549. 978-1-543-54195-3.
—. Day of Infamy: The Story of the Attack on Pearl Harbor. 978-1-491-47078-7.
—. From Fugitive to Freedom: The Story of the Underground Railroad. 978-1-515-73604-2.
—. The Great Chicago Fire: All Is Not Lost. 978-1-515-77931-5.
—. Japanese American Internment: Prisoners in Their Own Land. 978-1-543-57257-5.
—. The Selma Marches for Civil Rights: We Shall Overcome. 978-1-515-77941-4.
—. Smooth Sea and a Fighting Chance: The Story of the Sinking of Titanic. 978-1-491-48453-1.
—. Tragedy in Dallas: The Story of the Assassination of John F. Kennedy. 978-1-491-48451-7.
Rissman, Rebecca. Houston, We've Had a Problem: The Story of the Apollo 13 Disaster. 978-1-515-77940-7.
—. Swept Away: The Story of the 2011 Japanese Tsunami. 978-1-515-73605-9.
The Boston Marathon Bombing: Running for Their Lives is the story of the terrorist bombing of the 117th running of the Boston Marathon. This book begins the night before the race with the Tsarnaev brothers when they were making their pressure cooker bombs. The story is told from different people's points-of-view in chronological order, which contributes to the suspense. The book continues through the manhunt and capture of Dzhokhar. The book ends on a hopeful note with an epilogue that mentions heroes and the people they helped rescue, and that the 118th Boston Marathon went on as scheduled. The book addresses "Boston Strong." How through adversity the city came together. This book includes a foreword about the history of the marathon, a table of contents, a timeline, a glossary, critical thinking questions, further reading, and a selected bibliography.
THOUGHTS: I thought I had read or heard all the details surrounding the Boston Marathon bombing, but I was surprised to have learned quite a bit from this book. It was an engaging book that I read cover to cover in one sitting. Because of how much I liked this book, I recently purchased about 10 of these titles for my school's library. I'm confident my students will be captivated by them and can use them for research in addition to reading for pleasure. This book deserves a place in elementary and secondary libraries.
363.325 Terrorism          Bridget Fox, Central Bucks SD