Murray, Julie. Baby Animals-Set 2. Abdo, 2019. $18.95 ea. $113.70 set of 6. 24 p. Grades PreK-2.
Baby Gorillas. 978-1-5321-8163-4.
Giraffe Calves. 978-1-5321-8164-1.
Hippo Calves. 978-1-5321-8165-8.
Panda Cubs. 978-1-5321-8166-5.
Piglets. 978-1-5321-8167-2.
Tiger Cubs. 978-1-5321-8168-9.
Abdo expands their Baby Animals series for primary readers with the release of this set of six titles. Each volume examines the first weeks of a baby animal's life via high quality full-page photos and simple text (Example sentences from Panda Cubs include "It grows fur. The fur is black and white."). Each title features a visual glossary as well as a timeline with photos of the animal at various ages. Supplemental material, including videos, games, and crafts are available via the AbdoKids website.
THOUGHTS: An excellent option for early readers, these titles are sure to popular with animal lovers who will love the large, oversized photos of cute baby animals. The online supplemental material is a cut above what many publishers offer–not just videos and trustworthy weblinks, but also printables such as word searches, mazes, and craft activities that primary teachers could use in lessons or as enrichment activities.
599 Animals          Elizabeth Henry, Lampeter-Strasburg SD
636.4 Farm Animals
---
Meister, Cari. My First Animal Library. Jump! Library, 2019. $17.95ea. 24p. Grades K-3.

Armadillos. 978-1-62496-748-1.
Bison. 978-1-62496-750-4.
Black Bears. 978-1-62496-756-6.
Caribou. 978-1-62496-752-8.
Coyote. 978-1-62496-754-2.
Moose. 978-1-62496-758-0.
Prairie Dogs. 978-1-62496-762-7.
River Otters. 978-1-62496-760-3.
This primary level non-fiction series aims to introduce early readers to some popular wild animals. High-quality photographs are paired with simple large text in order to inform readers of the basics about the animal habitat, characteristics, and more. Sample text from the Bison volume includes "Bison live in herds. They roam. They graze." Labeled photos identify the parts of the animal and a picture glossary is also included. 
THOUGHTS: If you are a librarian in a school serving primary students, this series merits your consideration. Visually appealing with basic facts, they are sure to appeal to early readers. 
599 Mammals          Elizabeth Henry, Lampeter-Strasburg SD
---
Bowman, Chris. Everyday Engineering. Bellwether, 2019. $17.95 ea. $107.70 set of 6. Grades K-3. 
Bridges. 978-1-62617-821-2.
Dams. 978-1-62617-822-9.
Highways. 978-1-62617-823-6.
Roller Coasters. 978-1-62617-824-3.
Skyscrapers. 978-1-62617-825-0.
Stadiums. 978-1-62617-826-7.
Early readers will learn more about the engineering basics behind some of the world's most common structures in the Everyday Engineering series. A brief history of the structure is presented, along with a description of what the structure looks like today in simple text. Labeled photos identify parts of the structure, and basic graphics help to illustrate some of the scientific forces at work. Photos appear on every page, and a glossary is also present. 
THOUGHTS: If you are in a primary library are looking for some simple STEM-related non-fiction titles to add to your collection, this series merits consideration. Recommended.
600s, 700s Engineering          Elizabeth Henry, Lampeter-Strasburg SD
---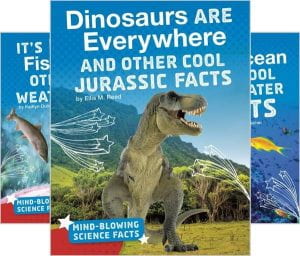 Mind-Blowing Science Facts. Capstone, 2019. $21.49 ea. $171.92 set of 8. 32 p. Grades 2-5.
Abramovitz, Melissa.  A Toad That Explodes and Other Cool Animal Facts. 978-1-5435-5772-5.
Duling, Kaitlyn. It's Raining Fish and Other Cool Weather Facts. 978-1-5435-5770-1.
—. A Plant That Eats Spiders and Other Cool Green-and-Growing Facts. 978-1-5435-5771-8.
Hutmacher, Kimberly M. Lakes in the Ocean and Other Cool Underwater Facts. 978-1-5435-5767-1.
—. The Universe Began with a Bang and Other Cool Space Facts. 978-1-5435-5769-5.
—. The World Was Once Covered by Mushrooms and Other Cool Earth Facts. 978-1-5435-5768-8.
—. Your Nose Never Stops Growing and Other Cool Human Body Facts. 978-1-5435-5766-4.
Reed, Ellis M. Dinosaurs are Everywhere and Other Cool Jurassic Facts. 978-1-5435-5765-7.

Did you know that sea cucumbers can shoot body parts at predators? Or that horned lizards can shoot blood from their eyes? These are just two of the facts readers will learn in the Mind-Blowing Science Facts series. Each volume aims to engage readers by focusing on high-interest science topics and presenting amazing and unique facts related to each topic. Unique facts are incorporated within the main body of the text, and spotlight boxes provide even more mind-blowing facts. Numerous high-quality photos are present throughout each volume. 
THOUGHTS: More for the casual reader (as opposed to the student researcher), this series is sure to be popular with students who enjoy fact book style volumes. The titles of each volume are attention-grabbing (who could resist picking up a book called A Toad That Explodes and Other Cool Animal Facts, after all?) and help to make these books a great option for displays or booktalks. 
500s, 600s, Science         Elizabeth Henry, Lampeter-Strasburg SD
---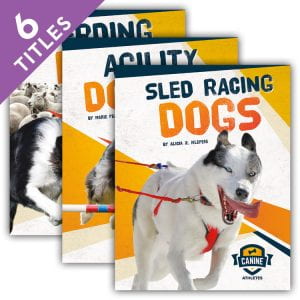 Canine Athletes. Abdo, 2019. $18.95 ea. $113.70 set of 6. 32 p. Grades 3-6. 
Klepeis, Alicia Z. Disc Dogs. 978-1-5321-1737-4.
—. Sled Racing Dogs. 978-1-5321-1741-1.
Furtsinger, Nancy. Herding Dogs. 978-1-5321-1738-1.
Holmes, Parker. K9 and Military Dogs. 978-1-5321-1739-8.
Miller, Marie-Therese. Racing and  Lure Coursing Dogs. 978-1-5321-1740-4.
Pearson, Marie. Agility Dogs.  978-1-5321-1736-7.

Athletes just don't have two legs, some have four! In Canine Athletes, readers will learn about some of the dog sports growing in popularity today. Dog sports require dogs and humans to work together to train, condition, and compete. Each volume describes the history and rules of the sport as well as the training and skills necessary to compete. Breeds best suited to each sport are also identified. The text is supplemented by numerous photos of the dogs in action. 
THOUGHTS: While there are plenty of books about dogs, there are fewer resources available on dog sports, which continue to grow in popularity (with competitions even occasionally appearing on sports networks like ESPN). This series helps to fill this gap and is sure to be popular with dog lovers as well as those researching dogs or unique sports. 
355, 636.7, 798.8 Dogs, Sports          Elizabeth Henry, Lampeter-Strasburg SD
---
Hamilton, S.L. Xtreme Insects-Set 2. Abdo, 2019. $18.95 ea. $113.70 set of 6. 32 p. Grades 3-8.

Butterflies. 978-1-5321-1814-2.
Crickets. 978-1-5321-1816-6.
Dragonflies. 978-1-5321-1817-3.
Grasshoppers. 978-1-5321-1818-0.
Mosquitos. 978-1-5321-1819-7.
Moths. 978-1-5321-1820-3.
Did you know a group of crickets is called an orchestra? Or that crickets are considered lucky in many parts of the world? Readers will learn these facts and more in the Xtreme Insects series. Each volume of this series examines one of the world's most common insects. Overall characteristics of the insect are presented in each title, with spotlight boxes highlighting various interesting and/or creepy facts. Some specific species of each insect are also presented and discussed. The text is supplemented by numerous high-quality photos, including many close-up view that allow readers to fully appreciate these amazing creatures. 
THOUGHTS: Appropriate for both the casual reader and the researcher, these books are sure to find a home in many library collections. Students with an appreciation for the world of bugs will find much to capture their attention. Recommended.
595 Insects          Elizabeth Henry, Lampeter-Strasburg SD