Goo, Maurene. Somewhere Only We Know. Farrar Strauss Giroux, 2019. 978-0-374-31057-8. 336 p. $17.99. Grades 9-12.
Lucky, a K-pop superstar at the top of her game, has lost her spark. Somewhere in between all the performances, rehearsals, and incredibly strict rules, Lucky herself got lost. Jack is unsure of his future. He longs to be a photographer, but parental expectations push him toward banking. To fuel his passion during a boring summer internship, Jack takes on a secret side-gig working for a sleazy gossip magazine. In an attempt to break free of her K-pop cage, Lucky dons a disguise and runs to take an illicit day off. When Jack runs into her on the street, he realizes her day off is the scoop of his lifetime. Set in Hong Kong, readers will enjoy falling in love with a new city alongside Lucky. After all, the life of a star makes everything more glamorous.
THOUGHTS: Although this story has been played out time and time again, the focus on K-pop and Hong Kong adds a cultural lens that makes it worth the read. 
Realistic Fiction          Samantha Helwig, Dover Area SD
---
Clayton, Dhonielle. The Everlasting Rose. Freeform, 2019. 978-1-484-72848-2. 342 p. $17.99. Grades 7-12. 
The Everlasting Rose is the second book in Clayton's The Belles series. Camellia Beauregard has escaped the palace with her sisters Edel and Amber and is now hiding in the Spice Isles while the royal guards search the land for the fugitive Belles. Declared a murderer by the vile soon-to-be Queen Sophia, the disgraced favorite Camellia must risk everything she has to save not only her sisters but also the citizens of Orléans before Sophia can be crowned queen. After discovering the new queen's horrific plans for the future of beauty and the Belles, Camellia knows the only way to stop her is to find Princess Charlotte, but first she must navigate a deep web of treason and espionage in order to do so.
THOUGHTS: In this delightful sequel to The Belles, Dhonielle Clayton once again manages to ensnare readers in the world of Orléans. The vivid imagery and unique concept make this series a must for middle and high school libraries. 
Fantasy          Samantha Helwig, Dover Area SD
In a world where beauty is a currency and society strives to achieve the next new look, the Belles, young girls gifted with the magic to change one's features, are its idols, especially the Belle named the favorite of the royal family. However, being close to the current royal family has become very dangerous. The Everlasting Rose picks up where The Belles left off, with Camillia and her Belle sisters on the run from the diabolical Queen Sophie. The girls, along with Camillia's former bodyguard, Remy, need to avoid capture and locate Princess Charlotte, the rightful queen. Camillia finds aid in a most unexpected place: from a group known as the Iron Ladies, individuals who refuse any beauty treatments and are content with their natural, gray appearance. Clayton creates a fascinating new world populated with individuals absorbed in little other than their appearance. The magic, or aracana, used by the Belles in their treatments is delightfully well thought out and logical, in its world. But aside from a suspenseful plot, the book offers the opportunity to reflect on the place of beauty in today's society.
THOUGHTS: A well-crafted sequel that will absorb readers and make them think as well.
Science Fiction          Nancy Nadig, Penn Manor SD
---
Philippe, Ben. The Field Guide to the North American Teenager. Balzer + Bray, 2019. 978-0-062-82411-0. $18.99. Grades 9-12.
Norris, a black French Canadian student, learned everything he needs to know about Americans from television sitcoms. When his mom takes a job in Austin, Texas, Norris bides his time in America by cataloging his peers. The unrelenting heat is brutal for Norris, but his notebook full of clichéd observations helps him pass the time. He is heading back to Canada as soon as he can. As Norris finds ways to make Texas a temporary home, he also finds a few friends. Some of the Texas boys even want Norris to teach them how to play ice hockey – a task that seems impossible at first but turns out to be fun. Maybe Texas and Americans aren't so bad. Norris's snark catches up to him, though, and it's either run away and leave behind all of the friends he's made, or face his choices and try to be a better person.

THOUGHTS: Though Norris's descriptions of many peers are clichés, teen readers will see them for what they are: judgmental opinions. Norris has a lot to learn about being a friend, and the lighthearted banter of these teens belongs in every high school library.
Realistic Fiction          Maryalice Bond, South Middleton SD
---
Biren, Sara. Cold Day in the Sun. Amulet Books, 2019. 978-1-419-73367-3. 311 p. $17.99. Grades 9-12.
Minnesota teen Holland Delviss would rather write articles for her school paper or post about music and hockey on her anonymous blog than be the focus of the story. But as the only girl on the boys' varsity hockey team, she's gotten used to dealing with friendly attention along with some hecklers. She focuses on training and avoids the drama of dating a teammate, especially her arrogant captain Wes "Hot Sauce" Millard. After an announcement that Halcyon Lake will be one of Minnesota's HockeyFest cities, in the running to have a game televised statewide, Holland is pushed even further into the (very opinionated) public eye. And Wes turns out to be a dreamboat: an only seemingly arrogant jerk who actually respects and values Holland as a teammate, a friend, and a potential girlfriend. The author's breezy writing style allows room for Holland to deal with some serious stuff without veering into "issues novel" territory (although some conversations with Holland's journalism teacher do feel a little contrived). In particular, one opponent rattles her with a truly deplorable comment, but her motivation to excel at the game she loves is unshakeable.
THOUGHTS: Sara Biren's knack for depicting Holland and Wes's intense connection with a "PG" rating makes this hockey romance a total joy to read! With just the right amount of sweetness and spice, Cold Day in the Sun is a perfect choice for anyone who enjoyed Miranda Kenneally's Hundred Oaks series or Ngozi Ukazu's delightful Check, Please! 
Realistic Fiction          Amy V. Pickett, Ridley SD

---
Power, Rory. Wilder Girls. Delacorte Press, 2019. 978-0-525-64558-0. 357 p. $18.99 Grades 9-12+.
Raxter School for Girls, located on a small Maine island, has been under quarantine since "the Tox" struck almost two years ago. Food, medicine, and routines are strictly regulated, and the girls cooperate with the quarantine guidelines because the Navy has promised to deliver a cure. Gun Shift girls patrol the roof day and night, while Boat Shift ventures beyond the school's fence to meet a supply boat once a week. Meanwhile, surviving students suffer from flare-ups that result in boils, bruises, gills, and other terrifying symptoms. "Things bursting out of us, bits missing and pieces sloughing off, and then we harden and smooth over." Hetty's right eye was damaged in a flare-up, her eyelid fusing shut; she senses something growing underneath. The newest member of Boat Shift, Hetty becomes separated from the group on one of their outings. In the woods, she discovers a cooler with a blood sample labeled RAX009. Whose blood is it, and who is expecting it? Then Hetty's best friend Byatt vanishes after suffering a flare-up. So this unique mystery unspools, with some genuinely unsettling scenes that will satisfy most horror fans. 
THOUGHTS: The dynamic between Hetty and her two best friends, Byatt and Reese, is at the raw beating core of this debut novel. Queer themes, plague novel elements, and female adolescence converge in a strange but beguiling narrative with a just-open-enough ending. And that cover, though!
Horror          Amy V. Pickett, Ridley SD

---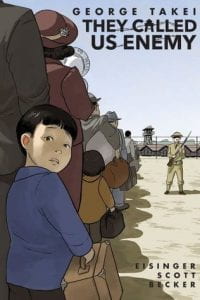 Takei, George. They Called Us Enemy. Top Shelf Productions, 2019. 978-1-603-09450-4. 204 p. $19.99. Grades 8+.
On February 19, 1942, President Franklin D. Roosevelt issued Executive Order 9066, which authorized the military to exclude "persons" (e.g. Japanese and Japanese Americans) from designated areas, namely the entire west coast. George Takei, his parents, and his two younger siblings were among the 120,000 people of Japanese ancestry who the U.S. government relocated and "interned" during World War II. This outstanding graphic memoir interweaves an adult Takei's memories with the child's impressions/perspective he experienced during four years spent in two internment camps. Harmony Becker's black and white illustrations vividly evoke the emotions and anger of U.S. citizens uprooted from their homes and forced to leave behind cherished possessions, valuable property, businesses, and community. They Called Us Enemy also depicts the lighthearted fun that children can find in any situation, as young George explores his new surroundings. George's future as a successful actor and social justice advocate are chronicled here, too. On every page, the steadfast love of his parents, most notably his father's unshakeable belief in a people's democracy, shines through. 
THOUGHTS: To borrow from the "About the Creators" note (and Star Trek), George Takei's life story goes where few stories have gone before. His first person account reveals the lessons to be learned from a dark chapter in American history, so that we can do better than to repeat it over again. George's 2014 TED talk, "Why I Love a Country that Once Betrayed Me," is a worthy introduction to this history and his personal ideals.
Graphic Memoir          Amy V. Pickett, Ridley SD
When President Franklin D. Roosevelt issued Executive Order 9066, no one could have understood how much this decision would change the lives of so many individuals except those whose lives were uprooted. This Order called for the relocation of thousands of individuals of Japanese ancestry, even those who were born in the United States. Among the thousands was George Takei, a young boy, and his family. For the duration of World War II, George's family lived in armed guarded interment camps. Takei reflects on his childhood memories and his family's experiences through a child's innocent eye, recognizing that while his parents suffered, he did not understand their struggles until he was much older. Interwoven throughout his memoir are George's experiences as an adult which remind him of his childhood. One moving example is when George is invited to the Franklin D. Roosevelt Presidential Library and Museum, but his father refuses to attend.

THOUGHTS:Takei's account of his childhood reminds readers of the innocence and resilience of children and the commitment of adults, specifically George's parents, to keep their lives as normal as possible despite dire circumstances. Aside from one minor language trick a teen boy plays on George, this piece of history belongs in all middle and high school collections. Pair with other popular historical fiction titles like Between Shades of Gray by Ruta Sepetys, Sarah's Key by Tatiana de Rosnay, and future history Internment by Samira Ahmed.

Graphic Memoir          Maryalice Bond, South Middleton SD
---
Alsaid, Adi. Brief Chronicle of Another Stupid Heartbreak. Inkyard Press, 2019. 978-1-335-01255-5. $18.99. Grades 9-12.
It's the summer after high school, and Lu has great plans that do not include heartbreak. After her longtime boyfriend dumps her, Lu finds herself uninspired which isn't a good thing when her NYU college scholarship depends on the love column she writes for Misonmer, an online magazine. Before Leo came into her life, Lu would eavesdrop to get inspired for her writing. Now without Leo, she once again resorts to eavesdropping which leads her to meet Cal and Iris, a couple who is in a similar position of a post-high school relationship dilemma. When Lu learns of their plan to stay together until the end of the summer, though, she becomes obsessed and wonders where she and Leo went wrong. Determined to find the answer and overcome her writer's block, Lu becomes friends with Cal and Iris. When writing a feature column on Cal and Iris isn't helping her writer's block, Lu becomes entwined in distractions and puts everything else – friends, family, and writing on hold.

THOUGHTS: Alsaid highlights how easily one can be swept in love, putting many other aspects of life on hold. Teen readers will feel for Lu but may become frustrated with her inability to move on. For a seemingly intelligent girl, putting her college scholarship (and job) on the line seems very un-Lu-like. Recommended for high schools where Alsaid is popular or romance is in demand.
Realistic Fiction          Maryalice Bond, South Middleton SD
---
Ali, S.K. Love from A to Z. Salaam Reads, 2019. 978-1-534-44272-6. $18.99. Grades 9-12.
Being constantly told how "bad" Muslims are (when she's the only Muslim in class) fuels Zayneb's anger. Wrongfully suspended for confronting her racist teacher, Zayneb is sent on an early spring break to her aunt's house in Doha, Qatar. On the plane ride and subsequent layover she meets Adam. Returning home from college with a secret multiple sclerosis diagnosis, Adam knows he finally needs to tell his family, but with the anniversary of his mother's death, it never seems like a good time. Zayneb and Adam each have kept journals of marvels and oddities – things they encounter in life. Despite their differences, they help each other process challenging emotions and situations they encounter. Zayneb and Adam are from different parts of the world and have very different personalities, though, and they may not always understand exactly what the other is experiencing.

THOUGHTS: Teen readers will love Zayneb and need to "meet" her! Love from A to Z is a beautiful love story featuring Muslim characters front and center and is a must have for high school collections.

Realistic Fiction          Maryalice Bond, South Middleton SD