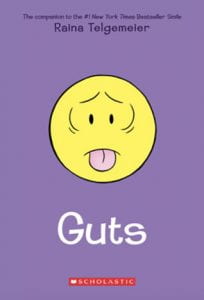 Telgemeier, Raina. Guts. Graphix, 2019. 978-0-545-85250-0. 211 p. $12.99. Grades 5-8.
Panic attacks. Fear of vomiting. Negative thoughts. Self doubt. After her family gets sick from bad artichokes, Raina's fear of getting sick again sends her into a spiral of panic and anxiety. She can hardly focus in school, is afraid to speak in front of the class, and is getting made fun of by a girl in her class. After a visit to the doctor (where she was "as healthy as a horse") and continued belly aches, Raina begins to see a therapist. At each visit Raina is able to explore the causes of her anxiety and learn strategies to cope.  Raina begins to explore drawing and new friendships all while figuring out what triggers her panic attacks – whether it is puberty, public speaking, or beans. A surprise ending will leave readers excited for Raina's future. Based on the author's real life struggle with anxiety, this is a must read for middle level students.
THOUGHTS: As a companion book to Smile, Guts does not disappoint. True to the nature of the series, this book will make readers cry, laugh, and cheer as Raina navigates her way through life with anxiety. This story helps shed light on the mental health struggles kids face and ways to manage. 
Realistic Fiction            Jillian Gasper, Northwestern Lehigh SD

---
Holm, Jennifer & Matthew Holm. Sunny Rolls the Dice. Graphix, imprint of Scholastic, 2019. 978-1-338-23314-8. 217 p. $12.99. Grades 5-8.
Sunny's "groovy meter" is out of whack and no matter what she tries, she just can't seem to keep up with the "coolness" of her friends. Sunny is discovering that middle school is trickier than she thought. Her friends are into makeup, boys, and the newest trends, and Sunny just can't seem to figure out how to be "cool" like them. Sunny begins playing Dungeons and Dragons with some friends in her basement, and suddenly she sees herself as a mighty fighter. As Sunny becomes closer to her Dungeon and Dragon male counterparts, her best friend Deb drifts farther into the popular zone. Sunny discovers that staying true to herself is more important than trying to be someone you're not! 
THOUGHTS: Sunny is at it again! This graphic novel does not disappoint relaying just how difficult middle school life can be. With relatable characters, readers will enjoy watching Sunny travel down the path of exploration as to what is groovy or not. The third book in the Sunny series brings back a classic game to help reveal how finding your inner dragon slayer can help you discover who you really are.
Realistic Fiction            Jillian Gasper, Northwestern Lehigh SD
---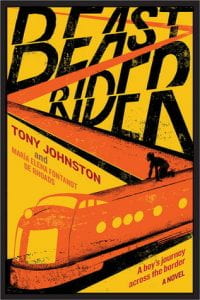 Johnston, Tony, and Maria Elena Fontanot De Rhoads. Beast Rider. Amulet, 2018. 978-1-419-73363-5. 159 p. $17.99. Grades 6 and up. 
This timely book explores the controversial topic of immigrants and immigration from the inside. Manuel, a twelve-year-old boy, lives with his extended family on a small subsistence farm in Oaxaca, Mexico. The train heading north to the border, nicknamed "the Beast" by locals, runs past their fields, and Manuel is familiar with people jumping onto the top of the train to travel north and into the United States. His older brother, Toño, successfully made the trip four years ago, but many do not survive. Toño lives in Los Angeles now, and Manuel misses him deeply. Despite his firsthand experience with the dangers of the Beast, Manuel resolves to join his brother in LA. He saves up money, makes the jump, and begins his own long journey. Johnston does not flinch at portraying the dangers involved in trying to reach the border. Manuel's experience includes being preyed on by thieves, chased by police, and caught by gangs, while also having the kindness of strangers bestowed upon him along the way. After several years, Manuel eventually reaches LA and reunites with his brother. The book includes a helpful Spanish-English glossary, as well as an author's note which discusses the realities on which this book is based. Beast Rider is a brutal (although not graphic) look at the hazardous journey undertaken by individuals desperately clinging to the hope of a better life.
THOUGHTS:  An important book which explores immigration from the point of view of the immigrant; it should be added to most collections.
Realistic Fiction          Nancy Nadig, Penn Manor SD

---
Resau, Laura. Tree of Dreams. Scholastic, 2019. 978-0-545-80088-4. 336 p. $17.99. Grades 3-7.
Coco lives up to her name. She loves chocolate with a passion. Not in the Halloween candy kind of way, but as a professional epicure. Coco's mother owns a chocolate shop in Colorado, and Coco absorbs every aspect of producing chocolate, from sourcing cacao beans sustainably grown in the Amazon, through to creating delicious chocolate creations. But when her mom informs Coco that the shop is losing money and she needs to close it, Coco stubbornly looks for a way to prevent the loss of everything she loves. At the same time, she starts dreaming of a large Ceiba tree which speaks to her. Conveniently, a local dessert competition offers the prize of a trip to the Amazon rainforest. Coco and her former best friend, Leo, enter the contest and, conveniently, are declared co-winners. Coco is determined to locate the treasure the Ceiba tree tells her awaits within her roots. But when the party arrives, they face the reality of the rapid destruction of the Amazon, and the life and death struggle to stop the damage. Coco and Leo bond with Isa, a Huaorani girl, and the friends realize all of them have been dreaming of the Ceibo tree. The three friends urgently work to find the magical tree before it is lost for good. The plot framework is compelling, so readers may not realize the wealth of information Resau has woven into the story. The ecological message is very timely, and, while it drives the plot, does not come across as didactic.
THOUGHTS:  An enjoyable mystery which brings the reality of the deforestation of the Amazon to middle grade readers. Mystery fans and chocolate lovers alike will enjoy the story and walk away more knowledgeable about environmental issues. 
Magical Realism          Nancy Nadig, Penn Manor SD
---
Mackler, Carolyn. Not If I Can Help It. Scholastic, 2019. 978-0-545-70950-7. 240 p. $16.99. Grades 3-7.
Willa has quirks. She knows this about herself. She can't wear socks with a seam in the toe. She hates chewing baby carrots, and don't even bring up slimy eggs! Willa has Sensory Processing Disorder, and it makes life challenging for her and those who love her. Willa's therapist helps her problem solve and cope. Classmates, and even her best friend, Ruby, are unaware of her diagnosis, and generally accept her eccentricities. However, Willa's carefully constructed world implodes when she learns that her dad is planning on marrying Ruby's mom. Everyone else thinks Willa should be ecstatic that Ruby will become her sister, but all Willa can see is that Ruby will be exposed to the inner workings of Willa's world: her therapy sessions, her melt downs, and her intense likes and dislikes. Everything she keeps private. Willa feels she can't take the risk and closes down, even as she knows she's being unkind to Ruby. Will their friendship survive being sisters?
THOUGHTS:  A delightful middle-grade story that is not overpowered by the exploration of Sensory Processing Disorder. Readers will root for Willa to find her way to acceptance, and, possibly, happiness. 
Realistic Fiction          Nancy Nadig, Penn Manor SD
Change can be difficult, especially if you have Sensory Processing Disorder like Willa. Things have to be just so or she gets anxious. Clothing must be soft, socks have to fit just right, and no collar tags on her shirts. Besides clothing certain foods are just gross or irritating. She is getting along fairly well even if her parents are divorced. She goes to her mother's on the weekend. It is the end of fifth grade, and things are about to get more difficult. Everyone is on pins and needles
hoping to get into the middle school of their choice. Willa and her best friend Ruby really hope to be together. One evening her Dad and Ruby's mom announce that they have been dating and are getting married. This is not okay with Willa. It disturbs her that her best friend's mom will be her stepmother and her friend, her stepsister. There are too many adjustments for Willa to cope with. She loves Ruby, but…. Will this spoil everything including their friendship? Slowly obstacles are overcome, but there are hurts along the way. Choices must be made.
THOUGHTS: Mackler deftly hands SPD and the anxiety it creates, especially in the preteen years. She creates a caring and informative environment as show when a "mean" girl comes around and is sympathetic. The parenting in this book is outstanding. Both girls have strong support from all sides.
Realistic Fiction          Jeannie Bellavance, Retired
---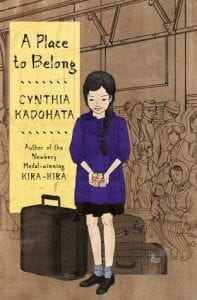 Kadohata, Cynthia. A Place to Belong. Athenaeum, 2019. 978-1-481-444664-8. 399 p. $17.99. Grades 4-7.
Kadohata takes readers down a quiet side street of history for her newest book. In the aftermath of WWII, Hanoko and her family are on their way to Japan. Although they are all American citizens, they spent four years in internment camps during WWII. Afterwards, they accepted the US government's offer to expatriate them to Japan, renouncing their citizenship. Hanoko and her brother Akito are nervous to meet their grandparents for the first time and have no idea what the future will hold. Traveling through Hiroshima, Hanoko is exposed to the painful aftermath of the atomic bomb. Life in post war Japan requires many adjustments for the children, but after their years in internment camps (separated from their father) Hanoko enjoys being with her family, even though food is scarce and her grandparents work long hours on their tenant farm. Kadohata shows the loving relationship between Hanoko and her grandparents. Hanoko is always courteous and respectful, trying her hardest to be kind to them and make them happy. When Hanoko's father hears of a lawyer, Wayne Collins, who is suing the United States on behalf of the Japanese individuals who renounced their citizenship under duress, the family has to decide where their future lies. Based on actual events, Kadohata's book brings to light a little known codicil to WWII. In the afterward, Kadohata explains that Collins was unable to file a class action suit on behalf of all expatriated citizens and spent decades filing individual suits on behalf of thousands of Japanese Americans. 
THOUGHTS:  An enlightening story that expounds upon a shameful chapter in American history. The dignified demeanor of Hanoko's family contrasts with the circumstances in which they find themselves. A first purchase for classrooms and libraries.
Historical Fiction          Nancy Nadig, Penn Manor SD
---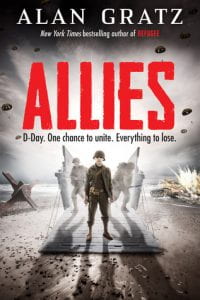 Gratz, Alan. Allies. Scholastic, 2019. 978-1-338-60449-8. 322 p. $9.99. Grades 4-8.
Alan Gratz hits another home run with his latest book, Allies. Set on June 6, 1944, D-Day, Gratz covers the Allied invasion of France from multiple perspectives. Young American soldiers who should be in school, not slogging through the water off the coast of Normandy, try to beat the odds and make it to shore alive. An Algerian woman and her daughter assist the French resistance, despite the fact that the French occupy their own country. A black medic overwhelmed by the volume of casualties, patches together men who wouldn't sit down to eat with him. A Canadian paratrooper floats to earth with the earliest wave of troops. Throughout the long, long day, a plethora of individuals perform numerous small tasks and brave acts, finding hope in what they see and do, despite the brutality of the war. While writing for a middle grade audience, Gratz does not sugarcoat the reality of the Omaha Beach landing, the mistakes that were made in logistics, leading to the horrific number of casualties. A comprehensive Author's Note at the end of the book helpfully delineates what is factual and where Gratz used creative license.
THOUGHTS: Purchase multiple copies of the book. Alan Gratz fans have been chomping at the bit waiting for publication day.
Historical Fiction          Nancy Nadig, Penn Manor SD
---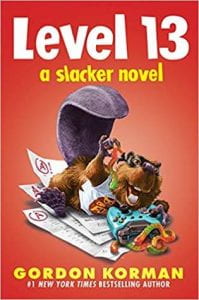 Korman, Gordon. Level 13. Scholastic, 2019. 978-1-338-28620-5. 241 p. $16.99. Grades 4-6.
Cameron Boxer is at it again! President of the P.A.G., gamer, and part of the Awesome Threesome, he decides that it's time to step up his gaming career. Determined to reach 5,000 subscribers (and make some serious cash) Cam discovers that school and the P.A.G. are getting in the way. Cam decides to step back from his role of president in order to focus on his "failing grades" a.k.a. his live streaming channel. With the help of a beaver named Elvis, and an elusive Level 13 in Guardians, Cam is rocketed into the spotlight as the impressive streamer GameFox229. Suddenly students are sharing their homework and projects with Cam (to help him from failing) and wearing GameFox229 T-shirts (as a library fundraiser). Cam finally has everything he wanted – a successful streaming channel and amazing grades. But when a mysterious stalker appears, Cam wonders if it's all worth it. As the heat is turned up to discover who GameFox229 and his sidekick beaver are, Cam discovers that being a slacker can backfire! 
THOUGHTS: Students will connect with gamer Cam and the antics of the group of boys in the novel. The story provides multiple perspectives that weave together a story that will keep you guessing what's next, or leave you craving gummy worms! The second in the Slacker series does not disappoint with it's laugh out loud moments and lovable rodent.
Realistic Fiction         Jillian Gasper, Northwestern Lehigh SD

---
Steveson, Nancy Turner. Lizzie Flying Solo. Harper, 2019. 978-0-062-67318-3. 320 p. $16.99. Grades 3-6. 
Lizzie's life has been turned upside down. Her father is in jail, awaiting trial on charges of embezzlement, and when her mother can no longer make mortgage payments, the two move to a homeless shelter. Lizzie is shaken by the loss of her former life, and terrified at starting a new school, worried that people will know she lives at the shelter. One day Lizzie follows a path in the woods and comes upon a riding stable. Horse crazy Lizzie can't stay away, hiding in the brush and watching the girls who come for lessons, girls who attend her school. When new friend Bryce takes Lizzie to the stables to see his horse, Lizzie receives an unexpected offer of a work-to-ride scholarship. In return for helping out at the stables, Lizzie is able to take riding lessons and she finds a place where she belongs and is accepted. She bonds with a recalcitrant new horse she names Fire and sets her sights on purchasing him. She also makes friends with an older student assistant, a friendship that brings unexpected rewards. While at first glance a homeless girl taking riding lessons and participating in horse shows may seem unlikely, Stevenson places Lizzie and her mom in a situation where it is entirely plausible. Throughout the book Lizzie expresses confusion about her father and whether or not he is guilty of the crimes. Her emotions are quietly raw and very real. She is as skittish as Fire and as terrified of trusting people. But her love of horses helps her learn to trust again.
THOUGHTS:  A thoughtful look at homelessness and how it affects children. The story is not dark and wraps up with a sparkly future ahead of Lizzie and her mom, but it can demystify homelessness a bit. While there is no indication that this will become a series, readers will be rooting for Lizzie all the way, and are sure to hope for more of her story.  
Realistic Fiction          Nancy Nadig, Penn Manor SD