Sanchez, Anita. Rotten! Vultures, Beetles, Slime, and Nature's Other Decomposers. Houghton Mifflin Harcourt, 2019. 978-1-328-84165-0. 83 p. $16.99. Grades 3-6.
What do dung beetles, vultures, fungi, and earthworms have in common?  They all contribute to decomposition in nature, which is a vital part of our ecosystem.  In this highly informative and engaging text, Sanchez discusses the "rotten world" in eight chapters. Each chapter is dedicated to a different aspect of decomposition and is comprised of several text boxes of information. Readers will be amazed to learn that dung beetles can bury a ton of poop per acre every day and will see how the lowly earthworm can move a boulder. The text does not get bogged down in technical terms and is accompanied by entertaining illustrations by Gilbert Ford. These comical drawings help the reader easily visualize the concepts. For instance, in the chapter called "Welcome to the Rotten Log Hotel," Ford has drawn insects carrying suitcases and other insects using keys to get into their rooms. This helps carry home the point that a downed tree is teeming with life and becomes compost and new soil over time, thanks to these insects. In the chapter called "Rotten People," the author begins with a discussion of mummies, but then goes off into a bit of the macabre when she tells us how sailors drank brandy from the same barrel where Lord Nelson's body was kept to preserve it. Another story called "Having Lee for Lunch" is about a man who willed that his ashes be spread over his vegetable garden, with the intention that the produce be enjoyed by the neighbors. The book ends with instructions on creating your own compost pile. There is a glossary, index, and source notes in the back matter.
THOUGHTS: This engaging text is sure to draw browsers who wish to learn more about the circle of life or who just enjoy being grossed out. Although the CIP information lists this as being suitable for K-3, the discussion seems geared to upper elementary. Librarians needing to fill this gap in their collections should consider this one.
581.714          Denise Medwick, Retired, West Allegheny SD
Botany- Physiologic and Structural
Specific Topics in Natural History
---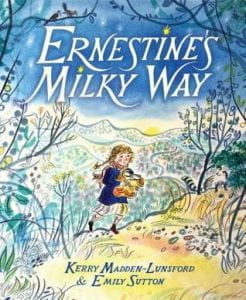 Madden-Lunsford, Kerry, and Emily Sutton. Ernestine's Milky Way. Schwartz & Wade Books, 2019. 978-1-524-71484-0. Unpaged. $17.99. Grades K-2.
Growing up in a valley of the Great Smoky Mountains, Ernestine was proud to holler out to the world that she was "five years old and a big girl!" Her mama soon put that bold bravery to test, as she sent Ernestine by herself to deliver some fresh milk to the neighbor family down yonder. The path was filled with obstacles and challenges, but Ernestine feels ready. Along the way, she proves to be a helpful big girl, until she drops one of the milk jars. Lessons and grace from Kerry Madden-Lunsford fill this clever story, as the flowing watercolor illustrations of Emily Sutton give the characters a long ago feel. Indeed, since their men are off to war, the characters look to the night sky to connect time and place between Europe and North Carolina. Young readers may be able to do the same, and feel like big children with responsibilities, too. 
THOUGHTS: The recipe and description of the real Ernestine in the end notes will help give an activity and context for the readers. Knowing that this takes place during WWII, groups also may want to compare other jobs and tasks that women stepped into on the homefront.
Picture Book          Dustin Brackbill    State College Area SD
---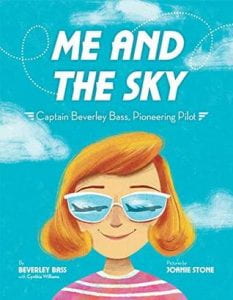 Bass, Beverly, and Joanie Stone. Me and the Sky: Captain Beverly Bass, Pioneering Pilot. Alfred A Knopf, 2019. 978-0-525-64549-8. Unpaged. $17.99. Grades 2-4.
Pioneers in any endeavor always need passion and determination to make their dreams come true. Beverly Bass undoubtedly had both, as she sought to be a female airline pilot. Starting as a dream when she was little and moving into her young adult occupation, Beverly took to the skies whenever she could. Once inside the cockpit, she learned and practiced and began to make her dreams into reality. Even when told that women can't be large airline pilots, she took jobs that lead her to make progress toward her goal. The words are from Bass herself and ring the right balance between inspirational and educational. The stylized artwork from Joanie Stone puts young readers into the scene, whether a bird's eye view or firmly on the ground. With the biographical information and story of her actions on 9/11, in the end notes, young readers will be inspired to pursue their dreams.
THOUGHTS: Female aviation pioneers are unique in many of the challenges that they face, but the story of Beverly serves to open the world of airline pilots and inspire a new generation of young girls to reach for their dreams. Students who look to Betsy Coleman, Amelia Earhart, and Sally Ride would appreciate the story of Bass as well. They could even reach out to her on Twitter at @jetsflygirl for more!
Biography        Dustin Brackbill    State College Area SD
---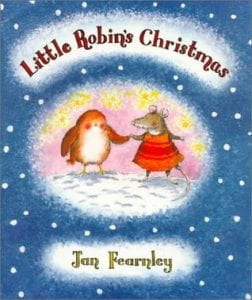 Fearnley, Jan. Little Robin's Christmas. Nose Crow, 2019. 978-1-536-20825-2. Unpaged. $16.99. Grades PreK-2. 
Little Robin's collection of seven colorful vests will keep him warm through the chilly winter days, and certainly look lovely against his plain brown feathers, but by the end of a cold week he has no vests left after he gives them all away to friends in need of warmth. While they don't fit all of his friends very well (Rabbit wears his as a hat!), they are all so grateful to kind Little Robin who selflessly puts his friends first. After giving away his last vest to a mouse, Little Robin realizes that he's very chilly himself and he's far, far from home. Santa Claus finds Little Robin and takes him home to Mrs. Claus. Santa tells Little Robin, "You gave away all your warm clothes to help others. You are full of the spirit of Christmas. Now it's time for your present.'" Mrs. Claus knits Little Robin his signature red "vest," a gift he will wear forever, and says "…when other people see you, it will make them feel warm, too." Such a sweet pourquoi story with a Christmas twist!
THOUGHTS: Little Robin shows what Christmas spirit is all about. 
Picture Book          Lindsey Long, Lower Dauphin SD

---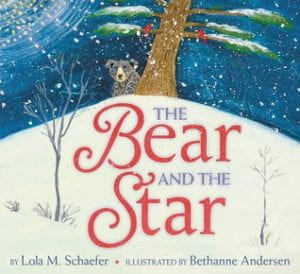 Schaefer, Lola. The Bear and the Star. Greenwillow Books, 2019. 978-0-062-66037-4. Unpaged. $17.99. Grades PreK-2. 
Bethanne Andersen's beautiful oil paintings pair nicely with Lola Schaefer's peaceful December story. A bear sees a bright star one December morning and realizes, "It was time." He searches for a tree that can serve as a gathering spot and roars far and wide for animals and people alike to join together under "…a star larger and brighter than any before, because it was time…for peace." The story is not religious in nature, although the December time period and mention of the bright star certainly could put readers in mind of Christmas, but it conveys such a lovely feeling of togetherness and peace that it could easily be read as a holiday story or simply a wintertime call for everyone to be together in love and peace.
THOUGHTS: Consider for a December storytime or quiet sharing with a special child. 
Picture Book          Lindsey Long, Lower Dauphin SD
---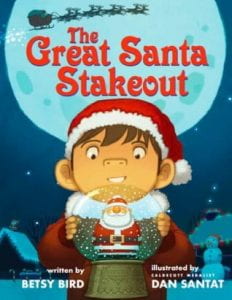 Bird, Betsy. The Great Santa Stakeout. Arthur A. Levine Books, 2019. 978-1-338-116998-0. Unpaged. $17.99. Grades K-2. 
Freddy Melcher loves Santa Claus. Really, really, REALLY loves Santa Claus. He gives out Christmas tree-shaped Valentines, dresses as Santa for his birthday party, and decorates his bedroom with wall-to-wall Santa gear. Freddy's biggest wish is to snap a selfie with Santa on Christmas Eve–what an addition to his collection! His plan involves cans on the roof, motion-sensitive cameras, and a whole lot of luck. Christmas Eve arrives and Freddy hears a clatter on the roof, throws up the sash…and sees Santa fall past his window to the ground below! Oh no! Did Freddy break Santa? Turns out that Santa is too smart for this plan, and he leaves a note instead, which Freddy jubilantly adds to his collection of Santa memorabilia before he gets to work on next year's plan. In typical Dan Santat fashion, the illustrations are packed with funny details and lots of color.
THOUGHTS: A modern day Christmas story for any kid (big or little) who adores the jolly man in red. 
Picture Book          Lindsey Long, Lower Dauphin SD
---
Tavares, Matt. Dasher: How a Brave Little Doe Changed Christmas Forever. Candlewick Press, 2019. 978-1-536-20137-6. Unpaged. $17.99. Grades K-3. 
My favorite new Christmas book of 2019. Dasher and her reindeer family live with J.P. Finnegan's Traveling Circus and Menagerie where they serve double duty–animal attraction by day and wagon-pullers by night. Dasher loves the children who visit the circus and feed her carrots, but life is hot and cramped and Mr. Finnegan is unkind. One thing that brings Dasher joy is her mother's stories about the North Pole, a place where the North Star is directly overhead and snow covers the ground. One night, Dasher escapes when wind blows her pen's gate open, and she follows the North Star for many hours. She finds herself lost and unsure what to do. She wishes on the North Star and hears soft jingle bells in the distance. Dasher meets Santa and horse Silverbell, a beautiful white horse who is solely responsible for pulling Santa's sleigh, and offers to help Silverbell pull the sleigh so she can make children happy on Christmas morning. The run is a success, and Dasher makes another wish for her whole family to join her at the North Pole. Santa is happy to grant this wish, and eventually Silverbell happily steps aside so Dasher and her family can serve as Santa's full time sleigh team and live at the North Pole. Matt Tavares wrote and illustrated a beautiful tale from yesteryear, and as the front note says, "…it never would have happened if it weren't for a brave young doe named Dasher."
THOUGHTS: Gorgeous illustrations highlight this heartwarming story about Santa's first reindeer. 
Picture Book          Lindsey Long, Lower Dauphin SD
---
Hillenbrand, Will. Santa's Story. Two Lions, 2019. 978-1-542-04338-0. Unpaged. $17.99. Grades PreK-2.  
Santa is ready to begin his Christmas Eve deliveries, but the reindeer have gone missing. Santa searches high and low for his crew, and "Santa decided to play the all-call on his horn. Toot, toot, toot…" Still no reindeer! Several pages show each deer enjoying himself in some fun way, whether it's singing some Christmas tunes, dancing, or taking a nap. After a noisy display of jingle bell ringing, there are still no reindeer at the sleigh and Santa is stumped. Suddenly, he sees Comet in the distance reading a book, and he remembers their Christmas Eve tradition. Calling the crew to story time, Santa begins, "'Twas the night before Christmas, when all through the house…" The deer enjoy the story and feel ready to spread Christmas cheer. Hillenbrand's special blend of funny illustrated details and simple text create an enjoyable new Christmas story.
THOUGHTS: Kids will enjoy the reindeers' antics and the simple, satisfying ending.  
Picture Book          Lindsey Long, Lower Dauphin SD
---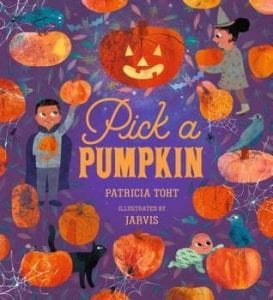 Toht, Patricia. Pick a Pumpkin. Candlewick Press, 2019. 978-1-536-20764-4. Unpaged. $16.99. Grades PreK-2. 
The team behind Pick a Pine Tree is back with another holiday tradition! Pick a Pumpkin follows mother and children through a pumpkin patch where they choose the best pumpkins before pausing for a fall treat ("Stop for mugs of spicy punch, toffee apples, sweet to crunch"). At home, the family prepares the pumpkins for carving, and dad and baby join the fun. Just like the family preparing their Christmas tree in Pick a Pine Tree, this family invites friends and neighbors to join in and adults and children carve jack-o-lanterns before decorating the house, donning costumes for trick-or-treat, and lighting the jack-o-lanterns ("Its red-hot eyes will gaze and flicker. Its fiery grin will blaze and snicker, to guard your house while you have fun."). Toht's descriptive rhyming text begs readers to move through the pages as many verses end with the beginning of the next verse ("Homeward from the pumpkin patch, all your goodies stack in back. Now…"). Jarvis uses pencil, chalk, paint, and digitally added color to create whimsical illustrations with all the trimmings of autumn: vibrantly colored fall leaves, a full moon covered by dark flecks (birds? witches on broomsticks?), and the family black cat dotting the pages.
THOUGHTS: In a sea of mediocre Halloween books, this one stands out with winning text and illustrations. Perfect for a class read-aloud to celebrate the traditions of the holiday! 
Picture Book          Lindsey Long, Lower Dauphin SD
---
Ashman, Linda. William Wakes Up. Disney Hyperion, 2019. 978-1-487-42283-1. Unpaged. $17.99. Grades PreK-2. 
William wakes up from his winter slumber (William's Winter Nap) with animal friends still snoozing in bed. He realizes that his friend will soon arrive and asks his friends to wake up and help make a cake to welcome the guest. Similar to the one-by-one arrival of each animal in William's first story, the animals rise one-by-one to help with springtime chores, although sleepy Raccoon stays in bed, only waking when William's friend Bluebird arrives and the cake is presented. The other animals feel that Raccoon isn't deserving of cake since he didn't share in the work, which feels very much like The Little Red Hen, but Raccoon gets another chance to help when Bluebird needs a building crew for a new nest. Ashman's stories about William pair nicely with similar rhyming styles and lovely old-fashioned illustrations by Chuck Groenik, but William's springtime story would also make a great stand-alone read.
THOUGHTS: A great choice for story time with preschoolers/kindergarteners, especially if the kids know William from a winter storytime! 
Picture Book          Lindsey Long, Lower Dauphin SD

---
Meister, Cari. Pony Poems for Little Pony Lovers. Beach Lane Books, 2019. 978-1-481-49814-2. Unpaged. $17.99. Grades K-3. 
Cari Meister's Pony Poems for Little Pony Lovers will certainly find an audience with your horse and pony fans. The poems are short and sweet, mostly rhyming, and clearly full of pony love. Several of the poems sound similar and adopted styles from familiar nursery rhymes to tell about ponies of all kinds. The children and ponies shown pictured in illustrations by Sara Rhys are adorable and a tad whimsical, full of soft colors and rosy cheeks. Front and back endpapers picture each horse in a cameo-style portrait surrounded by vines and flowers. 
THOUGHTS: A nice addition to easy poetry collections that will find its biggest fans with pony lovers. 
811 Poetry          Lindsey Long, Lower Dauphin SD
---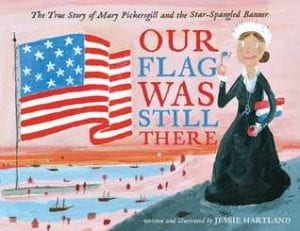 Hartland, Jessie. Our Flag Was Still There: The True Story of Mary Pickersgill and the Star-Spangled Banner. Simon & Schuster Books for Young Readers, 2019. 978-1-5344-0233-1. Unpaged. $17.99. Gr. K-4. 
Jessie Hartland's signature, somewhat unusual illustration style feels endearingly jolly when paired with a historical narrative on Mary Pickersgill's giant flag that inspired Francis Scott Key's writing of the poem turned national anthem. The War of 1812 prompted Major George Armistead to hire Pickersgill and her team of female seamstresses to create a giant flag to fly over Fort McHenry ("George wanted to send a big message to the British: This land belongs to America!"). Pickersgill and her all-female team created the giant thirty by forty-two foot flag in her Baltimore shop (and the local brewery, when they needed more space!) in just six weeks. It flew over Fort McHenry as the US soldiers defended our country from the British. Over the last 200 years, the flag survived through several owners (and moths!) and was donated to and restored by the Smithsonian's National Museum of American History  in Washington, D.C. where it can be seen today. End matter includes a helpful Author's Note, source notes, bibliography, further reading suggestions, and a timeline of events. Front and back endpapers feature a collection of period items on a patriotic-looking background, similar to Hartland's endpapers in Bon Appetit! The Delicious Life of Julia Child. A few favorites: a can of Blubber King whale oil, a pint of Brown's beer from the Baltimore brewery where Pickersgill worked on the flag, and giant sewing scissors. 
THOUGHTS: An excellent topical account of Mary Pickersgill and the famous flag. 
929.9 Flags         Lindsey Long, Lower Dauphin SD
---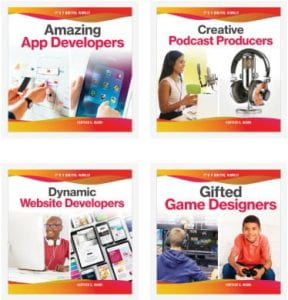 It's a Digital World! Checkerboard Library, 2019. $20 each, $120 set of 6. 32 p. Grades 3-6.
Hudak, Heather C. Amazing App Developers. 978-1-53211-530-1
—. Creative Podcast Procedures. 978-1-53211-531-8
—. Dynamic Website Developers. 978-1-53211-532-5
—. Gifted Game Designers. 978-1-53211-533-2
—. Helpful Hackers. 978-1-53211-534-9
Balsley, Christine E. Master Computer Programmers. 978-1-53211-535-6
Please note that this review was written based on Helpful Hackers, not the entire series. Helpful Hackers provides an excellent introduction on the history, terminology, and pros and cons of computer hacking. Hudak's straightforward text details both sides of hacking (black hat vs. white hat) and the ways that both have become big business in recent years as corporations, universities, banks, and more depend on hackers working in cybersecurity to protect sensitive information from hackers looking to profit from scams and security breaches. The layout is clean with lots of white space and brightly colored headers and footers, and end matter includes a well-done timeline, glossary, index, and reference to Abdo's Booklinks nonfiction network for links and further resources.
THOUGHTS: A timely, visually appealing introduction to hacking, see the rest of the series for other offerings in STEM careers. 
Computer Science          Lindsey Long, Lower Dauphin SD