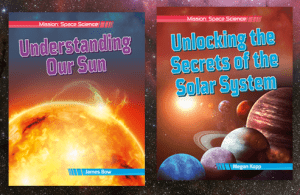 Mission: Space Science. Crabtree, 2019.  $23.54 ea. $141.24 set of 5. 48 p. Grades 4-8.
Bow, James. Building a Home in Space. 978-0-778-75384-1
—. Understanding Our Sun. 978-0-778-75395-7
Dickmann, Nancy. Chasing Comets, Asteroids, and Mysterious Space Objects. 978-0-778-75392-6.
Kopp, Megan. Journeys to Outer Space. 978-0-778-75393-3
O'Brien, Cynthia. Searching for Extraterrestrials. 978-0-778-75394-0
A colorful and engaging 5 volume reference set which explores various issues regarding explorations into outer space. Each title provides background and historical information on technological developments and discoveries over the past years, information on current technologies and missions, and outlines future plans for further explorations. All titles feature numerous full-color photos and illustrations, a student activity, a glossary, a reference list, and an index.
THOUGHTS: A solid choice for quick reference on space topics for elementary students.
629.44, 523 Space          Nancy Summers Abington SD
---
Boyce, Jo Ann Allen, and Debbie Levy. This Promise of Change: One Girl's Story in the Fight for School Equality. Bloomsbury Children's Books, 2019.  978-1-681-19852-1. 320 p. $17.99. Grades 5-8.
Jo Ann Allen Boyce and Debbie Levy team up to tell Jo Ann's daunting experience as a young black woman who was asked to help integrate the Clinton Tennessee High School in Tennessee in 1956. Told in free verse, the words are so carefully chosen that their impact is deep. Jo Ann's thoughts and emotions give the reader a picture of all residents, both black and white, in this trying time. Headlines and quotations for newspapers enhance the authors' words. The back matter is most helpful, including an annotated Timeline of School Desegregation and Civil Rights Landmarks, quotation sources, a selected bibliography of books and other media, a list for further reading, and other source credits.
THOUGHTS: Eye witness accounts and memoirs are very powerful. Jo Ann's personal account along with the photographs in the scrapbook makes this book very personal. Her words make racism, tanks, protests, and soldiers very real for the reader. I feel readers will realize the struggle African Americans had and still have for equal rights.
379.2 School Integration, Biography         Jeannie Bellavance, Retired
---
Giff, Patricia Reilly. A Slip of a Girl. Holiday House, 2019. 978-0-823-43955-3. 233 p. $16.99. Grades 5-9.
Patricia Reilly Giff tells of the Irish tenant farmers' struggle to gain security for their land and families in the late 1800's through the eyes of Anna Mallon. Her family's farm is everything. The family has farmed the land for years and now the absentee British landlords are clearing out the people for sheep! Anna promises her dying mother to watch over the farm and her sister, Nuala, who has special needs. Already her other siblings have emigrated to America and her father must work elsewhere. Anna is alone to manage it all. The English earl and his aides are determined to have the land by any means. When her dad is sent to jail, she must seek help from her estranged aunt, Ethna, a very talented weaver. This turns out to be another struggle but well worth it as Aunt cares for Nuala and teaches Anna to weave – a marketable skill. Leaving her sister with Aunt, Anna returns to her land to stand up for it. There is a movement for reforms to the unfair laws, the cruel evictions. The local priest organizes the locals to face off the bailiff as he comes to evict families. People come from other villages to show their support. Soldiers come to clear them away, but the crowd and Anna persist. The slip of a girl and the people win for now. Realities must be faced. The leaders may be jailed, the rent must be paid. Eventually laws are passed in England which allow the farmers to buy back their homes.
THOUGHTS: Although this is a fictional account, Giff's ancestors went through the land war in Durmlish, County Longacre, Ireland. I find the story fascinating. I think upper grade and middle school readers will be astounded bravery and resourcefulness of a girl their age. It is hard to believe in the cruelty of others, but it exists, even in the twenty-first century. Giff writes in blank verse carefully choosing her words to evoke compassion. Her glossary explains the Irish/Celtic words that add authenticity to the story. The archival photographs help the reader visualize the people and their struggles. In her note she explains her family connection to the story and her research to bring it to us. The only thing I might have added is a map.
Historical Fiction, Ireland –History, 1837-1901          Jeannie Bellavance, Retired
---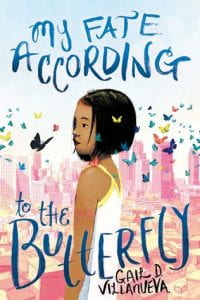 Villanueva, Gail D. My Fate According to the Butterfly. Scholastic, 2019. 978-1-338-31050-4. 233 p. $17.99. Grades 4-7.
Sab (short for Sabrina) lives in the Philippines with her sister (Nadine), her mother and her mother's boyfriend. When she sees a black butterfly one week before her eleventh birthday, she is certain that she is going to die. After all, her father always told her that the black butterfly signals the death of yourself or a loved one. With this in mind, Sab decides to make it her final mission to reunite her family. Her sister hasn't spoken to their father in over a year, and Sab is going to figure out why. With the help of her best friend, Pepper, Sab begins to uncover family secrets and painful lies that just may change the way she views the world. A beautiful portrait of friendship, family ties, Filipino culture, and the impact of drug abuse on loved ones, this timely and relatable story is a solid addition to any junior high collection.
THOUGHTS: This title is chock full of learning and discussion opportunities. There are an abundance of references to Filipino food, traditions, and language, making this an excellent supplemental resource for units on world cultures. The realities of drug abuse, addiction, and rehabilitation that are ever present in our world today are dealt with delicately in the story, which encourages compassion and forgiveness for users. Sab's unconventional family – which includes a mother, two fathers, a stepfather, and a sister –  is also something that many people can relate to today. Overall, this is a well-written title that definitely deserves consideration for purchase.
Realistic Fiction        Julie Ritter, PSLA Member

---
Spinelli, Eileen. Birdie. Eerdmans Books for Young Readers, 2019. 978-0-802-85513-8. 197 p.  $16.00. Grades 5-9. 
Twelve-year-old Birdie (actually Roberta, but she will change it officially when she is 18) finds beauty and solace in birds.  Her mother and she live in Hadley Falls, a small rural town, but they used to live in Philadelphia until her father, a firefighter, died in a fire. She is fairly comfortable there, but she's 12, and life is changing all around. Her best friend Martin starts dating Nina; her grandmother, Maymee, becomes infatuated with Mr. Gray. Worst of all, her mother is becoming more friendly with a local police officer. Still loyal to her father, Birdie is naturally upset but she quietly observes these "romances" and the changes that are happening. She is angry and avoids events such as a parade that bring back memories of her dad. She worries that the annual trip to visit her father's grave and the special customs that go with it will be lost. Eventually, she learns that "life goes on" as she starts to talk over her feelings with her friend Loretta, but also with her mother and grandmother.
THOUGHTS: This is a gentle compassionate book. Life in Hadley Falls has a nice rhythm. The pace of life there allows time for healing and understanding. I like that this story approaches romance across the generations. Spinelli does a great job portraying young love and a mature approach to love.
Realistic Fiction          Jeannie Bellavance Retired