Schuren, Shannon. The Virtue of Sin. Philomel Books, 2019. 978-0-525-51654-5. 420 p. $17.99. Grades 8 and up. 
Girls and boys don't get to speak to one another – not in this community, not until they're married. But, as usual, youth finds a way. When it is time for a Matrimony for all those of age, Miriam is sure that she knows who will choose her. The night, however, doesn't go as planned, leaving Miriam to question everything she's ever known. Married to an outsider who she doesn't love (and who apparently doesn't believe) Miriam is faced with a choice: comply and become the docile wife of someone she doesn't want or face the reality that Daniel, their voice of God, may not be all that he claims to be. As the world begins to shift around her, Miriam begins to find her own path in a life that has always been dictated for her.
THOUGHTS: Miriam's story is a powerful depiction of the control that people can hold over others and the determination it takes to let yourself be free. 
Realistic Fiction          Samantha Helwig, Dover Area SD

---
Mitchell, Saundra. The Prom. Viking, 2019. 978-1-984-83752-3. 212 p. $17.99. Grades 7 and up.
All Emma can dream of is dancing with her girlfriend at prom. One special, magical night where the two of them can not only be seen in public but be normal. However, that's entirely too much for Edgewater, Indiana to handle. When the PTA finds out that someone different wants to disrupt their perfect prom, crisis mode ensues. Emma, a cover artist on YouTube, makes headlines nationwide after taking the PTA (and their new exclusive rules) to task in her latest video. Before she knows it, big names are stepping to her side while her town turns its back, and Emma is left in one big, complicated situation when all she wanted was something so simple.
THOUGHTS: Based on the hit Broadway musical, this heart-wrenching description of the challenges LGBTQIA+ youth face is all too real. From the bullies and the isolation to the unexpected support and acceptance, readers will feel every step of the way as they follow Emma along her journey. 
Realistic Fiction          Samantha Helwig, Dover Area SD

---
Menon, Sandhya. There's Something About Sweetie. Simon Pulse, 2019. 978-1-534-41678-9. 376 p. $18.99. Grades 7 and up. 
Sweetie Nair is phenomenal. She's sweet and kind, a star athlete, a model daughter with a perfect life and, oh yeah, she's fat. Growing up fat in an Indian-American household hasn't been simple for Sweetie; her mom is constantly trying to get her to lose weight so she can have an easy life, and society always has something to say about the way she looks. When Sweetie is offered the opportunity to date the ultra-attractive Ashish Patel, a star basketball player and ladies' man, she learns the truth about just how far her mother's prejudices go. Not to be deterred, Sweetie decides to take matters into her own hands: it's time to show the world just who she really is.
THOUGHTS: Set in the same world, this companion novel will fill the When Dimple Met Rishi sized hole in your heart. 
Realistic Fiction          Samantha Helwig, Dover Area SD
---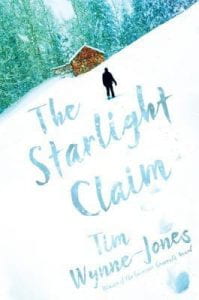 Wynne-Jones, Tim. The Starlight Claim. Candlewick Press, 2019. 978-1-536-20264-9. 240 p. $17.99. Grades 8 and up. 
Nate Crow has grown up spending summers at his family's isolated cabin on the lake learning how to respect nature and the elements. Joined by his friends Dodge and Paul, the boys lived idyllic childhoods enjoying their surroundings in the fair weather. But come fall, it's time to secure the cabin and head for sturdier lodging. It's possible to winter in the cabin, sure, but life is as hard as the snow is deep and with only one train in or out of the area the isolation could be deadly. When Dodge goes missing and is presumed dead after a winter excursion to his cabin, Nate is haunted by dreams of his former best friend. He knows he needs to do everything he can to ensure that Dodge is not still out there, alive but hurt. Nate makes the arduous hike to the cabin, only to find that the isolated cabin isn't deserted after all. Miles away from anyone who could help, with limited supplies and a blizzard moving in, Nate must figure out how to survive.
THOUGHTS: The Starlight Claim is a thrilling survival story that will keep readers on the edge of their seats. This book has a bit of everything and will appeal to anyone interested in the outdoors, life or death survival, and jail breaks. 
Action/Adventure        Samantha Helwig, Dover Area SD
---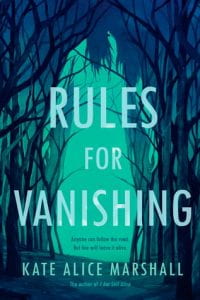 Marshall, Kate Alice. Rules for Vanishing. Viking, 2019. 978-1-984-83701-1. 402 p. $18.99. Grades 9-12. 
The tale of Lucy Gallows has lived on in Briar Glen for generations. Legend has it that once a year a road will appear in the woods, and the ghost of Lucy Gallows will appear. Those who follow the road are supposedly granted a wish. Sara's sister Becca disappeared one year ago right around the time the road should have appeared. When Sara finds a journal of Becca's with clues to the road, she knows where Becca went and is determined to go after her. Despite having resolved to go alone, former friends rally to join Sara on her journey, none of them knowing the challenges, dangers, and sacrifices that lay ahead- after all, the road doesn't want them to leave.
THOUGHTS: While the story was more gory than I usually like to see, I appreciated that the plot line was original. The road was lined with challenges both fantastic and psychological with horror elements that truly made it a gripping and haunting tale. 
Horror Fiction         Samantha Helwig, Dover Area SD
---
Shusterman, Neal. The Toll. Simon & Schuster Books for Young Readers, 2019. 978-1-481-49706-0. 625 p. $19.99. Grades 7+.
Good and evil forces are aligned to fight for the fate of human and scythekind in this gripping and satisfying conclusion to the highly popular Arc of a Scythe series. Even in a perfect word designed by an advanced AI to solve all of humanity's problems, the foibles and weakness of humans derail the best laid plans. The power within the worldwide Scythedom is being consolidated under the self-serving control of Scythe Goddard and the ugly realities of bigotry, fear mongering, and political intrigues are on display. Our favorite characters seem helpless, the honorable Scythe Faraday has retreated in despair to an atoll in the Pacific Ocean. Citra and Rowan are found in the wreckage after the Endura disaster and are now hunted by Goddard's minions. Also on Goddard's hitlist is Greyson Tolliver, the sole person to whom the Thunderhead speaks and the spiritual leader to the Tonists. The Thunderhead, by its own law, cannot intervene in the affairs of the Scythedom. But can a small group of thoughtful, committed, major characters change the fate of the world? Overall, an engaging and thought-provoking read.
THOUGHTS: Highly recommended for Grades 7+. This book already has a long waiting list for fans of this top notch dystopian sci-fi series; our library purchased two additional copies to meet demand. Interest in the series should continue as a motion picture is in the works.
Science Fiction          Nancy Summers Abington SD
---
Fischer Richardson, Nancy. The Speed of Falling Objects. Harlequin/Inkyard Press, 2019. 978-1-335-92824-5. 336 p. $18.00. Grades 9 and up.
Danny is not like her absentee father in any way. He's the in-your-face TV personality "Cougar," a world-famous survivalist that is always flying off to exotic locations with celebrities to show the television audience how to survive in whatever dangerous situation unfolds. Danny's given name is actually Danger Danielle Warren, but because that's the opposite of her careful, quiet personality and because her father, who left her and her mom when he struck it rich with his television show, is the one who christened her with that name, she goes by Danny instead. She's certain that her father is disappointed in her because she isn't daring and athletic like him, and she suspects she is also the cause of her mom's bitterness toward her dad. Danny's caution stems from her struggles with her balance and perception due to a childhood accident that caused her to lose an eye. When Danny is just about to turn seventeen, and after years of neglect, Cougar reaches out to her for the chance of a lifetime to go to the Amazon Rainforest with him and one of the most popular heartthrobs in the world for an adventure. She jumps at the chance to prove her worth even though her mother is against it. The book takes a dark turn when there is a plane crash, and Danny is confronted with the truth of her father and a family secret and her need to summon her own survival skills to try and make it out of the jungle alive.

THOUGHTS: Although the characters and events were a bit contrived, it made the story possible, so I can forgive them. This book will appeal to some of my students who will enjoy the survival aspect. Fair warning that many people die while trying to survive the plane crash and rainforest, and there is romance.
Action/Adventure          Bridget Fox, Central Bucks SD