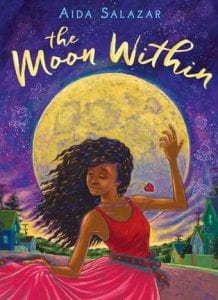 Salazar, Aida. The Moon Within. Arthur A. Levine Books, 2019. 978-1-338-28339-6. 240 p. $17.99. Grades 3 to 7.
The Moon Within is a book in verse about, Celi, a soon-to-be twelve-year old girl and the struggles all of that entails. The main story is about the changes her body is going through and her impending "moon" (her Mima's euphemism for her period). Mima insists on celebrating her daughter's puberty and wants to have a moon ceremony with family and friends in her women's group. Mima remembers the shame she felt when she first got her period, and she wants to ensure that Celi doesn't feel shame, plus she wants to celebrate a coming-of-age ritual that might have been celebrated by their ancient ancestors. Celi's family lives in Oakland, CA, but she is bi-cultural (Puerto Rican/Mexican) and multi-racial (Indigenous, African, and European). Celi's best friend Magda is questioning her gender and eventually works up the courage to begin living as Marco. Marco's parents hold an interesting ceremony where they welcome his authentic self and ask Celi for her support. Celi, who though Magda was just a tomboy, is surprised by the transformation of her best friend but is accepting. The problem begins when Celi's crush Ivan isn't as accepting of Marco's transition forcing Celi to choose between the two of them.

THOUGHTS: This story reminds me of Planet Middle School. It will appeal to primarily female students due to the subject matter (puberty/periods and budding romance). The story was written primarily in English with Spanish words throughout. For non-Spanish speakers those words can be figured out easily with context clues.

Realistic Fiction          Bridget Fox, Central Bucks SD

---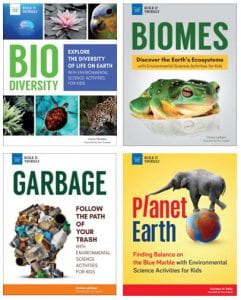 Build It Environmental Science. Nomad Press, 2019. $17.95 ea. $71.80 set of 4. 128p. Grades 4 – 6.
Perdew, Laura. Biodiversity. 978-1-619-30751-3.
Latham, Donna. Biomes. 978-1-619-30739-1.
Latham, Donna. Garbage. 978-1619-30747-6.
Reilly, Kathleen. Planet Earth. 978-1-619-30743-8.        
Biodiversity: Explore the Diversity of Life on Earth with Environmental Science Activities for Kids is a beautifully designed book with a lot going on. Each chapter is laid out in a similar format. They begin with a comic strip (with diverse characters), an age-appropriate essential question, boxes with "words to know" which are also included in a glossary in the back of the book, call-outs with "did you know" facts, full color photographs, extra online material that can be accessed through a QR code, and several pages of activities at the end. The activities include "consider this" information and questions as an end-of activity follow-up. The QR codes that I checked all worked, but the back of the book also includes a resources page to access the online material in an alternative method. It also includes an index and a geologic time scale. This book is one of four in an environmental science set.

THOUGHTS: This is the type of book I would have loved when I was younger. It is not only a great addition to a K-6 library, but the quality of the information and the activities would make it an excellent book for elementary science teachers.
577 Ecology          Bridget Fox, Central Bucks SD

---
Sumner, Jamie. Roll with It. Atheneum Books for Young Readers, 2019. 978-1-534-44255-9. 250 p. Grades 4-7. 
Twelve-year-old Ellie has cystic fibrosis, but she doesn't let being wheelchair bound stand in the way of her dreams of becoming a world-famous baker. Ellie pours over cookbooks, looks up recipes on her iPad, and whips up all kinds of baked goods for her mother. But, when her grandfather's dementia becomes too much for her grandmother to handle on her own, Ellie and her mother move mid-school year from Tennessee to Oklahoma. This means starting over in a new middle school, and standing out as the "new girl in the wheelchair." Ellie also struggles with making friends, navigating cliques, and convincing her mother she doesn't need a full-time aide. Despite facing a serious health setback, Ellie's spunky and confident personality shine through, and readers will cheer her on as she adjusts to life in her new surroundings. 
THOUGHTS: Ellie's realistic struggles with navigating middle school drama, fitting in at a new school, making new friends, and coming to terms with an ailing grandparent's condition will ring true to many readers. While being in a wheelchair is definitely part of who Ellie is, she doesn't let this reality define her. Sumner is the parent of a child with cystic fibrosis, and she has created a story that makes it clear that students with disabilities are just regular kids with the same hopes, dreams, and longings as their classmates. This should find a place in most middle-grade collections and will be popular with fans of Wonder and The War that Saved My Life. 
Realistic Fiction          Anne Bozievich, Southern York County SD
---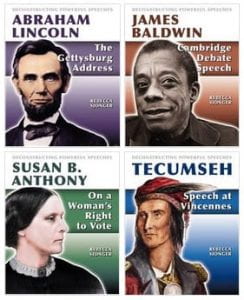 Sjonger, Rebecca. Deconstructing Powerful Speeches. Crabtree Publishing Company, 2019. $9.95 ea. $39.80 set of 4 (paperback). 48 p. Grades 5-9.
Abraham Lincoln: The Gettysburg Address. 978-0-778-75253-0.
James Baldwin: The Cambridge Debate Speech. 978-0-778-75254-7.
Susan B. Anthony: On a Woman's Right to Vote. 978-0-778-75255-4.
Tecumseh: Speech at Vincennes. 978-0-778-75256-1.
Deconstructing Powerful Speeches is a series you may not realize that you need in your school library collection until you page through each volume. These books occupy a unique space at the intersection of pivotal American historical events and landmark persuasive speeches. Author Rebecca Sjonger presents a thorough case that the spoken word is a powerful tool for change. By making an effective argument (with a claim, evidence, warrants, and an appeal), a speaker can influence the thinking of his or her audience. Because there are no audio or video recordings of speeches as old as the Gettysburg Address, students and historians must employ primary source analysis skills to determine the creator, date, intended audience, purpose, and more. Plentiful, color-coded analyses of speech excerpts amply demonstrate just how to do so. Ongoing sidebar features such as "Digging Deeper" and "Deconstruct It" encourage readers to pose further questions and think more critically about rhetorical devices and the art of persuasion. Page layouts include full color artwork, photographs, and additional primary source documents. Each volume closes with modern figures, such as Barack Obama and Beyonce, who have delivered speeches meant to sway their audiences.
THOUGHTS: With engaging text and easily reproducible pages, the possibilities for classroom connections are abundant, from introductory speech classes to AP English Language and Composition.
324, Speeches and Addresses           Amy V. Pickett, Ridley SD