Elston, Ashley. 10 Blind Dates. Hyperion, 2019. 978-1-368-02749-6. 327 p. $17.99. Grades 8-12.
With the Christmas holiday fast approaching, Louisiana senior Sophie finds herself unexpectedly (and unhappily) single after her boyfriend, Griffin, breaks up with her. Her parents are away, tending to Sophie's very pregnant older sister, so she heads to Shreveport to nurse her broken heart in the company of her grandparents and large, boisterous extended family. Nonna decides to cheer up her granddaughter by organizing family members to set Sophie up on ten blind dates. Each chapter in this delightful rom-com covers a day and a date; they range from sweet (a Festival of Lights) to embarrassing (a Nativity scene with Sophie and her date in the roles of Mary and Joseph) to very public (a Kiss Cam!) as Sophie navigates ten days and ten dudes. In the meantime, Sophie's sister delivers her baby prematurely, Griffin wants her back, and Sophie realizes that the one date she really wants is the one she will never have … or will she? With plenty of holiday cheer and a loving, eccentric family that always provides a soft place to fall, this ultra-fresh romance will look perfect under the tree!
THOUGHTS: I fell head over heels for Ashley Elston's remarkable (and under-rated) The Lying Woods, and I highly recommend a date with her newest novel!
Realistic Fiction          Amy V. Pickett, Ridley SD
---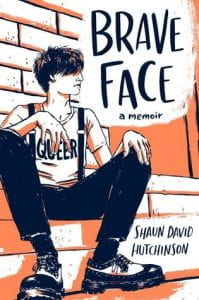 Hutchinson, Shaun David. Brave Face: A Memoir. Simon Pulse, 2019. 978-1-534-43151-5. 356 p. $18.99. Grades 9+.
In his compelling memoir, Brave Face, prolific young adult author Shaun David Hutchinson recounts his teenage years and his experiences with identifying as queer, coming out, and depression. Growing up in Florida in the 1990s, Hutchinson internalized many of the stereotypes and misconceptions about gay people that were common at the time. He despised and dreaded every future he could envision for himself, all involving a terrifying combination of risky sex, AIDS, drugs, hate crimes, and a flamboyant persona. In his own words, "I was trying to see a future for myself where I could be gay without being a fag." Lonely, frustrated, and angry, he punched walls, cut, and burned himself to vent his pain as his depression deepened, accompanied by a sharp fear of abandonment by his friends and family and he began to come out to them. As his depression whispered that this bleak existence was the one he deserved, he became suicidal. Brave Face is, indeed, a brave book. Hutchinson openly reveals the "shape and texture" of his pain. It's also a great time capsule of a 1990s adolescence: Tori Amos CDs, dial-up, and a part-time job at Waldenbooks in the mall. 
THOUGHTS: The author deftly meshes journal entries, a frank depiction of his self-hatred, and his sly sense of humor with his vantage point "from the light at the other end of the tunnel" to create a most worthwhile read.
Memoir          Amy V. Pickett, Ridley SD
---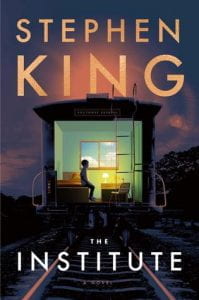 King, Stephen. The Institute. Scribner, 2019. 978-1-982-11056-7. 561 p. $30.00. Grades 10+.
Luke Ellis is a smart kid, a really smart kid. The 12-year old student at the Broderick School for Exceptional Children in Minneapolis is ready to start two college programs … and he can move objects with his mind. This telekinetic ability brings him, through a violent turn of events, to the Institute in rural Maine, where special children like Luke are subjected to weeks of tests in Front Half before being moved to Back Half. There a mysterious but dire fate awaits the residents. No one has ever escaped the Institute; no one is quite as smart as Luke, either. Stephen King's harrowing depiction of Luke's and his fellow captives' experiences, complete with sadistic medical treatments, taps into a classic horror vein. The parallel story of erstwhile police officer Tim Jamieson and his arrival in DuPray, South Carolina, eventually intertwines with Luke's, leading to a literally ground-shaking showdown between the forces of good and evil (or so they seem).
THOUGHTS: What could make a Stephen King book even more appealing to young adults? A cast of characters made up mostly of pre-teens and adolescents! With plenty of Stephen King's trademark self-referential Easter eggs, The Institute is a great read for budding horror fans of all ages who have the patience for a slow but highly satisfying boil.
Fiction (Crossover / Horror)          Amy V. Pickett, Ridley
---
Jackson, Tiffany D. Let Me Hear a Rhyme. Katherine Tegen Books, 2019. 978-0-062-84032-5. 376 p. $17.99. Grades 9+.
Late 1990s. Bed-Stuy, Brooklynn, New York. Tupac is dead. Biggie Smalls is dead. Stephon Davis is dead. After the murder of their best friend, Quadir and Jarrell are determined to immortalize Steph through his music. With the help of Steph's sister, Jasmine, the three create a rap album to promote Steph's previously recorded songs. When a major record label contacts "The Architect," Steph's rap name, to set up a meeting, Quadir and Jarrell formulate a plan to promote Steph's music without him or Jasmine. As their lies and deceit grow bigger and bigger, the two friends must face the truth and the possibility that fighting to immortalize Steph might just be what kills him again. With the continued secrets and lies, Quadir, Jarrell, and Jasmine must face their own stories and come to terms with the Steph's murder and their possible involvement. 
THOUGHTS: Tiffany D. Jackson once again crafts a beautiful novel of friendship, love, and what-ifs.  Each friend must grapple with their own actions and interactions that led to Steph's death while trying to come to terms with his murder and their need for their friend. This is a must-have for all high school collections as are all of Jackson's novels.  
Realistic Fiction          Erin Bechdel, Beaver Area SD
---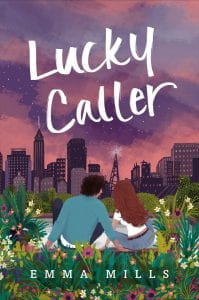 Mills, Emma. Lucky Caller. Henry Holt and Company, 2020. 978-1-250-17965-4. $17.99. 336 p. Grades 8+. 
Nina took the radio broadcasting class for a fun "A" in her final semester at her Indianapolis-area high school. Whether she consciously realizes it or not, she is going to need something positive to keep her mind off her changing family dynamics – her mom is getting remarried, and as a result, she and her sisters will probably move to a new house with their mom and future stepdad, Dan the dentist (who they jokingly call "the Dantist"). But when childhood family friend Jamie ends up in the radio broadcasting class as well, he turns what was supposed to be a fun class into a complicated minefield of awkward interactions and bittersweet memories resurfacing. And that does not even take into consideration their group's squabbling over everything from their show's format to its name and their individual roles. In a desperate attempt to solve their problems and increase their listeners – and thus their grades – the group hatches a brilliant plan that involves Nina and her sort-of famous DJ dad out on the west coast. He'll have to actually follow through for a change in order for it to work. 
THOUGHTS: When it comes to YA contemporary, Emma Mills never fails. Lucky Caller tackles all the typical coming-of-age themes and does it while evoking both emotional tears and knee-slapping laughter. Her narrator's voice is authentic and contains the biting sometimes dark wit her readers know and love. Mills' novels always do justice to intimate teen friendships, and this one in particular is full of nostalgia that will take readers back to their tween years when it was still ok to play and imagine, yet it also explores how difficult it is to navigate changing relationships as one moves into high school and eventual adulthood. And the 90's music is the icing on the cake.
Realistic Fiction          Sarah Strouse, Nazareth Area SD