Maillard, Kevin Nobel. Fry Bread:  A Native American Story. Illustrated by Juana Martinez-Neal. Roaring Brook Press, 2019.  978-1-626-72746-5. 48 p.  $18.99  Grades K-2.
This ingenious picture book weaves a story celebrating Native American culture, in all its diversity, around the deceivingly simple topic of fry bread. Warm, inviting illustrations depict children and families of varied skin tones in kitchens and hearths gathering ingredients, mixing, cooking, and enjoying variations of the traditional food. Each page spread features a heading that begins "Fry bread is . . ." and follows with a concept such as shape, time, art, and history. While the sparce text and evocative illustrations are largely affirming and joyful, young readers are also told that Native Americans' land was stolen from them, making them "strangers in our own world." For teachers or older readers, an author's note provides more detailed information for each concept. The author's recipe for fry bread is included. Also, don't miss the endpapers: They are filled with the names of tribal nations.
THOUGHTS: Especially considering the limited number of picture books by and about Native Americans, this is an essential purchase for elementary schools. Middle and even high schools that utilize picture books will want to consider this one as well.
Picture Book          Maggie Bokelman, Cumberland Valley SD

---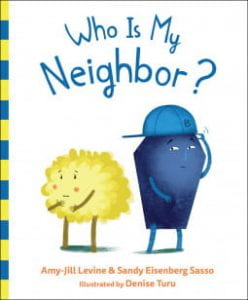 Levine, Amy-Jill, and Sandy Eisenberg Sasso. Who Is My Neighbor? Illustrated by Denise Turu. Flyaway Books, 2019. 978-1-947-88807-4. Unpaged. Grades PreK – 2.
Blues live with Blues in a world full of blue water, blueberries, and blue skies. Yellows live with yellows in a world of yellow brick roads, butterscotch, and sunflowers. Both have been warned to stay away from the others, "We are better than they are. They are not our neighbors." Then one day, Midnight Blue loses his balance and falls off his bike. Midnight Blue is hurt and needs help, but when Navy and Powder Blue pass by they are afraid to help, so they keep going. When Lemon sees Midnight Blue hurt, she also is afraid to help him but decides to ignore her fear and do the right thing and help Midnight Blue. Soon Lemon and Midnight Blue realize that perhaps they are not that different from one another. Illustrations by Denise Turu help readers understand the division between the Blues and Yellows until Lemon decides to help Midnight Blue.
THOUGHTS: This is a great picture book for character education and acceptance. It helps young readers understand that being different on the outside does not equate to being different on the inside. It also may help adults reading the book with children to see problems in their own thinking and outlook. The book is written by two religious scholars and explains the parable of "The Good Samaritan" in the Gospel of Luke on the last page which is "A Note for Parents and Educators." I did not connect the story to the parable of "The Good Samaritan" as I read it, so that last page surprised me a bit, but this may occur dependent on your community. The authors also provide questions to consider while reading following the note to parents and educators.
Picture Book          Erin Bechdel, Beaver Area SD
---
Burleigh, Robert,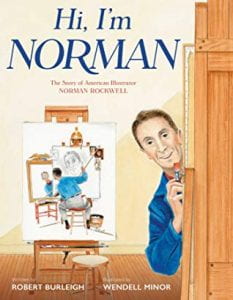 and Wendell Minor. Hi, I'm Norman. Simon & Shuster Books for Young Readers, 2019. 978-1-442-49670-5. Unpaged. $17.99. Grades 2-5.
Right from the start of this pictorial biography, readers are invited into the studio and the world of iconic artist Norman Rockwell. Norman begins telling of his idyllic childhood with artistic talent and opportunity to express it. As he moved into adulthood, he faced the internal contrast of wanting to do his best always and not always knowing if he was good enough. Rockwell's big break comes from The Saturday Evening Post, and that success let him explore the American world that he saw around him, with a focus on the positive. The illustrator, Wendell Minor, takes on the daunting challenge of portraying Norman and drawing in his style as well. The tone of the story matches those illustrations – and Rockwell's life – of capturing a moment in America through the eyes of one of her most famous artists. The endnotes and timeline are insightful, but the five real Rockwell paintings and captions at the end are priceless.
THOUGHTS: We have the recent trend in picture book biographies to learn about many 20th century artists in a relatable way, and that is a real advantage to young artists. Gathering a collection of these for a research project in collaboration with the art teacher would be ideal. Using online research tools and creative options to share would make for a meaningful project that hits on all of the AASL Standards, Domains, and Shared Foundations.
Biography          Dustin Brackbill, State College Area SD
---
Wallmark, Laurie, and Katy Wu. Hedy Lamarr's Double Life. Sterling Children's Books, 2019. 978-1-454-92691-7. Unpaged. $16.95. Grades 2-5.
Who was the real Hedy Lamarr? Was she the famous, beautiful actress who always wanted to be on the stage and in the spotlight? Or was she the tinkerer and inquiring mind that tried to work through problems and help military war efforts? For young readers who likely haven't heard the name Hedy Lamarr at all, they will be pleased and curious to see how she grew up to develop both sides. This double life story is interspersed with direct quotes from Hedy as we learn about her childhood passions which came into adult acclaim. When Hedy met George Antheil at a party and discussed torpedo guidance systems, they began a dedicated quest to develop a frequency hopping communication system. The understandable text by Laurie Wallmark and the visual aids of Katy Wu really shine as curious readers can figure out her invention process and how it is still relevant today. The timeline and additional descriptions and resources at the end will fill in the details of Hedy's world. With this story, Hedy Lamarr becomes a shining example for pursuing passions across the ages!
THOUGHTS: Students who are familiar with the inquiry cycle would enjoy seeing this process in action. Plus, those with a military interest, inventive streak, or old Hollywood fans will all find something to learn and connect with. However, for me, the concept of the patent process and how inventions can inform new inventions caught my attention and made me want to visit the Patent Office resources and share this as one of many invention narratives.
Biography          Dustin Brackbill, State College Area SD
---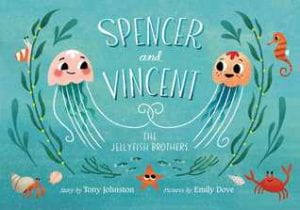 Johnston, Tony. Spencer and Vincent, the Jellyfish Brothers. Simon & Schuster Books for Young Readers, 2019. 978-1-534-41208-8. 40 p. $17.99. Grades K-3
Spencer and Vincent follows two jellyfish brothers who live in the sea, spending their days spending time together! Everything is going fine, until a storm sweeps one of the brothers, Vincent away. Spencer is determined to find his brother, with the help of other animals in the ocean. By the end of the story the brothers are reunited. The illustrations are beautiful and make readers feel like they are underwater with the jellyfish. There are a variety of ocean creatures, other than the jellyfish, throughout the book. There is an author's note at the end of the book, giving more information about jellyfish that will intrigue children who read this and may cause them to seek out other books about jellyfish. 
THOUGHTS: Spencer and Vincent is absolutely adorable! The relationship between the jellyfish was sweet and will make the reader smile.
Picture Book          Mary Hyson, Lehigh Valley Charter Academy
---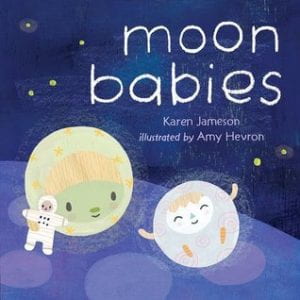 Jameson, Karen. Moon Babies. G.P. Putnam's Sons, 2019. 978-0-525-51481-7. 32 p. $16.99. Grades K-2.
Moon Babies is a debut picture book and tells the stories of moon babies as they wake up, eat, play, and then fall back asleep. The story is told in rhyming lines and has a dreamy quality to it. The moon babies eat breakfast from the "currents of the Milky Way," get dressed, and even learn to walk as readers go through the story. The moon babies take a bath in a "grand celestial tub" and are read nursery rhymes as they fall asleep. The illustrations are beautifully done in tones of purples and blues, giving the reader the feel of nighttime as they read.
THOUGHTS: This book is perfect for naptime reading, or just a quiet read aloud to supplement. 
Picture Book          Mary Hyson, Lehigh Valley Academy Charter School
---
Teague, Mark. Fly! Beach Lane Books, 2019, 978-1-534-45128-5. 36 p. $17.99. Grades K-3. 
Although this is a wordless picture book, plenty of communication is happening between the mother robin and her baby. The baby robin hatches on the title page, and his mother begins bringing worms to the nest. Soon, though, she encourages the baby to fly out of the nest. The baby wants the catering to continue, and he flaps his wings tantrum-style. While he is expressing his unhappiness, however, he gets too close to the edge of the nest and falls ungracefully to the ground. Mom swoops down to ensure he's okay but then urges him to fly back to the nest. The baby is uninterested in flying, though, and brainstorms many different ways of returning to the nest, including piggybacking with Mom, riding in a hot air balloon, soaring on a glider, lifting off with skis, wearing a superhero cape, and piloting an airplane. Mom is not amused by any of these ideas, and she reminds the baby that soon, they will need to migrate. Instead of flying, the baby robin imagines biking, skateboarding, driving, taking a train ride, and pogostick hopping all the way to Florida. Mom also reminds the baby of all the predators he could encounter on the ground, including owls. Readers can see that daylight is fading, and when Mom takes off back to the nest, the baby pitches another fit. All of his stomping and flapping eventually cause him to lift off, and it's only then that he sees how much fun flying can be. He reunites with Mom in the nest, and the pair snuggle in for the night. 
THOUGHTS: Teague's expressive acrylic illustrations are laugh-out-loud funny, and young readers will enjoy interpreting the story and turning the pages to see what wild idea the baby robin comes up with next. This book will be perfect for building reading comprehension skills as well as reviewing story elements. This title could also inspire a writing prompt, as students imagine dialogue or retell the actions they observed on the wordless pages. 
Picture Book          Anne Bozievich, Southern York County SD
---
Portis, Antoinette. Hey, Water! Neal Porter Books, 2019. 978-0-823-44155-6. 40p. $17.99. Grades K-2. 
This celebration of water helps the youngest readers understand that water is all around us, and it's also a part of every living thing. Beautiful, bold sumi ink illustrations complement this simple, straightforward text. Each page contains an insight about water. For example, the young girl observes that water can trickle from a hose, gurgle in a stream, or rush in a river. She also notes how water can be calm, like a lake, or splashy, like a pool. Additionally, she describes water's many forms, including steam, clouds, fog, ice, and snow. Water-related vocabulary, including dewdrop, puddle, and sprinkler are integrated in each full-page illustration. End pages provide an introductory explanation of water's different forms and an illustrated look at the water cycle. 
THOUGHTS: This is a must-have for elementary libraries, as it will support primary grades' study of the states of matter. It works well as a read-aloud, and it's also perfect for close-up, one-on-one observation. Readers will be drawn to the book's simplicity, and it is the perfect fit for elementary STEM collections. 
Picture Book          Anne Bozievich, Southern York County SD
---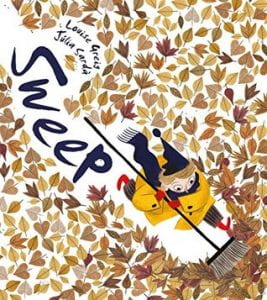 Greig, Louise. Sweep. Simon & Schuster Books for Young Readers, 2018. 978-1-534-43908-5. Unpaged. $17.99. Grades K-3. (First US edition 2019).
This British import is the story of a young child called Ed who is in a bad mood. It began with something small and then escalated. Ed is so busy being angry that he does not notice all the wonderful things around him, like an amusement park, some hot air balloons, and kites flying high in the sky. Deep down, Ed wants to get out of his bad temper, but he is not sure how. Gradually, his disposition lightens, and he puts down his rake to fly a kite.  The illustrator has cleverly shown the mood changes through the metaphor of raking leaves. As Ed's mood darkens, he continues to make even larger piles of leaves until they engulf everything in the town. Then, a slight wind causes him to change his attitude, and eventually all the leaves blow away and the city becomes brighter as the wind grows stronger. 
THOUGHTS: The clever use of figurative language makes this an excellent mentor text. As a great read aloud, it also is a cautionary tale of how negative feelings can overwhelm us. This text explains mood psychology in terms that young children can understand and is a good discussion starter. A great choice for all elementary collections.
Easy          Denise Medwick, Retired, West Allegheny SD
---
Polacco, Patricia.  The Bravest Man in the World. Simon & Schuster, 2019. Unpaged. 978-1-481-49461-8. $17.99.  Grades 3-5.
This engaging piece of historical fiction is the story of a boy who meets Wallace Hartley, the lead musician on the Titanic.  Polacco begins her tale with two characters from 1982, Jonathan and his grandfather. Jonathan is a boy who would rather play ball and be a superhero than practice piano. His grandfather, an accomplished violinist, explains how one musician named Wallace Hartley was a hero and showed his bravery on April 15, 1912, on the doomed ocean liner. His grandfather, also named Jonathan, was an accidental stowaway on the ship. He was a street busker who learned to play the violin in Queenstown, Ireland. After his mother died, he was running away from some street thugs when he found himself in the mailroom on the Titanic. He mets Wallace Hartley and Mrs. Weeks, a ship's maid. Hartley recognized Jonathan's potential, and the young boy plays for John Jacob Astor, who awards him a scholarship to a music academy. Then, the ocean liner meets its fate, and Mrs. Weeks and Jonathan find a place on a lifeboat. However, Wallace stays on board, playing bravely along with the orchestra until the ship has completely sunk. Jonathan is adopted by Mrs. Weeks and grows up in America.  Jonathan's grandfather never forgets the courage of Hartley, who "played with grace… grace under fire" and thinks of him each time he plays his instrument. There is an author's note about the recovery of Hartley's violin, as well as a photograph of the violinist and his violin. The illustrations are in Polacco's signature style and make the story come alive. The anguish of the ship's final moments are captured in the expressions on the passengers.
THOUGHTS: This is a wonderful example of historical fiction. It puts a human face to the well-known story of the musicians who courageously played on in the face of certain death and shows that bravery can be demonstrated in many ways. This book is a good choice for those who are interested in learning more about the Titanic. Elementary librarians will not want to miss this one.
Easy Historical Fiction          Denise Medwick, Retired, West Allegheny SD
---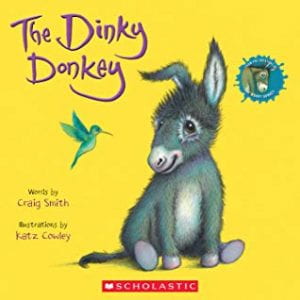 Smith, Craig. The Dinky Donkey. Scholastic, 2019. 978-1-338-60083-4. Unpaged. $7.99. PreK-Gr. 2.
In this follow-up to The Wonky Donkey, Wonky Donkey has a daughter, and her name is Dinky Donkey. "She was so cute and small… and she had beautiful long eyelashes! She was a blinky dinky donkey." As the narrative progresses, more and more adjectives are added to describe the Dinky Donkey. The repetition of these adjectives, as well as the hilarious antics they describe, will have readers giggling to the very end. 
THOUGHTS: I absolutely love the idea of handing this book to early readers. The rhyming and repetition throughout will help them to build confidence in their reading skills. Another excellent use for this book would be to introduce adjectives to young students. Full of potential and plenty of silliness, all libraries who serve young readers should definitely consider this book for purchase.
Picture Book          Julie Ritter, PSLA Member