Mandanna, Sangu, editor. Color Outside the Lines: Stories About Love. Soho Teen, 2019. 978-1-641-29046-3. 269 p. $18.99. Grades 7-12. 
Color Outside the Lines is an exploration of what it means to love while you're young, especially when something gets in the way. For some that something is race, for others it's prejudice, and yet for others it may be superpowers. The stories are wonderfully interspersed with meet-cutes and relationships both normal and fantastical, all exploring different cultures and experiences and the dynamics and challenges that come with them. Readers will encounter mythologies and realities, villages and cities, changing families and stable relationships within the 16 stories included.
THOUGHTS: Color Outside the Lines will strike a chord with many readers who have never before seen themselves in a book. I loved the way the stories were not all what I expected, not everything was about romantic love, and not everything was rooted in reality. It's a must add to any middle or high school collection.
Mostly Realistic, Some Fantasy Elements        Samantha Helwig, Dover Area SD
---
Namey, Laura Taylor. The Library of Lost Things. Inkyard Press, 2019. 978-1-488-05135-7. 384 p. $18.99. Grades 9-12. 
A teen literary prodigy, Darcy spends most of her spare time lost in a favorite book or working in the local independent bookstore. With best friend Marisol by her side, Darcy has found a careful balance in life, amidst her mother's serious hoarding addiction. Darcy's safe space has long been the one place her mother cannot set foot, Darcy's bedroom where she is surrounded by myriad books. When a new property manager begins making cosmetic improvements around the apartment complex, Darcy worries how long she'll be able to keep the secret of her mother's "collections." While her mother is able to work, she can't control her compulsive shopping. Darcy is supplemented by her grandmother but also has learned to be self reliant. Falling for Asher Fleet isn't part of Darcy's plan, but something about him makes her want a real life fairy tale. Darcy is used to the comfort of her books, and real life isn't so predictable or easy.
THOUGHTS: Avid readers will appreciate all of the literary references, and teens will enjoy the slow burning romance, friendship, and mother-daughter dynamics. Recommended for high school libraries where compelling romances are popular.
Realistic Fiction          Maryalice Bond, South Middleton SD
---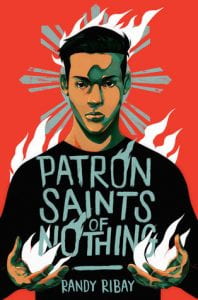 Ribay, Randy. Patron Saints of Nothing. Kokila, 2019. 978-0-525-55491-2. 323 p. $17.99. Grades 9-12. 
Half Filipino high school senior Jay spends much of his spare time lost in a video game world, not fully aware of what's going on around the world. Though he's been accepted to the University of Michigan, he's only going out of obligation to his family who worked hard, so he could life their American dream. Jay doesn't really know what he wants, and he's just going through the motions. When Jay learns more about his cousin Jun's death (Jun was murdered as part of Philippines President Duterte's war on drugs), he can't shake his guild over losing touch with Jun. Jay wonders if he had returned Jun's letters would have become lost – surely Jun really wasn't into drugs. But Jay doesn't really understand life in the Philippines, and he's determined to learn more. Passing up the new laptop he's wanted for college (really gaming), Jay convinces his parents to let him travel to the Philippines, promising not to bring up Jun's death, especially around his Uncle ___. With Jun's letters in his bag, Jay is determined to learn the truth about Jun's death and honor his cousin in the way he deserves.
THOUGHTS: Ribay's novel encourages teens to get out of their comfort zones and become more globally aware. With many issues from family dynamics and grief to international politics, readers will be taken on a journey of healing. Highly recommende3d for high school libraries.
Realistic Fiction          Maryalice Bond, South Middleton SD
---
Jones, Kimberly, and Gilly Segal. I'm Not Dying with You Tonight. Sourcebooks Fire, 2019. 978-1-492-67889-2. 249 p. $17.99. Grades 9-12. 
From two very different worlds, Lena and Campbell are forced together inside a Friday night football game concession stand. On the outside Lena appears to be cool and confident, always wearing the "right" clothes and trying to impress her boyfriend Black. Like many girls, though, Lena isn't as confident as she seems in herself or in her relationship. New to town after her mother takes a job abraod, Campbell is trying to find her place in school and at home with her father, who owns a local hardware store. One teen black, one teen white, Lena and Campbell must learn to work together when chaos erupts all around them. With their lives in danger, the girls must see past their differences in order to survive and get to safety.
THOUGHTS: Written by two authors, this dual narrative intertwines and comes to life. A Big Library Read selection in 2019, this title is sure to be popular with high school readers who have enjoyed other powerhouse YA titles like The Hate You Give, Long Way Down, All American Boys, Dear Martin, and more. Highly recommended.
Realistic Fiction          Maryalice Bond, South Middleton SD
---
Donaldson, Jennifer. I Know You Remember. Razorbill, 2019. 978-1-595-14854-4. 336 p. $18.99. Grades 9-12. 
Three years ago Ruthie and her mother left Anchorage, Alaska hoping for a fresh start away from Ruthie's alcoholic father. Ruthie tried to keep in touch with her best friend Zahra, but time and distance (not to mention Zahra's delayed or lack of responses) meant that wasn't always easy. After a tragic hiking accident kills her mother, Ruthie finds herself on a plane back to Anchorage to live with her now clean father and his new wife and stepdaughter. Before boarding the plane, Ruthie texts Zahra, letting her know she'll be home soon and hoping they can reconnect. Zahra never receives the message, and Ruthie is devastated to learn that Zahra has gone missing, following an argument at a party with her boyfriend Ben. Ruthie tries to help the search for clues while connecting with Zahra's new friends. She hopes this will help her understand how Zahra has changed since they were friends. The Zahra that Ruthie knew isn't the same girl that's missing, but Ruthie is determined to find her and recover their lost friendship.
THOUGHTS: This twisty mystery is unpredictable, and things aren't always as they seem. A must have for high school collections where fast-paced dramas are popular.
Realistic Fiction          Maryalice Bond, South Middleton SD
---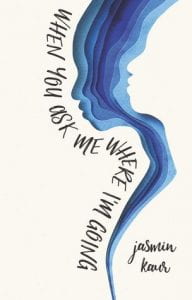 Kaur, Jasmin. When You Ask Me Where I'm Going. HarperCollins, 2019. 978-0-062-91261-9. 256 p. $18.99. Grades 9-12. 
This debut collection of poetry, prose, and illustrations will cause readers to think and feel deeply about a variety of tough topics such as sexual assault, mental health, and undocumented immigrants, just to name a few. With a strong voice, Kaur is sure to be appreciated by poetry fans.
THOUGHTS: This title will enhance and diversity existing high school poetry collections. Recommended for libraries looking to offer new voices and update poetry pieces.
Poetry          Maryalice Bond, South Middleton SD
---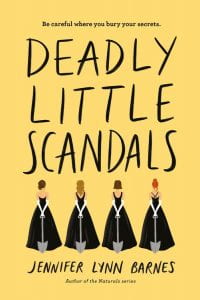 Barnes, Jennifer Lynn. Deadly Little Scandals. Freeform, 2019. 978-1-368-01517-2. 352 p. $17.99. Grades 9-12. 
Sawyer Taft is back with another southern high society debutante drama. This time she spends her time alternating between the family home and their summer lake house. Much more comfortable among her cousin Lily and their fellow debutante friends, Sawyer is still determined to solve the puzzle of her biological father. As she becomes closer with the girls, though, Sawyer must be careful not to upset the balance they have achieved. Drama seems to follow these girls wherever they go, and pledging to a long time debutante, elite, all female secret society may give Sawyer the answers she's been seeking. Not everyone wants Sawyer to solve the mystery, though.
THOUGHTS: A new cast of characters with some old friends will ensure readers are on the edge of their seats. A must-have for libraries where Little White Lies and mysteries are popular.
Realistic Fiction          Maryalice Bond, South Middleton SD
Sawyer, Lily, Campbell, and Sadie-Grace are spending the summer trying to relax, forget, and figure out the aftermath of the past year. Together at the lake, Sawyer is trying to figure out how to tell Lily who her father is; Campbell's family is trying to survive the humiliation of her father's arrest and save their company; Sadie-Grace is covering up Greer's "pregnancy," and Lily is figuring out who she is and what she wants. Of course, a relaxing summer isn't quite in the picture for these debs, as they pledge the elite and mysterious White Gloves, and learn more about their pasts and present. When things spiral out of control, can the debs survive the scandal and the truth?
THOUGHTS: I love Jennifer Lynn Barnes. She is one of my favorite mystery/thriller authors. Although readers should read the Debutantes series in order because of references made to events from book one, Deadly Little Scandals is easy to follow. Barnes's use of flashback for the majority of the novel keeps readers focused without confusion and constantly guessing what possibly could come next. Highly recommended for all high school collections.  
Mystery         Erin Bechdel, Beaver Area SD
---
Garrett, Kelly. The Last to Die. Sourcebooks Fire, 2019. 978-1-492-69844-9. 240 p. $10.99. Grades 9-12. 
Seventeen year old Harper seems to live an idyllic life. She's a star soccer player at school and on her club team, she has a boyfriend who adores her, and she's got a great group of friends. Home life, though is a bit more complicated. her older brother is in a second stint of rehab, her mom copes with glasses of wine, and her dad can't deal or even be bothered to learn how to sign with Maggie, Harper's little sister who is deaf. A regular visitor to the principal's office for voicing her mind, Harper isn't always a star student, but she has plans on getting a soccer scholarship. To entertain themselves friend couples Harper and Gin; Paisley and Benji; and Sara, a rival soccer teammate, and Alex make a game out of burglarizing each other's houses, with some ground rules, of course. What seems like innocent, though sometimes embarrassing, fun turns deadly. With suspicions on one of their own, the game becomes a race of cat and mouse, and the stakes couldn't be more serious.
THOUGHTS: Fans of mysteries will enjoy this somewhat predicable read, though the quick ending may be frustrating. Purchase for high school collections where character-driven mysteries are popular. Note: This title was first published by Poisoned Pen Press in 2017 and was republished by Sourcebooks Fire in 2019.

Realistic Fiction          Maryalice Bond, South Middleton SD
---
Ernshaw, Shea. Winterwood. Simon Pulse, 2019. 978-1-534-46279-3. $18.99. Grades 9-12.
The Walkers, as legend says, are older than the woods themselves. The Wicker Woods, cursed and dangerous to enter unless it is a full moon. The Walker women do not fear the woods, as they know they sleep during the full moon and not to enter at any other time, for who knows what the woods will do when they are awake and watching…
Nora realizes all of these things, as she is a Walker. Although her nightshade has not yet come to her, she knows she is a witch like those before her. Nora is not afraid of the woods. And yet, one boy is missing and one boy is dead. What happens when Nora comes across the missing boy, alive in the woods 2 weeks after the terrible snow storm? What does this boy know about the boy who is dead? As the mystery unravels, Nora finds herself deeper and deeper in her struggle of learning the truth of this mysterious boy and solving the puzzle that lies within the heart of him.
THOUGHTS: An engaging fantasy that pulls you in as you learn more about Nora's family and the mystery of the missing boy. This is a book you cannot put down as you hope to find out more about what truly happened on the fateful night when one boy went missing and the other met his death.

Fantasy/Mystery        Rachel Burkhouse, Otto-Eldred SD