Rotner, Shelley, and Anne Woodhull. Colors. Holiday House. 2019. 978-0-823-44063-4. $17.99. Grades PreK-2.
Colors, colors, all around! This informational book introduces colors with vibrant pictures and text. Focusing on your main colors, this book provides a color with a verb. Following the first page are insanely bright and beautiful photographs of items that you may find within this color. While some images are well known to all, there may be some new items for young students to learn about and discuss!
THOUGHTS: A beautifully book with stunning photographs, this simple text informs readers of the items and provides an openness to discussion.
535.6 Colors           Rachel Burkhouse, Otto-Eldred SD
---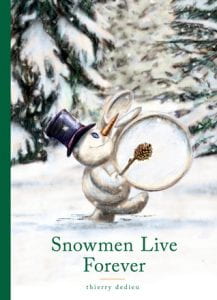 Dedieu, Thierry. Snowmen Live Forever. Eerdmans Books for Young Readers. 2019. 978-0-802-85526-8. $17.99. Grades K-3
Squirrel, Hedgehog, Rabbit, and Owl love visiting Snowman. Snowman always has the best stories, games, and adventures to share and perform with his friends, and his friends love hearing about the amazing places and adventures Snowman has been on. But alas! Squirrel discovers one more that Spring is soon on the way. Day by day, Snowman grows weaker until he is gone. The four animal friends learn about where water goes, and begin their own adventure to find Snowman. It isn't until the end that they realize everything will be OK and that Snowman will return with more adventures to share.
THOUGHTS: With a bit of education thrown in, this 2019 English Translation shares a fun story of friendship and snow. A unique tale of adventure and true friendship.
Picture Book          Rachel Burkhouse, Otto-Eldred SD
---
Morris, J. E. Flubby: Flubby Is Not A Good Pet! Penguin Workshop. 2019. 978-1-524-78776-9. $9.99. Grades PreK-1.
Flubby is Kami's cat. Flubby is different than all of her friends' cats, for Flubby does…nothing? Flubby does not sing. He does not catch. He does not jump. So Flubby isn't really a good pet after all! However, what Flubby can do, is perfect enough. Flubby needs Kami…and Kami needs Flubby.
THOUGHTS: A great addition for early readers about a girl and her cat. This is a story that will make young readers giggle with delight at the silliness of Flubby.
Picture Book          Rachel Burkhouse, Otto-Eldred SD
---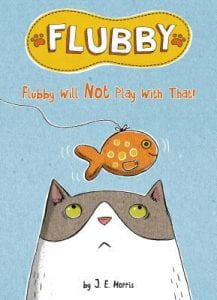 Morris, J. E. Flubby: Flubby Will Not Play With That! Penguin Workshop. 2019. 978-1-524-78778-3. $9.99. Grades PreK-1.
Another silly Flubby adventure. This time, Flubby has some new toys that Kami bought him! One rolls, one runs, and one is the most magnificent toy ever! However, Flubby is not interested in any of the toys that Kami brings him. Despite all of this, Flubby finds the best toy around, one that Kami has brought.
THOUGHTS: The ending of this story is sure to bring delight to young readers as they discover what toy Flubby likes best. Another cute Flubby adventure!
Picture Book          Rachel Burkhouse, Otto-Eldred SD
---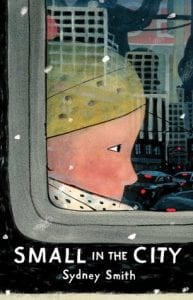 Smith, Sydney. Small in the City. Holiday House, 2019. 978-0-823-44261-4.  Unpaged. Grades K-3. $18.99.
This is the touching story of a boy in a big city who appears to be in search of someone. The book begins with four pages of wordless illustrations in frames, which show someone riding on a bus during the winter. As the frames develop, it becomes clear that it is a young boy, who is requesting a stop. He gets off the bus and now the words of the story begin, told in first person. The boy has someone in mind as he relates how it feels to be "small in the city," hearing all the loud noises and being surrounded by so many people. The little boy then goes on to advise which alleys to avoid and which areas to seek out, like a tree to climb on, a vent to nap under, and a fishmonger's shop to get some food. As the boy continues to travel on foot, more clues about whom he is looking for are revealed, until we see him eventually hang a lost cat poster. As he arrives home, we feel his anguish when he finds out that cat has not returned and says, "You will be all right." The last illustration leaves the reader with hope. Smith's illustrations are done in an impressionistic style and he uses ink, watercolor, and gouache to create a wintry atmosphere in the drawings. 
THOUGHTS: This text can be used to demonstrate inference, as readers use the clues to come to the conclusion that a cat had gone missing. Young children will enjoy seeing all the different modes of transportation, and teachers could use this text in social studies units to explain the features of a city habitat. This gem of a book is a must-have for all elementary libraries.
Easy          Denise Medwick, Retired, West Allegheny SD
A small child navigates the city, describing its sights and sounds and offering advice to a nameless character. As the story progresses, readers discover that this nameless character is actually the child's missing cat. The beautiful juxtaposition of artwork and text leads readers through an intimidating, bustling city all the way back to the comforting warmth of a loving home. Despite all of the scariness of the big city, the final page will leave readers hopeful that the child's cat will return to its cozy home.
THOUGHTS: The first time I read this book, I thought it was okay. Once I figured out who the narrator was talking to, however, I read through it again. This time, it was outstanding! There are so many clues as to what's going on that I missed the first time around. The child is hanging up pink signs everywhere. Comments such as "you could curl up below it and have a nap" and "you could perch on the window ledge" are made as the narrator describes familiar places. It would be neat to see if young students, with guidance, could piece together what's happening. Besides encouraging such critical thinking, teachers in rural and suburban areas could use the book to introduce cities. Students could brainstorm ideas for finding a lost pet. Librarians might include it as part of a display on books about cats. No matter the use, I definitely recommend this title for purchase!
Picture Book           Julie Ritter, PSLA Member
---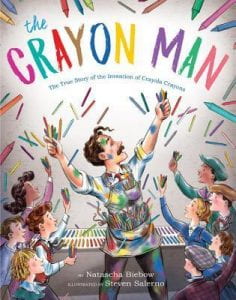 Biebow, Natascha, and Steven Salerno. The Crayon Man: The True Story of the Invention of Crayola Crayons. Houghton Mifflin Harcourt, 2019. 978-1-328-86684-4. Unpaged. $17.99. Grades K-3.

Crayola Crayons are a part of most of our childhoods, but how many of us know about the man who invented them? The Crayon Man is a beautifully illustrated biography that is perfect for a read aloud to a class or for an introduction to an entrepreneur. The book tells the story of Edwin Binney in short paragraph passages with lots of color and large pictures on each page making it a wonderful read aloud. There are some small notes added to pages when students may need more information to help them understand the importance of certain events in the story. The book also includes articles a bibliography at the end to allow students to explore the topic more. 
THOUGHTS: This book would be a great start to a career unit or a biography unit. This could also be used as a part of a STEM unit to show an example of working through problems and recognizing how to use what you know to solve the problem. 
Picture Book          Arryn Cumpston, Crawford Central SD
---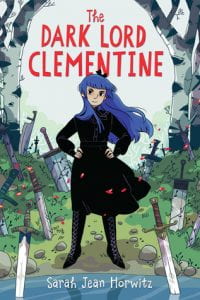 Horowitz, Sarah Jean. The Dark Lord Clementine. Algonquin: 2019. 978-1-616-20894-3. 329 p. $17.95. Grades 3-6.
Clementine is deeply worried. Her father, Dark Lord Elithor, has been cursed by the Whittling Witch and is slowly dying (or being whittled away), and Clementine must not only try to find a way to reverse the curse, but also maintain everything around the castle (the poisonous apples need picking!). When the Council of Evil Overlords sends Clementine a letter reminding her that her father is currently lacking in evil deeds, she sets off into the woods, accompanied by a talking black sheep, to search for spell ingredients. However, it isn't long before the Whittling Witch turns the trees of the forest on Clementine. She is helped to safety by two unlikely individuals who soon become, maybe, friends? If a future Dark Lord had friends. As the situation at the castle becomes more dire, Clementine begins to wonder if she is truly is Dark Lord material. But if she isn't, then who, exactly, is she? Horowitz has crafted a rollicking tale that never slows down. Readers will root for determined Clementine to forge her own path and discover her true talents. The cast of characters is delightful, from the talking sheep and a magical Gricken (chicken/grimoire); to Sebastien, a village youth determined to be Lady Clementine's knight; and Darka, a huntress with secrets of her own. They too, along with Clementine, must learn to follow their hearts.
THOUGHTS: An extremely entertaining read sure to find fans.
Fantasy          Nancy Nadig, Penn Manor SD
---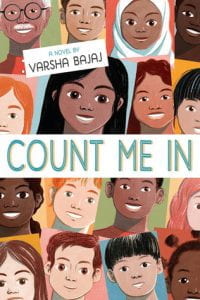 Bajaj, Varsha. Count Me In. Nancy Paulsen Books, 2019. 978-0-525-51724-5. 175 p. $16.99. Grades 3-6.
Karina has never liked her neighbor, Chris, since he made fun of her in school for being Indian. But when her beloved grandfather, Papa, begins to tutor Chris in math, he and Karina have an opportunity to start over, and Karina discovers a new friend in Chris.  One day a bigot spewing anti-Muslim rhetoric attacks the three as they walk home from school, badly injuring Papa. Karina and Chris rely on each other as they try to heal and process what happened. Karina, a budding photographer, turns to social media as an outlet for her photos and her feelings. Soon, friends and neighbors are rallying around the family, (although there are still those who mutter "go home"). To Karina's amazement, her pictures go viral, leaving the two friends bombarded by media. Do they maintain their privacy, or use the platform for advocacy?
THOUGHTS: A well crafted middle grade look at Muslim/immigrant fear. Readers are sure to root for Karina, Chris, and Papa, and the book will leave them thinking.
Realistic Fiction          Nancy Nadig, Penn Manor SD

Bajaj, Varsha. Count Me In. Nancy Paulsen Books, 2019. 978-0-525-51724-5. 175 p. $16.99. Grades 5-8.
Count Me In starts as a simple story of two middle school students who are "like separate planets orbiting in the same galaxy." But while Chris and Karina tell alternating chapters about what each really feels, the reader sees their gravitational pull to becoming friends. Karina's grandfather, an Indian American who just moved in with the family and loves mathematics, proves to be the connecting force. Count Me In then becomes something much more when one day out of the blue a car pulls up to the three as they walk home, and an ignorant, racist man commits a hate crime which injures Mr. Chopra (the grandfather). How should the new friends react to the monstrous actions and try to move forward? For Karina, a talented photographer, her pictures and social media become an outlet for her emotions and resolve. Count Me In ends as a story of a movement and a discussion about what it means to be an American, a citizen, and a friend. By all means, #CountMeIn!
THOUGHTS: This is a story that takes some sensitive discussion to go with it. Families or classrooms should discuss hate crimes and how to handle them. A relevant discussion about the use of social media and viral posts versus personal privacy are also important. The generational perspectives and immigrant challenges posted here make great conversation starters as well. Wonderful family book club title!
Realistic Fiction        Dustin Brackbill    State College Area SD