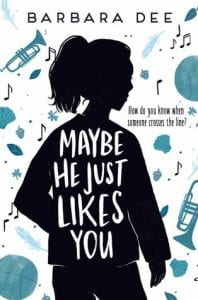 Dee, Barbara. Maybe He Just Likes You. Aladdin, 2019. 978-1-534-43237-6. 283 p. $17.99. Grades 4-8.
When do you decide enough is enough? Seventh grade Mila is excited to celebrate her friend Omi's birthday after lunch with a thoughtful gift and a group hug with her other friends Max and Zara. This moment between friends is perfect – that is until the basketball boys come over and hug them too, lingering on Mila. This small moment makes Mila uncomfortable, and it doesn't stop there. The boys find ways to bump into Mila, make comments, and invade her personal space. Afraid to tell her mom, the principal (who is also the boys basketball coach), or her guidance counselor, Mila's emotions spiral out of control. Mila tries to tell her friends what is going on, but they shrug it off, saying that's just how boys are. But when a friend comes to Mila with information about a "scorecard" and another friend steps forward and says it happened to her too, Mila finds the strength to speak up for herself and stop the unwanted attention.
THOUGHTS: This middle grade novel does a perfect job of exploring the #metoo movement and how harassment and innocent "jokes" can end up affecting others. The story will bring you all the feels – joy, anger, shock – and leave you feeling like you may know someone this book is perfect for. The book also explores different relationships between characters and the strength a person has to stand up for themselves.
Realistic Fiction          Jillian Gasper, Northwestern Lehigh SD

---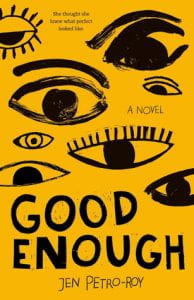 Petro-Roy, Jen. Good Enough. Feiwel and Friends, 2019. 978-1-250-12351-0. 261 p. $16.99. Grades 7-9.
Twelve year old Riley doesn't think she's good enough, fast enough, talented enough…the list goes on and on. Tired of being compared to her "golden" younger sister Julia, Riley starts running excessively, skipping meals, and having a bad attitude. And it gets worse! At school she is being picked on for what she looks like and how she eats, which leads Riley down the path to an eating disorder. Riley's parents decide she needs to be hospitalized in order to find the path to recovery. The story is presented as a journal of Riley's experiences while hospitalized – her struggle with anxiety, food issues, and her parents' constant judging and disappointment. The program requires strict meal planning, therapy sessions, group activities, and even counting out loud while you go to the bathroom. Riley meets several girls in the program all while dealing with the loss of her best friend and discovers that she is more than the voice in her head telling her she's "not enough." Will Riley's parents accept her for who she is and not just as someone with a problem? Does Riley have the power to be in control of herself? A must read!
THOUGHTS: Perfection. Petro-Roy does a fantastic job of approaching a delicate subject as she is someone who battled an eating disorder. The journal style of writing allows readers to feel as if they are taking the journey with Riley day by day and makes for a fast read. The story deals with so much more than recovering from an eating disorder and allows readers to see that we all have flaws that make us who we are.
Realistic Fiction         Jillian Gasper, Northwestern Lehigh SD
---
Marciano, Johnny, & Emily Chenoweth. Klawde: Evil Alien Warlord Cat: The Spacedog Cometh. Book 3. Penguin Workshop, 2019. 978-1-524-78724-0. $14.99. Grades 4-8.
The third epic adventure of Klawde: Evil Alien Warlord Cat! As Klawde continues to plot his return to his home planet and take over from the tiny evil kitten who has taken command, he is unaware that there are others looking for him: the most loyal beasts of all…dogs! Barx has been given the mission to capture and return Klawde to his home plant to pay dues for blowing up one of their most amazing plants! As Barx travels to Earth, he realizes just how wonderful it is, especially Klawde's master Raj. While the animals fight and attempt their vengeful missions, Raj is suffering with his own problems. His parents are out of town for a few weeks for a conference vacation, so his Ajji, grandmother, is staying with him. All she cooks is weird, un-American food and decides to throw him a birthday party. How will Raj deal with Ajji, as well as dealing with Klade being…Klawde!
THOUGHTS: I was so excited to see the third book to this hilarious series! The addition of the dog characters brought forth more excitement and perspective to the "dog vs. cat" personality stereotypes. A great third book for the Klawde lovers!
Adventure/Action/Fantasy          Rachel Burkhouse, Otto-Eldred SD
---
Russo, Kristin J. Viewpoints on the Sinking of the Titanic. Orchard Books, 2019. 978-1-228-18736-6. 48 p. $25.95. Grades 5-8.
In a subseries of Part of the Perspectives Library, Viewpoints and Perspectives takes a look at how various people may have different views about some of the most known events in history. In Viewpoints on the Sinking of the Titanic readers get a look inside the Titanic through the eyes of three very different passengers. Using first person stories inset with facts about the ship and a timeline of the events, this title takes readers through what the sinking of the Titanic was like for a first, second, and third class passenger. This book is a nice mixture of pictures and stories, allowing for students not to be overwhelmed by the amount of text to read. With a mixture of historical black and white, recreated color, and pencil drawings readers get a look back in time. The simplicity of the pages and clear nonfiction text structure lends this book to be a great introduction to text structures including table of context, index, timeline, and captions. The book includes ideas for teachers in the sidebars to help lead research or a lesson on the Titanic.  
THOUGHTS: The unique look into different classes on the Titanic would allow students to see how classes were separated and the prejudice against the lower classes even while evacuating the boat. A book like this could, and others in this series, be used in middle schools to see how prejudices have changed throughout history.
910.9 History, general          Arryn Cumpston, Crawford Central SD

---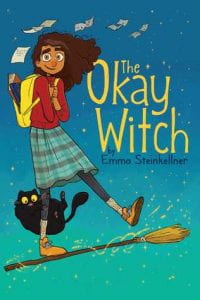 Steinkellner, Emma. The Okay Witch. Aladdin, 2019. 978-1-534-43146-1. 271 p. $20.99. Grades 4-8.
Moth believes she is a typical Halloween loving teenager, but that couldn't be farther from the truth. After studying the history surrounding Founder's Bluff and the persecution of witches, Moth suddenly discovers that she may have special "powers." After an incident with the school bullies and a talking cat at home, Moth confronts her mother for the truth. Yes, Moth is from a long line of witches, and with her mother's diary and her new found powers, she is about to discover the truth. The witches of Founder's Bluff were real…and they are still alive. Moth learns to navigate middle school (including a new boy who keeps bumping into her), harness her powers against her mother's wishes, and meet her very ancient grandma. Travel with Moth through past and present as she discovers her heritage and becomes an "okay" witch.
THOUGHTS: This debut graphic novel will delight middle schoolers as Moth discovers who she truly is. The illustrations are whimsical and eye-catching, while the story just flows across the frames through a series of chapters. Graphic novel readers will want to pick this novel up, especially if they enjoy the element of magic.
Graphic Novel            Jillian Gasper, Northwestern Lehigh SD

---
Lloyd, Natalie. Over the Moon. Scholastic Press, 2019. 978-1-338-11849-0. 291 p. $14.95. Gr. 4-8.
The Dust has taken away the light from the stars in Coal Top, made the villagers feel hopeless, and forced children to work for measly wages. Mallie cleans the home of a well to do family in the "Down Below." The work is hard and does not pay enough to help protect her brother from being taken by the Guardians and sent to the mines to work. When a mysterious flyer appears and offers an opportunity for orphan boys to earn riches, Mallie knows this is her chance to save her family. Mallie quickly discovers that the task is to tame and ride a Starbird into the Dust above in order to retrieve gold dust. Up for the challenge, she doesn't back down and struggles with her disability as well as the others who wish she wasn't there. With the help of her friend Adam, and her loyal Starbird Leo, Mallie finds she can be successful. But when she discovers the leader, Mortimer, is up to something dark and sinister, Mallie decides she must expose the truth. Risking her life and her family's, Mallie races against the Dust and Mortimer to prove that the stars really do exist.
THOUGHTS: You can't help but cheer for Mallie as she struggles to protect her family, discover the truth, and overcome obstacle after obstacle. The characters are well developed and the whimsy of flying horses and dust puppets make the story come to life. Fans of Lloyd will not be disappointed with this title that pulls at your heart strings and reminds you to shoot for the stars.
Science Fiction            Jillian Gasper, Northwestern Lehigh SD

---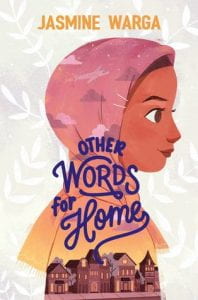 Warga, Jasmine. Other Words for Home. Balzer and Bray, 2019. 978-0-062-74780-8. $16.99. 352 p. Grades. 4-8.
Jude, young immigrant from Syria adjusts to her new life in Ohio. She had to flee with her pregnant mother, leaving behind her father and older brother. There is so much change living with her uncle, aunt, and cousin who is in the same grade. Although her aunt and uncle are accommodating, her cousin Sarah is a bit jealous of the attention and practically ignores Jude at school. School is a challenge. She thought her English was good in Syria, but in the United States pace of life is so much faster, including the language! Life is definitely not like the American movies she used to watch with her friends. Jude is a resilient girl. She makes friends with others in ESL (English as a Second Language) and meets Layla who is also Muslim. She wants to fit in, and one of her real motivations is the musical. She works really hard to try out, perfecting her English and learning about drama. This annoys Sarah and her friends who Jude thinks of as "SarahMinaHarperStone" (They seem to lack individuality.). Jude is concerned for Amal, her new baby sister. Amal, whose name means Hope, will be an American, not an immigrant. Jude realizes that home is where the people you love and those who love you are. It is where you feel you belong, and Jude works very hard to create a place for herself.
THOUGHTS: Jude voices very real concerns about fitting in, prejudices against Muslims, and the safety of her father and older brother who are still in Syria. The reaction to a bombing in the Middle East and subsequent vandalism of Layla's family property is both upsetting to the community and an opportunity to bond. Warga's use of verse to tell the story makes it accessible and poignant as the succinct wording and rhythm evoke emotions and meaning.
Realistic Fiction          Jeannie Bellavance, Retired
---
Nicherson, Sara. Last Meeting of the Gorilla Club. Dutton Children's Books, 2019. 978-1-101-99442-9. 240 p. $17.99. Grades 3-7.
Josh is starting fifth grade at a new school, a fresh start, where no one knows of Josh's multiple invisible friends. Only Josh's friends are not imaginary; they just can't be seen by anyone else. But the friends are all gone, buried at his old house. Until Big Brother shows up again on Josh's first day of school. Big Brother dispenses advice, comfort, and companionship. But Josh is not the only student in his class with an awkward friend. Lucas has an invisible friend, Maxie, and Josh can see her too. While Big Brother gently guides and encourages Josh to be brave and try new experiences, Maxie seems a bit more malevolent. When she engineers a meeting between the two boys, she may be dangerously replaying her sad history. But Lucas and Josh discover real friends are powerful also.
THOUGHTS: A unique look at processing death and maturing. Readers who feel they see the world differently than those around them will definitely relate to Josh and Lucas.
Fantasy          Nancy Nadig, Penn Manor SD
---
Mbalia, Kwame. Tristan Strong Punches a Hole in the Sky. Rick Riordan Presents, 2019. 978-1-368-03993-2. 482 p. $17.99. Grades 3-7.
Tristan is having a difficult time recovering from the school bus accident that left his best friend Eddie dead. Frustrated, his mother sends him to spend some time with his grandparents down south in Alabama. Grandma warns Tristan to stay away from the bottle tree, a traditional structure to capture haints, or spirits, at the edge of the forest. Tristan would have gladly done so, but that night he is awoken by a small, sticky figure sneaking in his room. Gum Baby has come to steal Eddie's journal, and Tristan chases her into the forest, attempting to reclaim his cherished memento. When Tristan punches the bottle tree in frustration, he inadvertently creates a hole in the sky and is pulled into another world, where the stories his grandma used to tell him and Eddie come alive. Another mythology/folklore based adventure from Rick Riordan's imprint, Tristan Strong brings alive the tales of the deep south, featuring Brer Rabbit, John Henry and, of course, Tristan's reluctant sidekick Gum Baby. Tristan is sent on a quest to find the trickster god, Anansi, who can weave the sky back together. While Tristan is convinced he cannot save anyone (he broods that he failed to save Eddie), he discovers heroes do not necessarily have to be strong, or even brave, and he is more than capable of saving the world of his new friends from destruction.
THOUGHTS: This lightning fast, rollicking tale will win many fans, as well as introduce them to Black American folklore. Tristan and Gum Baby are a new dynamic duo that provide constant laughs as they attempt to save the day.
Fantasy (Mythology)          Nancy Nadig, Penn Manor SD

---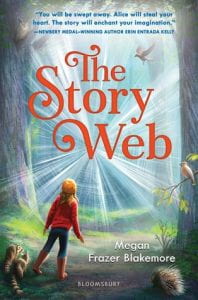 Blakemore, Megan Frazer. The Story Web. Bloomsbury, 2019. 978-1-681-19525-4. 321 p. $16.99. Grades 4-7. 
When Alice was little, her magical father would regale her with wondrous stories. But now Alice's world is broken in so many ways. She no longer socializes with friends, she quit her ice hockey team, and even nature seems out of whack, with forest creatures making their way into town. She believes everything stems back to that something she did that made her father go away. But Alice can no longer maintain her invisible persona. The animals know; Alice's classmate, frequently bullied Melanie, knows; and her best friend, Lewis, knows. The story web, a fragile creation of spiders, spun to record the stories of man, is broken. If it is not fixed soon, the world will be in peril. Alice's father had explained the story web to her when she was young, and now Alice must look past her grief and fear to work with Melanie, Lewis, and many caring individuals, to repair it. But when the stories Alice remembers from her father don't rebuild the web, the children realize they must find their own stories, as painful as they may be. The plot unfolds at a leisurely pace, through various viewpoints, including several animals. Much like spinning a web, individual threads eventually weave together in a breathtaking finale. The storyline of Alice's father, who is eventually revealed to be suffering from PTSD, also takes time to uncover, and is never explained directly, but rather through oblique comments, reminiscences, and finally a conversation between Alice and her father.
THOUGHTS:  While the climax is riveting, it will take a patient reader to navigate to that point. Hand this lovely, heartwarming story to a reader who enjoys the journey as well as the destination.  
Fantasy          Nancy Nadig, Penn Manor SD

---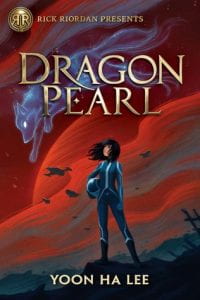 Lee, Yoon Ha. Dragon Pearl. Rick Riordan Presents, 2019. 978-1-368-01335-2. 320 p. $16.99. Grades 5-8.
Yoon Ha Lee's Dragon Pearl, one of the first titles published under the Rick Riordan Presents imprint, will delight young readers who like their fantasy informed by the trappings and tropes of science fiction. Lee imagines a world—a thousand worlds, actually—inspired by Korean mythology, and then sends it – them – spinning off into outer space. The young protagonist, Min, is a shape-shifting fox disguised as a human to avoid the persecution her species has long suffered. When her brother disappears, she sets off in search of him, planet-hopping through the universe on a grand and dangerous adventure. The plot moves at a breathless, breakneck pace as Min pilots a rocket ship and has run-ins with ghosts, dragons, and pirates.  
THOUGHTS: A top-notch #own voices entry in the sci-fi/fantasy genre that subtly addresses issues of identity and acceptance.  Highly recommended for middle schools.
Sci-Fi/Fantasy Fiction          Maggie Bokelman, Cumberland Valley SD