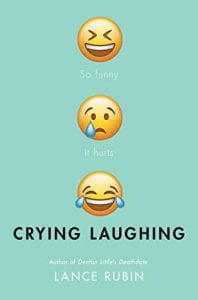 Rubin, Lance. Crying Laughing. Knopf Books for Young Readers, 2019. 978-0-525-64467-5. 336 p. $17.99 Grades 7-10.
After a disastrous attempt at stand-up at her own bat mitzvah, Winnie Friedman retired from comedy. But with a little encouragement from her best friend Leili, and cute junior Evan, she steps out of her comfort zone and joins her high school's Improv Troupe. Winnie enjoys both developing her comedy chops and the attention from Evan, but at home her father's increasing clumsiness is diagnosed as something much more serious: ALS, a.k.a. Lou Gehrig's Disease. Although Winnie's tight-knit family unit is unexpectedly vulnerable, her social status is on the rise: getting laughs at Improv, killing it on the morning announcements, and boys sitting at her lunch table. When her dad falls at the supermarket, fellow Improv member Fletcher is clued in to her family secret and friendship – or romance? – may bloom where she least expects it. Lance Rubin (author of Denton Little's Deathdate, former member of the Upright Citizens Brigade, and obvious proud comedy nerd) excels at mining the tragic for comedic gold. He's equally adept at depicting life's most cringe-worthy moments with a gentle touch.
THOUGHTS: Crying Laughing (which, yes, will have readers doing both) is a fantastic ode to pushing beyond your perceived limits while knowing that the people who love you most will provide a soft place to land. Don't skip over the Acknowledgments, where Rubin talks about his personal connection with ALS. 
Realistic Fiction          Amy V. Pickett, Ridley SD

---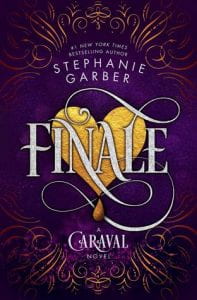 Garber, Stephanie. Finale. Flatiron Books, 2019. 978-1-250-15766-9. 470 p. $19.99. Grades 7-12. 
According to the first page of Finale, every story has four parts: the beginning, the middle, the almost-ending, and the true ending. Legendary was the almost-ending, and Finale, perhaps, is the true-ending to the Caraval series. Donatella gained her ultimate prize for winning Caraval – her mother was returned to her. However, she is still comatose, and Tella has no idea how to wake her. Her sister, Scarlett, has met her true love — or has she? Finale is about how the end is never the end. When the girls lose their mother shortly after she awakens, Tella vows revenge on the Fates, particularly Fallen Star. The newly freed fates are wreaking havoc, and terrorizing the countryside, but the journey to recapture them will cruelly test the sisters, requiring choices and sacrifices beyond their imagination.
THOUGHTS: Fans of the series will clamor for the final volume, but new readers will need to start with Caraval; Garber provides no back story here. 
Fantasy          Nancy Nadig, Penn Manor SD

---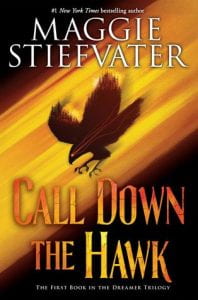 Stiefvater, Maggie. Call Down the Hawk. Scholastic, 2019. 978-1-338-18832-5. 468 p. $19.99. Grades 8+.
The exquisite agony of reading a Maggie Stiefvater book: Do you put the pedal to the metal in a crazy race to the finish because the story is so darn intriguing? Or do you crawl along on the side road, knowing the journey is at least as rewarding as the destination? For Call Down the Hawk, I recommend the latter. Stiefvater's new Dreamer Trilogy expands the world of Ronan Lynch, one of the Raven Boys from her The Raven Cycle series. Ronan can pull objects and people out of his dreams, and in Call Down the Hawk we learn there is a shadow network of dreamers – those who dream, those who hunt dreamers, and those who see the End of the World. The loose premise of CDTH follows Hennessy, a young woman who dreams copies of herself; Carmen Farooq-Lane, a hunter of dreamers trying to atone for the evil her dreamer brother caused; and Visionaries, those who identify and locate dreamers. While The Dreamers Trilogy is meant to be a standalone series, readers of The Raven Cycle will have a much richer experience with Call Down the Hawk. Ronan's brothers, bit players in The Raven Cycle, become fascinating individuals in their own right now, as story threads weave together into an unnerving tapestry. And the reader knows that if you pull on the wrong thread, every thing, every dream, every life will unravel.
THOUGHTS:  A first purchase where fantasy is popular and ethereal writing is appreciated. 
Fantasy          Nancy Nadig, Penn Manor SD

---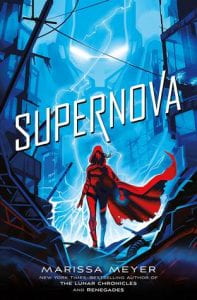 Meyer, Marissa. Supernova. Feiwel and Friends, 2019. 978-1-250-07838-4. 549 p. $19.99. Grades 7-12. 
Meyer pulls off a unique feat with Supernova. The third book in the Renegades trilogy may be the best one. The story picks up hours after the end of Arch Enemies, as Anarchist Nova attempts to return to her undercover role as a Renegade superhero. Now that her uncle, the infamous Ace Anarchy, has been captured, she needs to devise a plan to release him from prison and finally start the Anarchist rebellion. But, as Nova is learning, nothing is black and white when it comes to Prodigies; some use their power for good, and others for evil, and the dividing line isn't always Renegades vs Anarchists. As she attempts to embed herself further in the Renegade organization, she finds many of the individuals to be good and kind, while her erstwhile family of Anarchists can shock her with their enthusiasm for destruction and mayhem. Meanwhile, Adrian (aka Sketch) is trying to keep his identity as Sentinel secret. When the final battle between Renegades and Anarchists begins, who will be the heroes, and who will be the villains?

THOUGHTS: Chock full of character development as well as an action filled plot, Supernova is a perfectly breathtaking conclusion (or is it??) to this brilliant series. 
Science Fiction          Nancy Nadig, Penn Manor SD

---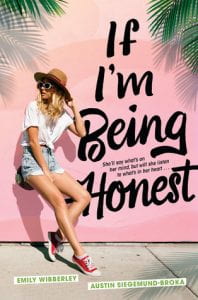 Wibberley, Emily, and Austin Siegemund-Broka. If I'm Being Honest. Viking, 2019. 978-0-451-48109-2. $17.99. 359 p. Grades 9 and up. 
Cameron Bright is one of the most popular girls in her Los Angeles prep school. She is beautiful, smart, driven, and brutally honest. She has to be in order to make the future she's been planning for her entire life happen – a future on the opposite coast, finally spending time with her father, attending school in Philadelphia, and working to follow in his footsteps as a successful financier. However, her senior year of high school is not off to a great start. Her mother, a washed-up actress, avoids getting a job, content to live off of support from Cameron's father, and her plan to solidify her crush Andrew as her boyfriend goes awry at a party when he witnesses her brutal honesty rear its ugly head. While reading The Taming of the Shrew in English class, Cameron comes to realize that while she finds her honesty a virtue, society views it as a vice, so she sets out to tame herself in order to at least make amends with Andrew and win back his affections. For all her list-making and planning, Cameron's quest to tame herself takes her places she never could have imagined including an incredibly nerdy book store, a video game development competition, a live screening of Rocky Horror Picture Show, and the arms of a lovable group of nerds including Brendan, a boy whose life she ruined in middle school by giving him a horrible nickname.
THOUGHTS: With other contemporary Shrew remakes like the film 10 Things I Hate About You to live up to, this retelling doesn't disappoint and manages to hold its own. The family dynamic is very different – both parents are present, and their complicated relationship makes for its own strong subplot; plus,there is no Bianca/sister character. Still, it captures the essence of Shakespeare's original themes: perceptions of women's behavior and motivation for making changes in our lives. This novel could work well as an independent read or enrichment activity after reading the original play, or as a companion to the play in order for students to analyze how society's views on women and feminism have changed over the centuries. 
Realistic Fiction          Sarah Strouse, Nazareth Area SD