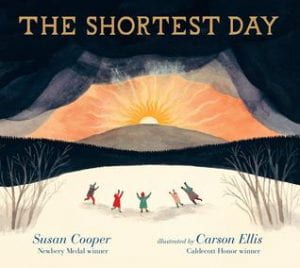 Cooper, Susan. The Shortest Day. Candlewick Press, 2019. 978-0-763-68698-7.  Unpaged. $17.99. Grades K-3.
"So the shortest day came…and everywhere down the centuries came people…to drive the dark away." In simple lyrical text, Cooper explains the significance of the winter solstice to humans from prehistoric through modern times. As the winter darkness descended over the land, those living in the earlier times feared it would remain and attempted to drive it away by lighting torches, putting candles in trees and hanging evergreens in their homes. They also gathered together to dance and sing to dispel the blackness. Today, this tradition continues during the Yule season, as people continue to decorate Christmas trees with lights and to assemble with friends and family to sing carols and celebrate. In the back matter, Cooper explains why not only the seasons, but especially the equinoxes and solstices, were so meaningful to early man. The author also puts all the text on one page in the back, so that the reader can read or perform it in its true poetic form. The illustrations by Ellis are done in gouache and have a folk art appearance. The sun is pictured as a giant with the sun for a head and is seen walking until he disappears behind the mountain to bring on the darkness. These drawings, which capture the winter bleakness in Northern Europe, help show how these traditions carry on today with three illustrations depicting the same scene in both past and modern times. For instance, five children who appear to be from medieval or early modern times are seen dancing and holding torches and evergreens as they exit a house. A few pages later, there is a similar image of children in modern dress posed the same way.
THOUGHTS: This title is a great addition to elementary collections. Although there are other books on the winter solstice, this one is exemplary in that it conveys the human aspect of this event, rather than just an astronomical one. A good choice for a winter themed storytime.
Easy          Denise Medwick, Retired, West Allegheny SD
---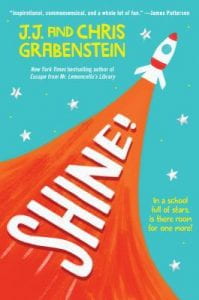 Grabenstein, J.J., and Chris Grabenstein. Shine! Random House Books for Young Readers, 2019. 978-1-524-71769-8. 210 p. $16.99. Grades 3-6. 
Piper Milly is a seventh grader who believes she was meant to blend in rather than to shine. When her father lands a new teaching job at the local prep school, complete with full tuition for Piper, she leaves public school mid-year and enters a world where every student is trying to excel. When the school announces the creation of a new award that will be given to the student who most exhibits overall excellence, Piper thinks she has no shot of winning. Ultimately, she discovers there are many different ways of shining, including being kind, demonstrating empathy, and valuing friendship. 
THOUGHTS: Piper is a well-rounded character, and students will relate to her struggles with leaving her old school and friends and starting over at a new school. She also finds herself in relatable situations, such as being the target of the class "mean girl," and doubting her own abilities. The idea that kindness and empathy outweigh material things like awards and money will prompt discussions about ways students can focus on these traits in their own lives. 
Realistic Fiction          Anne Bozievich, Southern York County SD
---
Mora, Oge. Saturday. Little, Brown and Company, 2019. 978-0-316-43127-9. 36 p. $18.99. Gr K-3. 
Ava and her mother look forward to Saturdays because they get to spend the whole day together. But, this Saturday, nothing goes as planned. They arrive at the library only to learn that storytime is cancelled. They get their hair done but step out of the salon just as a car splashes a huge puddle of water at them. And, they arrive at the park only to find a large crowd of like minded people also trying to take in the sunny afternoon. After each disappointment, the pair repeat their mantra: "Don't worry. Today will be special. Today will be splendid. Today is Saturday!" But, when they arrive at their final destination – a one-night only puppet show – only to discover that mom left the tickets at home, their patience is truly tested. Mom crumples with guilt, apologizing for ruining Saturday. But it is Ava who demonstrates resilience, reflecting that the day was still special and splendid because they spent it together. 
THOUGHTS: This story about going with the flow and taking life in stride, even when plans change, will be a good fit for morning meeting discussions. It will also be a good conversation starter for students to share what routines or traditions they have with their own families on weekends. The beautiful collage illustrations will draw students back for multiple readings.
Picture Book          Anne Bozievich, Southern York County SD
---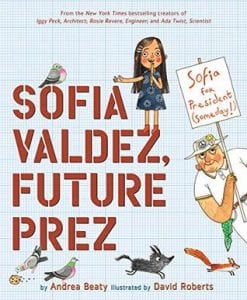 Beaty, Andrea. Sofia Valdez, Future Prez. Abrams Books for Young Readers, 2019. 978-1-4141-973704-6. Unpaged. $18.99.  Grades K-3.
Sofia Valdez is a spunky girl who always has helped others through the influence of her abuelo. The phrase, "Most people like good, but Sofia liked better" captures the essence and farseeing vision of Sofia. When she and abuelo come across a dangerous landfill, they hope to make a community park. Like the Little Red Hen story, everyone agrees with Sofia, but no one steps up to help. Sofia is on her own. She is nervous and goes to City Hall where she is shuttled from department to department.  Finally a friendly clerk takes her side and helps. Sofia gets an audience with the mayor and pleads her case. She starts a petition. The neighbors finally rally around her. Citizens' Park is created! What a feat for a second grader! She has a bright future. Andrea Beaty's snappy verse, and David Roberts lively pictures have a brilliant, encouraging message.
THOUGHTS: This inspirational and empowering book shows young readers the importance of their community, working together, and most importantly believing in yourself. Sofia displays a great deal of courage and determination when she approaches "City Hall"  for the benefit of her community.

Picture Book       Jeannie Bellavance, Retired
---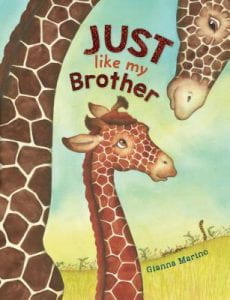 Marino, Gianna. Just Like My Brother. Viking, 2019. 978-0-425-29060-6. Unpaged. $17.99. Grades K-3.
Beautiful, bright watercolor illustrations take readers on a journey to the African plains where they meet a cast of animals. Little giraffe is searching for her older brother during a game of hide and seek. Describing various features of her older brother, little giraffe asks each animal if they've seen him. Sometimes the other animal's perspective shows what little giraffe cannot recognize, like when turtle says, "You're tall." Observant readers will notice that big brother isn't the only animal hiding, as anticipation and excitement build throughout the story.
THOUGHTS: Young readers will delight in this picture book which can be a simple read aloud or an introduction to characteristics of animals and types of animals around the world. This book can also be used as an introduction to the concept of compare and contrast.
Picture Book          Maryalice Bond, South Middleton SD
---
Raymundo, Peter. I Am Not a Fish! Dial Books for Young Readers, 2019. 978-0-525-55459-2. Unpaged. $17.99. Grades K-3.
Edgar is frustrated with being called a fish. Being a jellyfish Edgar doesn't feel like the word fish belongs in his name (and has even been accused of "overthinking things"). After meeting a group of starfish who empathize with his frustration, Edgar is able to talk through his feelings. By identifying many other sea creatures and looking at their names, Edgar realizes he likes being himself, even if fish is in his name. This delightful, colorful underwater adventure is perfect for STEM lessons involving the ocean or ocean creatures. At one point, Edgar says, "I look more like a plastic bag than a fish" which is an opportunity to discuss the topic of ocean pollution.
THOUGHTS: There are many great lesson ideas for this fun, light-hearted text, and it would make a humorous read aloud, especially if the reader gets into Edgar's character. From ocean connections to serving as a mentor text for starfish or sea horse parodies, this book will encourage students to think about names and identity in an age appropriate manner.
Picture Book          Maryalice Bond, South Middleton SD
---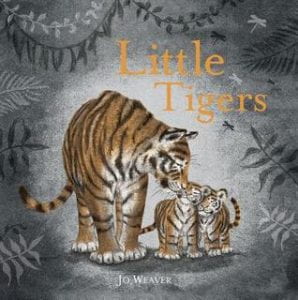 Weaver, Jo. Little Tigers. Peachtree, 2019. 978-1-682-63110-2. 32 p. $17.95. Grades K-4. 
For tiger cubs Puli and Sera, searching for a new home is an adventure but Mother Tiger is restless after hearing men and their dogs in the jungle. The little tigers provide plenty of comic relief with their kitten-like antics and tender moments.  Diversity among rainforest habitats is highlighted as the small family travels through thick old forest, waterfalls, river crossings, and caves to find just the right spot. Just before nightfall, Mother Tiger leads her little tigers into ruins for shelter. Unique charcoal and digitally colored illustrations accent the shadows of the jungle while also providing stunning two page spreads. A brief note after the story discusses the endangered status of Bengal tigers along with suggested links to wildlife organizations.
THOUGHTS: The artwork in this picture book illustrates the tiger's coloring as camouflage in their natural environment. The playfulness of the cubs paired with captivating illustrations and familiar searching-for-home tale make this a good read aloud option. 
Picture Book          Jackie Fulton, Mt. Lebanon SD
---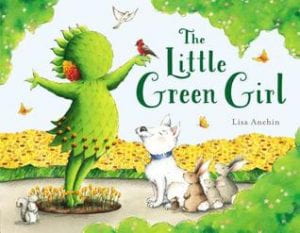 Anchin, Lisa. The Little Green Girl. Dial Books for Young Readers, 2019. 978-0-735-23073-6. 32 p. $17.99. Grades K-4. 
Unexpectedly floating into Mr. Aster's garden on the wind one day, the little green girl quickly takes root and thrives under his care. Her fierce curiosity about the world is fueled by tales from her garden friends. After a visit from the birds, she decides it is time to begin her own adventures. Despite urging from her caretaker to stay put in the beautiful, safe garden where she is planted, the little green girl is determined to explore beyond the gate. Her persistence finally persuades the kind gardener to venture out into the "wide world" where they discover that home can be found in even exotic new places. The illustrations are bright and hopeful, filling the page with both the cozy home garden and travel vignettes. Notes from a gardener's journal add interest to the end paper. The Little Green Girl is a  heartwarming tale about blooming where you are planted while also encouraging a love of adventure. 
THOUGHTS: A great title to add to the school library, this book will make a great read aloud and also has potential curriculum connections to introduce lessons about plants and gardening in various habitats. 
Picture Book          Jackie Fulton, Mt. Lebanon SD
---
Wheeler, Eliza. Home in the Woods. Nancy Paulsen Books, 2019. 978-0-399-16290-9. 32 p. $17.99. Grades K-5. 
A young widow packs up her large family and carries their meager possessions to live in a ramshackle house in the woods during the Great Depression. Arriving in the summer, the family gets right to work making repairs and planning for their survival in the year to come. At first it doesn't seem like much, but as the family settles they begin to find happiness in the abundance of the forest. As fall comes around, it's all hands on deck to preserve enough food to make it through the winter. Even with all of their hard work, the family still struggles to make ends meet. Still, they spend their days making the best of the situation and bonding with each other even in the depths of winter. When spring finally arrives, readers will rejoice in the light airy feeling of accomplishment and hope. The watercolor illustrations stunningly convey the mood of each season. An author's note at the end explains in further detail the historical significance of this story. 
THOUGHTS: A good book to introduce a unit on the Great Depression to upper elementary students. 
Picture Book          Jackie Fulton, Mt. Lebanon SD
---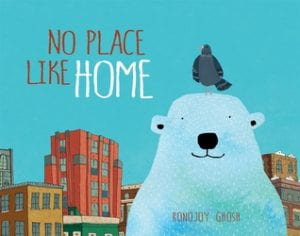 Gosh, Ronojoy. No Place Like Home. Eerdmans Books for Young Readers. 978-0-8028-5522-0. 32 p. $17.00. Grades K-2. 
George the polar bear cannot find joy living in the city. Ice cream and butterflies don't bring a smile to his furry face. His house is way too small, and he can't stand being in a crowd. So, George decides to take action, traveling far and wide to find where he belongs. It turns out that the city isn't the only place a polar bear doesn't belong. George is also dissatisfied with life in the jungle, dessert, and in the mountains before finally finding his way to the arctic. The text is sparse but meaningful with only a sentence or two per page. The whimsical illustrations add depth and feeling to this beautiful and captivating story about finding home and happiness – perfect for younger readers.
THOUGHTS: This short and sweet story will make a great versatile addition to the school library. Not only is this book a great stand alone read-aloud for a wintry story time, it also offers opportunities for curriculum connection. George's tale of finding just the right place to call home is a great way to introduce a unit on habitats. Discussions about mindfulness and perseverance can also be supported by this book. It's noteworthy that while George clearly feels isolated, he is rarely alone in the illustrations, opening the door to discuss sadness, depression, and mental health to young audiences. 
Picture Book          Jackie Fulton, Mt. Lebanon SD
---
Sima, Jessie. Spencer's New Pet. Simon & Schuster Books for Young Readers, 2019. 978-1-534-41877-6. 32 p. $17.99. Grades K-3. 
When your best friend is a balloon, danger seems to be lurking around every corner. A routine visit to the vet could risk a run-in with a hedgehog. A day at the park seems like a good idea at first, but the myriad of pointy obstacles is overwhelming – and hilarious! Spencer and his pet spend their afternoon dodging teeth, talons, and tropical fruit (Not to mention other dangers!). Things get really interesting when the pair stumbles upon a birthday party and gets separated. When disaster finally strikes, a hilarious plot twist is revealed. Clever black and white illustrations with a touch of red effectively evoke the feeling of early cinema with excellent attention to detail, including a countdown, chapter headings, and credits. This book is sure to be loved by all, especially those who have loved (and lost) a prized balloon animal.
THOUGHTS: Everything about this book is fun. Students will never see the twist coming. Even older elementary audiences might enjoy the slapstick humor, especially as an intro to early cinema. 
Picture Book          Jackie Fulton, Mt. Lebanon SD
---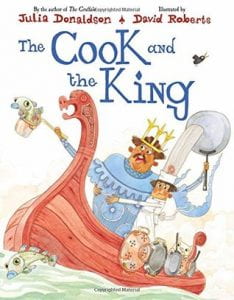 Donaldson, Julia. The Cook and the King. Abrams Books for Young Readers, 2019. 978-1-419-73757-2. 32 p. $16.99.Grades K-3.
When the King searches for a new cook, he finally settles on Wobbly Bob who sees danger in the most mundane situations and constantly worries about ruining his attire. Eventually, the hungry king must take matters into his own hands, completing all of the tasks required to catch and prepare his own fish and chips. Turns out that Wobbly Bob isn't too timid to join in the feast. Comical illustrations add to the humor in this tale that feels like a classic fairytale with a modern twist. 
THOUGHTS: Rhyming text, repeating verse, and many tall hats will make this book a read aloud hit. 
Picture Book          Jackie Fulton, Mt. Lebanon SD
---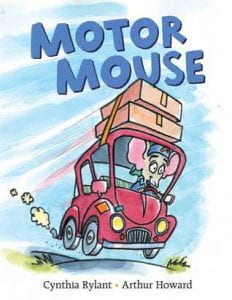 Rylant, Cynthia. Motor Mouse. Beach Lane Books, 2019. 978-1-4814-9126-6. 32 p. $17.99. Grades K-3. 
Motor Mouse is a trio of short endearing tales about a speedy little mouse and his friends finding the bright side in a variety of situations. When there is no cake for Cake Friday, Motor Mouse and his best friend Telly bravely decide to try pie. Tired of driving others around town, Motor Mouse decides to hire a car on his day off. He takes a trip down memory lane but finds that making new friends is just as much fun as remembering old ones. Motor Mouse and brother Valentino learn a valuable lesson about compromise with a trip to the movies, featuring the biggest bucket of popcorn. Bright, cartoony watercolor illustrations add to the tales. 
THOUGHTS: Another great title from familiar, prolific author/illustrator pair Cynthia Rylant and Arthur Howard. Students will love this title just as much. 
Picture Book          Jackie Fulton, Mt. Lebanon SD
---
Boiger, Alexandra. Max and Marla Are Flying Together. Philomel Books, 2019. 978-0-525-51566-1. 32 p. $17.99. Grades K-3. 
Max and his best friend Marla, a young snowy owl, have a ton of fun together. But Max knows that Marla is born to fly, and he is determined to help her realize her own potential. Marla, on the other wing, is perfectly happy to have both of her feet on the ground. When Marla gets swept up in the wind on a blustery fall day, Max's gentle coaching helps her realize that she really was made to fly. The next day, Marla is leading the charge to continue her flying lessons. A lovely, gentle tale about love and friendship. The warm watercolor illustrations bring the autumnal setting to life. 
THOUGHTS: A great book to share with students about being patient with oneself and waiting for a time to shine. A nice title for fall themed story time. Would be fun to pair with a wind unit or kite flying activities. 
Picture Book          Jackie Fulton, Mt. Lebanon SD
---
Forsythe, Matthew. Pokko and the Drum. Simon and SchusterBooks for Young Readers. 978-1-481-48039-0. 32 p. $17.99. Grades K-3. 
Pokko's quiet, toadstool dwelling parents meant well when they gave her a drum, but they immediately discovered that it was a big mistake. Even bigger than the other mistakes they made before (including gifting Pokko a llama and a slingshot). Pokko immediately takes to the drum, playing day and night. To appease her parents she heads out to the forest to play quietly. But quiet doesn't suit Pokko, and it isn't long before her talent draws others from the woods to join in. It is clear that Pokko is a natural leader. Even the fox is put in his place by her stern (but fair) leadership. 
THOUGHTS: Every library needs a copy of this book. Spunky Pokko is such a relatable and strong female character that she is sure to become an instant favorite character with boys and girls alike. There are so many opportunities to expand on in this text including integrity, leadership, art, and marching to the beat of your own drum.  
Picture Book          Jackie Fulton, Mt. Lebanon SD
---
Alexander, Lori. All in a Drop: How Antony van Leeuwenhoek Discovered an Invisible World. Houghton Mifflin Harcourt, 2019. 978-1-328-88420-6. 93 p. $17.99. Grades 3-5.
This fascinating chapter book biography discusses the life and accomplishments of the man known as the "Father of Microbiology." Alexander begins with van Leeuwenhoek's early life in Delft, Netherlands and how his occupation as a clothing vendor got him interested in lenses. Always a curious person, Antony developed superior magnifying glasses and used them to examine objects other than clothing. Alexander includes a list of all the objects that van Leeuwenhoek was "first to see" under the microscopic lens. While studying samples of water and dental plaque with his lenses, he saw small animals that were invisible to the human eye, which he called diertgens. Even though he was never trained in the sciences, this draper's findings were published in the journal of the Royal Society in London. The author uses a narrative style to make the story more interesting and accessible. She also creates sections within the text that go into detail about certain topics, like the bubonic plague and the quality and types of lenses. The back matter contains a timeline, glossary, source notes, and recommended readings. Mildenberger's whimsical illustrations, present on nearly every two page spread, are done in colored pencil, watercolor, and pastel. Readers will enjoy poring over the drawings for interesting details, including the Delft tiles on the endpapers.
THOUGHTS: This is a must-have for all collections. There are not many books written about this man who was the first to see microscopic life, and this is arguably the most attractive and engaging for elementary school readers.                                                        
579.092 Natural history of microorganisms, fungi, algae          Denise Medwick, Retired, West Allegheny SD
92, 921 Biography
---
Bell, Cece. You Loves Ewe. Clarion, 2019. 978-1-328-52611-3. Unpaged.  $17.99. PreK-3.
Cece Bell makes learning grammar fun. If you loved her book, I Yam a Donkey (Clarion, 2015), You Loves Ewe is sure to tickle your funny bone. Like the first book, this has elements of Abbot and Costello's famous "Who's on First" skit. This time Yam introduces Donkey to Ewe. Donkey mistakenly thinks Yam is talking about him being cute and fluffy. Back and forth they discuss ewe and you and other homonyms. Or are they talking about "hummanums?' So much hilarious confusion! As a read aloud it will be hysterical. Children may be confused at first, but Bell's pictures make it all crystal clear. Children will laugh heartily once they realize that there are homonyms involved. This should lead to a lively discussion.
THOUGHTS: Older children will enjoy this wordplay as well. It is a bit reminiscent of Fred Gwynne's books such as The King Who Rained, A Little Pigeon Toad, and A Chocolate Moose for Dinner. All of these books are a great way to introduce homonyms and homophones. Students probably will want to share more as they come across them. Perhaps they will be inspired to write a book of their own.
Picture Book          Jeannie Bellavance, Retired