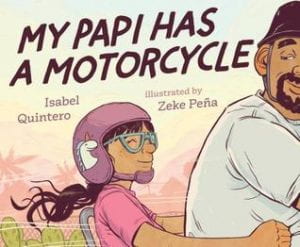 Quintero, Isabel. Illustrated by Zeke Pena. My Papi Has A Motorcycle. Kokila, 2019. 978-0-525-55341-0. 40 p. $17.99. Grades K-3.
This gorgeous picture book pays homage to the bond between fathers and daughters and to the importance of communities. Daisy Ramona loves riding on the back of her papi's motorcycle and exploring their L.A. neighborhood together. The book paints a realistic picture of a community that is tightly knit but struggling–a beloved shaved ice shop, for instance, is now boarded up and closed for business. A palette that features the muted colors of a sunset hints at history and nostalgia; yet at the same time, the movement of the motorcycle ("VROOOOM!") gives the book a contrasting sense of immediacy and momentum. Spanish words are incorporated naturally throughout. 
THOUGHTS:  An evocative book, thematically rich, but also fun and appealing to read aloud or pore over. Highly recommended for lower elementary library collections. This book may be an especially worthwhile purchase because it may fill gaps in collections that need more books featuring girls who like vehicles, father/daughter books, and/or Lantinx literature.
Picture Book          Maggie Bokelman, Cumberland Valley SD
When the workday is over, Daisy's tired Papi still has energy enough to take his daughter on a motorcycle ride around their town. The routine is clearly beloved by both father and daughter (his hands "feel like all the love he has trouble saying") as they pass by favorite spots and wave to family and friends (including Daisy's librarian). Locales throughout the town recall memories of the past, or portents of the future. Papi takes Daisy to see the new houses on which he is working, but they notice with sadness the closing of the water ice store. The illustrations by Zeke Peña are gorgeously drawn, and the love between Daisy and Papi leaps off the pages. The warm terracotta color palette adds to the depth of emotion, as well as evokes the historic feel of the town Daisy imagines throughout the ride.  
THOUGHTS:  This lovely book, defining family and home, should be a first purchase.  
Picture Book          Nancy Nadig, Penn Manor SD

---
Seluk, Nick. The Brain Is Kind Of A Big Deal. Orchard Books, 2019. 978-1-338-16700-9. Unpaged. $17.99. Grades K-4
The Brain Is Kind Of A Big Deal introduces us to all the things the brain does for us every single day! This book goes into the science behind smells, taste, sight and so many more things your body accomplishes everyday, all because of your brain! The illustrations are bright and colorful which add to the fun feel of the book. The inside of the front cover is full of colorful images with the same images throughout the book. Along with the facts that are found throughout the book, there are small little boxes full of fun facts. Each of the illustrations has the body parts saying funny or silly things related to what they do within the human body.
THOUGHTS: This is a fun picture book that is full of information that will cause the students to learn without realizing they are learning. The theme of the brain being the lead in a rock band that carries throughout is funny without coming across as too ridiculous.
612.8 Human Anatomy         Mary Hyson, Lehigh Valley Charter Academy
---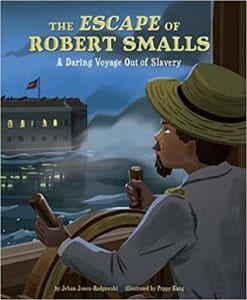 Jones-Radgowski, Jehan. The Escape of Robert Smalls: A Daring Voyage Out of Slavery. Capstone Editions, 2019. 978-1-543-51281-6. 40 p. $18.95. Grades 2-5.
This is the true story of Robert Smalls, an enslaved African-American man who engineered a courageous escape from slavery by hijacking a Confederate military ship docked in Charleston Harbor in 1862. From his youth, Robert worked on ships and became a skillful sailor and wheelman on a military ship called Planter, which brought supplies and ammunition to the nearby Confederate forts. He got the idea about using the ship to flee after observing the captain pilot the ship and memorizing his mannerisms. One night, after the captain left the ship for shore leave, Smalls set his plan in motion. Family members joined him on his quest along with other crew members. The plan was a dangerous one, because Smalls had to navigate the boat past Confederate forts and ships. Smalls disguised himself by wearing the Captain's hat and uniform and used the cover of darkness to sail out of the harbor. By the time the Confederates realized that something was wrong, the Planter had reached the Union ships and freedom. In the Afterword, more information is given about slavery, the Civil War, and Smalls' other accomplishments during his lifetime. A glossary plus suggested readings are found in the back matter. Kang's full bleed illustrations include a map showing the escape route.
THOUGHTS: This book is a worthwhile purchase for elementary libraries. It will work as an introduction to Civil War units or as a discussion starter for lessons on slavery. There are a number of books about Robert Smalls, but this one is made accessible by the care that the author, a US Foreign Service officer, takes to explain the historical events and vocabulary.
973.8092 History and Geography, United States          Denise Medwick, Retired, West Allegheny SD
92, 921 Biography
---
Human Habitats. Crabtree Publishing, 2020. 24 p. $17.70 ea. Grades K-3.
Duhig, Holly. Life by the river. 978-0-778-76485-4
—. Life on an Island. 978-0-778-76482-3.
—. Life by the Ocean. 978-0-778-76484-7.
—. Life in the Mountains. 978-0-778-76483-0.
—. Life in the City. 978-0-778-76480-9.
—. Life in the Forest. 978-0-778-76481-6.
Duhig explores how humans live within six different habitats and how people adapt to the unique conditions and use the resources in each of these environments. Each book visits four specific locations around the world. Full color photos and illustrations in each book, with simple text for primary grades. Includes glossary and index, and a teacher's guide that provides lesson plans for individual and collaborative work for students to explore human habitats with links to the publisher website which offer additional resources.
THOUGHTS: The advertised Student Discovery Lab materials were not accessible with the code listed in these titles.
304          Nancy Summers, Abington SD

---
Explore Your World. Nomad Press. 2020, 2019. 90 p. $19.95. Grade 3-6.
Haney, Johannah. Natural Disasters! With 25 Science Projects for Kids.978-1-619-30862-6.
Klepeis, Alicia Explore Makerspace! With 25 Great Projects. 978-1-619-30566-3.
McKinney, Donna. Engines! With 25 Science Projects for Kids. 978-1-619-30940-1.
Swanson, Jennifer. Bridges! With 25 Science Projects for Kids. 978-1-619-30591-5.
Van Vleet, Carmella. Robotics! With 25 Science Projects for Kids. 978-1-619-30813-8.
Yasuda, Anita.  Ancient Civilizations Aztecs, Maya, Incas! With 25 Social Studies Projects for Kids. 978-1-619-30834-3.
—. Canals and Dams! With 25 Science Projects for Kids. 978-1-619-30647-9.
—. Explore Greek Myths! With 25 Great Projects. 978-1-619-30450-5.
A growing set of non fiction books for students in grades 3-6. Seventeen titles are now available with more planned. Each title provides clear background information on the topic with clearly explained key terms and a timeline of developments.  Includes index, glossary, metric conversions, and lists of related YouTube videos for viewing. Each of the 25 projects listed includes a supplies list, step by step instructions, and notes if adult supervision is necessary.
THOUGHTS: Great ideas for science fair or independent or group or group projects for students.
Non Fiction          Nancy Summers, Abington SD

---
Slade, Suzanne. Daring Dozen: The Twelve Who Walked on the Moon. Charlesbridge, 2019. 48 p. 978-1-580-89773-0. $17.99. Grades 1-4.
In simple lyrical text, this nonfiction picture book discusses the seven Apollo lunar missions and the twelve astronauts who took part in them. The author begins by using personification to describe the moon as "all alone" and "silent" until a spacecraft (Apollo 11) appears and later as "waiting patiently" for other Apollo flights. Each flight's unique objective is discussed, such as the use of the land rover with Apollo 15 and the discovery of origin of the moon's craters in Apollo 16. Slade includes some interesting bits about the astronauts, such as Alan Shepherd's playing golf on the moon and Charlie Duke's leaving his family's photograph on the surface. The back matter contains a note from astronaut Alan Beam, a timeline to the moon, information about various moon vehicles, as well as specific fast facts about each Apollo flight. Alan Marks uses watercolor ink to create stunning full bleed illustrations throughout the book. On the opening pages, the full moon is the main focus as part of the earth appears to look on. The drawing of Gene Cernan holding a multicolored rock made of small rocks is pictured on the page with his quote that this rock will be a "symbol of mankind: that we can live in peace and harmony."
THOUGHTS: This is an essential purchase for elementary libraries. It is a good example of a nonfiction mentor text for figurative language and poetic style. A great read aloud, this book can serve an introduction for astronomy units, but will also have great appeal for those budding astronauts who will enjoy reading this on their own and dream as they look skyward.
629.454          Denise Medwick, Retired, West Allegheny SD
Manned Space Flight
---
Sage, James. Teddy: The Remarkable Tale of a President, a Cartoonist, a Toymaker and a Bear. Kids Can Press, 2019.  978-1-771-38795-8. Unpaged. $17.99. Grades K-3.
Sage has crafted a partially fictionalized story about the origin of the teddy bear. The author describes how President Theodore Roosevelt, an avid outdoorsman, refused to shoot a bear during a hunting expedition in Mississippi. This incident was then portrayed in a newspaper cartoon by Clifford Berryman. The cartoon was seen by many Americans, including Mr. and Mrs. Mitchtom who were New York shop owners. Mrs. Mitchtom made toys to sell in the store, and she came up with the idea of creating a toy bear in honor of the President. They called it Teddy's Bear. Sales of the bear took off, and soon the Mitchtoms had so many orders that they formed the Ideal Novelty and Toy Company, which produced millions of toy bears and accessories to go with them. The author's note includes a photograph of one of the original bears, as well as a copy of the cartoon. The author explains the real circumstances surrounding the President's hunting expedition (the bear was chained to a tree) and reveals which minor parts of the story were embellished. The illustrations by Lisk Feng were rendered digitally and add a whimsical touch. At the beginning of the story where the many interests of the President are listed, the illustrator places a small drawing next to each hobby. At the end, the President is seen sleeping with a teddy bear of his own.
THOUGHTS: A must-have for all elementary collections, this text is a great choice for bear themed storytimes, especially on September 9, Teddy Bear Day.
813.54, Easy          Denise Medwick, Retired, West Allegheny SD
688.7243, 973.911                                        
---
Thomas, Isabel. Moth: An Evolution Story. Bloomsbury Children's Books, 2019. 978-1-547-60020-5. Unpaged. $18.99. Grades 2-5.
This fascinating piece of narrative nonfiction is the story of the peppered moth and its evolution over time due to environmental factors. Told in simple text, the author begins by telling us that this is a story of "light and dark…of change and adaptation…of survival and hope." She explains that after birth, the moth is in a struggle for survival from predators, such as bats and birds. The moths that had wings that look like salt and pepper were better able to camouflage themselves on trees than moths of that species that were pure black. As a result, the black winged moths were eaten and eventually made up a smaller percent of the population. With the Industrial Revolution, this pattern was reversed, because the trees were now black from pollution, and the moths with the peppered wings were most at risk. Then, as efforts were made to curb pollution, the population of the peppered moths increased once again. Today both black and peppered wing moths can be found on trees because they have adapted. In the afterword, the author explains the processes of natural selection, adaptation, and evolution in more detail, explaining that this tale gives us hope that a species can adapt and not die out. Daniel Egnéus uses a variety of media to create stunning illustrations that add to the narrative. The cover drawing will attract readers as it depicts a moth with silvery wings touched with black looming large against a black sky dotted with silver stars. The author and illustrator have made this narrative of the peppered moth surprisingly appealing and interesting.
THOUGHTS: This is a strong purchase, and elementary librarians will not want to miss this one. This text would be useful in evolution and ecology units and is a good choice as a read aloud, especially on Earth Day.
595.78 Butterflies, Moths          Denise Medwick, Retired, West Allegheny SD
---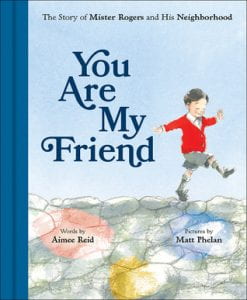 Reid, Aimee, and Matt Phelan. You Are My Friend. Abrams Books for Young People, 2019. 978-1-419-73617-9. Unpaged. $17.99. Grades K-2.
Why the resurgence of all things Mister Rogers lately? Through popular entertainment and the media, we have renewed our journey to his friendly neighborhood. Perhaps it is the enduring need for kindness, decency, and compassion in the world. This charming picture book takes young readers who may not be familiar with Fred back to his beginnings. We learn of his illness and isolation, his emotions and how he learned to express them, and his willingness to like himself just the way he was. Freddie's youth serves him well as he grows up and seeks to overcome his shyness and share his message with children through television. The soft and steady tone of Reid and the equally soothing, gentle watercolors from Matt Phelan make for a fitting tribute to Mr. Rogers. The color palate and message afterward will warm your spirits and make you glad that you have a friend who likes you just the way you are!
THOUGHTS: This is an accessible and highly recommended introduction for young readers to the world of Mr. Rogers. Obviously, there are many other videos, songs, and resources online to share once they hear about him. It would be interesting to get responses to the text and drawings as they read it to see how those childhood moments influenced his adult career in television.
Biography        Dustin Brackbill, State College Area SD
---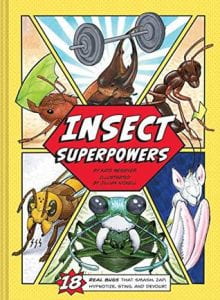 Messner, Kate, and Jillian Nickell. Insect Superpowers. Chronicle Books, 2019. 978-1-4521-3910-4. 84 pages. $17.99. Grades 2-5.
Step aside, Spider-man! The insect world is full of supersized, super-powered, and super dangerous bugs. Kate Messner takes a decidedly graphic approach to this novel look at a nonfiction text. Listing the insects by their superpowers, archenemies, aliases and trademark features, partnered with a layout and design by Jillian Nickell that is dynamic, colorful, and fact-filled, makes for an entertaining education. For example, a Texas Ironclad Beetle grows up to 29 mm with an extra hard exoskeleton that can even resist the SWOOSH! Attack from birds or reptiles. Likewise, the Asian Giant Hornet is nicknamed "The Decapitator" for its attacks on honey bee nests, but it should beware of teamwork from the hive that can surround the hornet to heat it up until it dies! Look for more insect superpowers in this action packed comic!
THOUGHTS: This is a clean and attractive graphic book, which would also be perfect for livening up an animal research project and introducing the art of comic layout. Hopefully there will be more like this to make a series.
595 Animals          Dustin Brackbill, State College Area SD