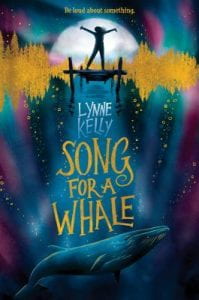 Kelly, Lynne. Song for a Whale. Delacorte Press, 2019. 978-1-524-77023-5. 303 p. $16.99. Grades 5-8.
When 12-year-old Iris learns about Blue 55, she feels a special kinship with him. Blue cannot communicate with other whales because he "sings" at a different decibel level than other whales. Iris, who is Deaf, can relate. Her parents want her to attend a mainstream school, but Iris longs for the companionship of other Deaf people with whom she can communicate using sign language. Iris is good with technology, and she comes up with a plan to create a special song for Blue so that he will not feel so alone. But making the song turns out to be one thing, while finding Blue is something else altogether. Iris's journey to help Blue will require her to collaborate, communicate, and to speak up not only for Blue, but for herself.
THOUGHTS  An original and gripping story centering a complex, nuanced Deaf protagonist. Highly recommended for middle school libraries. 
Realistic Fiction          Maggie Bokelman, Cumberland Valley SD
Twelve year old Iris is different from most kids. Born deaf and named after a whale who may have also been deaf, Iris longs for understanding. Both of Iris' grandparents are deaf, and with the recent passing of her grandfather life has changed – a lot. Her grandmother has become distant, her father couldn't be bothered with learning sign language, and school causes more struggles for Iris than it should. One day during science class Iris learns about Blue 55, a whale that does not belong to a pod because it cannot sing at the same hertz level as other whales like him. Determined to help the whale, Iris works with her music teacher to create a unique song for Blue in order to help the scientists trying to tag the whale. But when writing the song doesn't seem like she's helped enough, Iris sells her most prized possession and teams up with her grandmother to take a trip of a lifetime. Together the two will journey to Alaska in the hopes of catching a glimpse of Blue 55, but along the way end up discovering more about themselves than either thought possible. 
THOUGHTS: A perfect book to include in your collection that perfectly demonstrates the windows and mirrors philosophy of literature. Iris is a relatable character with a disability and her need to "do good" to help a creature of the Earth is heartwarming. The story unfolds beautifully and pulls at your heartstrings at just the right moments. This book has many themes that could be related to various aspects of life. 
Realistic Fiction         Jillian Gasper, Northwestern Lehigh SD
---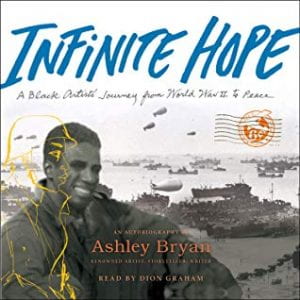 Bryan, Ashley. Infinite Hope: A Black Artists' Journey from World War II to Peace. Atheneum Books for Young Readers, 2019. 978-1-534-40490-8. 107 p. $21.99. Grades 5-8.
Infinite Hope, a 2020 Caldecott Illustrator Honor book, features the sketches, letters, and paintings of author and illustrator Ashley Bryan's experience of being in the Army during World War II. Bryan writes about being drafted for World War II while attending The Cooper Union for the Advancement of Science and Art, the hard labor of being a stevedore, and the segregation issues during the war itself. Beautifully illustrated with Bryan's pencil sketches and photographs from the time period, this title does a wonderful job of telling the story of WWII without the graphic details. Bryan uses his art to recount the storming of Normandy beach and to show the struggle to get home after the war ended. Letters written to Eva show Bryan's struggles, victories, and worries throughout the three years he was deployed. Upon arriving back in America, Bryan locked away the art he created during the war and instead went to Columbia University to study philosophy while still creating art. 
THOUGHTS: This beautifully illustrated book allows readers to visualize the difficulties of serving and segregation in the army and how one man used his art to get through challenging times. The mix of drawings, handwritten letters, and photographs provide deeper connection to Bryan's story. This title did not overwhelm the reader with dates, figures, or historical facts, but instead painted a picture of what life was like for a Black soldier during World War II.
92          Jillian Gasper, Northwestern Lehigh SD
---
Taylor, Thomas. Malamander. Walker Books, 2019. 978-1-536-20722-4. 289 p. $16.99. Grades 4-7.
Eerie-on-the-Sea definitely lives up to its name. Winter, especially, is a time of dire darkness, storms, and tremendous tides. In the harbor lies the wreck of the battleship HMS Leviathan ominous and looming. It is the source of the local legend of the dangerous part fish, part –human Malamander, a beast who appears once a year looking for a mate (tremble at the idea). At that time it lays an egg which has powers to grant wishes, but at a cost. Herbert Lemon is a small boy who happens to be the Lost-and-Founder at the Grande Nautilus Hotel. His job is to find owners of the lost items, but how can he find the owner of a girl, Violet Parma? Somehow her parents mysteriously disappeared when she was a baby, and she has come for help. As Herbert and Violet search for answers, others are doing the same. With characters like Mr. Mollusc, Lady Kraken, the Boat Hook Man, and Sebastian Eels the reader will suspect everything is not as it seems. There will be great fantastical adventure filled with mystery and a monster. Taylor keeps the action going in this series opener. The unanswered questions will ensure that students will want to continue the series (What did really happen to Violet's parents?). The next adventure in the Eerie-on-the-Sea series will involve the ancient Gargantis looking for her missing treasure.   
THOUGHTS: Malamander lends itself to discussion of literary devices such as the author's use of setting, tone, and characters to create interest. Even with all the twists and turns, this would be a good book for students to make predictions. Taylor uses very clever descriptive names for his characters. This might be a challenge for students to come up their own names for characters in this book or other books.
Fantasy          Jeannie Bellavance, Retired
---
Levy, Debbie. Becoming RBG: Ruth Bader Ginsburg's Journey to Justice. Simon and Schuster Books, 2019. 978-1-534-42456-2. 207 p. $19.99. Grades 5-8.
One of the most iconic Supreme Court justice members has her life chronicled in a biographical graphic novel. In Becoming RBG readers experience Ruth's life during the Nazi occupation, her college studies, then her early career aspirations while working toward becoming a revered judge. In each chapter readers learn more about Ruth's passion for equal treatment of all individuals. When Ruth's mother passes away, she is determined to go to Cornell University (her mother's dream) and finds inspiration in the professors she studied under. After noticing segregation occurring beyond the dorm walls, Ruth went on to study law and advocate for those struggling with being mistreated by society. With each chapter we discover Ruth's passion for the law and her successes in the political world. Readers will also experience Ruth's marriage, watch her daughter Jane grow, and experience the highs and lows of her career. Gardner's illustrations use red highlights to showcase important moments and bold text to focus readers on key takeaways. 
THOUGHTS: As far as graphic novels go, this is a well done title that allows readers to know girls can do anything they want to in life! The life story of Ginsburg unfolds with each chapter and shows the passion and fire that Ruth had for equal rights in the workplace. The illustrated panels provide a format that allows readers to connect with the heart and brain of Ginsburg and are not overwhelmingly distracting. A great nonfiction graphic novel!
347.73 Civil Procedures & Courts/Graphic Novel          Jillian Gasper, Northwestern Lehigh SD
---
Palacio, R.J. White Bird: A Wonder Story. Alfred A. Knopf, 2019. 978-0-525-64553-5. 220 p. $21.00. Grades 5-8.
In a powerful lesson touching on the themes of Wonder and Choose Kind, R. J. Palacio has created a graphic novel tale of life as a Jew during WWII. Julian, a former classmate of Auggie during Wonder, has an assignment to interview someone about their story. He chooses his grandmother, Sara, who was in Nazi occupied France during the war, and she reluctantly agrees to recount her travails. Through a graphic format, Palacio moves between the beauty and kindness of Sara's youth and the horror, fear, and cruelty that surrounded her light. Only from the grace and goodness of a polio-stricken boy named Julien does she live to tell the tale. The gorgeous coloring and layout pull readers quickly through a tough and touching narrative, which will make sure that young readers Never Forget.
THOUGHTS: There are similarities enough between this book and Anne Frank's tale and Number the Stars by Lois Lowry to give middle grade readers a lesson in comparing texts and living in a world of fear and hope. Those who already know Auggie and Julian's relationship may also be able to discuss the behaviors and choices involved in both stories.
Graphic Novel          Dustin Brackbill, State College Area SD