Reynolds, Justin A. Opposite of Always. Katherine Tegen, 2019. 978-0-062-74837-9. $17.99. 457 p. Grades 9 and up. 
Jack King has spent most of his life on the sidelines – figuratively and literally. He attends his high school's sporting events but only to cheer on his best friend Franny from the stands. Jack also is on the figurative sideline in his friend group. Though he had a major crush on Jillian during freshman year, she started dating Franny before he could tell her how he felt. He has spent much of high school content with being their 3rd wheel, supporting them through their family struggles. During senior year on a visit to a nearby college the trio of friends is hoping to attend, Jack meets Kate on a dingy stairwell, and he feels as though he finally has a chance at getting off the sidelines. Jack feels that he is falling in love with Kate, and she seems to return his feelings, but she keeps secrets and fails to commit completely to a relationship. When Kate suddenly falls ill and dies, Jack inexplicably time travels back to the moment they met on the stairwell and relives it all again… and again… Armed with knowledge of Kate's future and the future in general, can Jack change the course of events and save Kate's life? Can he fix his friends' problems, too? Opposite of Always tells a mostly realistic but also slightly fantastical story that explores the concepts of time, priorities, relationships of all kinds, and what really matters. 
THOUGHTS: Contemporary YA romance meets Groundhog's Day probably best describes Opposite of Always. As a result, the plot – by nature – is a bit repetitive. However, Jack's self-deprecating humor makes him an easy character to root for, so with each iteration of the plot, the more he tries, the more readers will want to see him succeed. Though the narration is often heavy in dialogue, that's okay because the snappy banter between Jack/Kate or Jack/Jillian is delightfully laugh-out-loud funny. Any YA book with a relatable male narrator gets my recommendation, but add the fact that Jack and his friends are black, and that makes this an excellent addition to any collection, especially one where students demand books with diverse characters. 
Realistic Fiction          Sarah Strouse, Nazareth Area SD
---
Lu, Marie. Rebel. Roaring Book Press, 2019. 978-1-250-22170-4. $18.99. 376 p. Grades 7 and up.

One decade ago Eden's older brother Daniel – better know by the nickname Day – took the Republic of America by storm, rising above poverty to become the nation's most notorious criminal and later the rebellion's hero. Now settled into Ross City, Antarctica, Eden is a top university student, and Daniel works for AIS, the Antarctican Intelligence System. The leveling system of Antarctica ensures the boys are living comfortably on the Sky Floors – but what neither boy realizes is how unhappy they both are. Alternating narratives show Daniel as an overprotective, older brother and Eden as an independent, frustrated younger brother. While the boys live together, they're beginning to drift apart, and both feel frustrated by their relationship. Tired of living in his brother's shadow, Eden is ready to make a name for himself, even it if takes him into the dark and dangerous Undercity. With friend Pressa by his side, Eden is ready to test his skills in a big way – an illegal way – entering Undercity drone race. When Eden's invention catches the eye of Daniel's and AIS's target, life becomes more dangerous. This of course is right around the same time June and the President of the Republic of America are scheduled to arrive in Ross City. What follows is a fast-paced story about brothers and what it means to look out for each other while becoming who you were born to be.
THOUGHTS: Fans of Marie Lu's writing will rejoice with this new installment to the Legend series. Though Lu takes a new approach with narrators in this fourth book, there is still enough of June's character to satisfy earlier readers. References to previous events (and Daniel's struggle to remember them) make this most suited for readers of the series; however, new readers can follow along as a new cast of characters surround the main conflict. Highly recommended for secondary libraries, especially where dystopian or sci-fi books are popular.
Dystopian Fiction          Maryalice Bond, South Middleton SD
---
Henry, April. The Girl in the White Van. Henry Holt & Company, 2020. 978-1-250-15759-1. $17.99. 224 p. Grades 7-12.

About 7 months ago Savannah and her mom relocated to Portland to live with her mother's newest boyfriend. Tim isn't exactly what his online dating profile promised. Though Savannah is trying to make the best of life in Portland, she hasn't really found her place except in the Kung Fu dojo. There she finds solace, and she's working on building her strength and her confidence. With her mom working nights Savannah is forced to spend some time with Tim. Luckily, Kung Fu gets her out of the house for a bit most nights. When Tim threatens to take away Kung Fu, Savannah runs out of the house and loses herself in that night's class. Daniel, a fellow student, notices that Savannah seems distracted. Afraid to get too close to anyone only to move away again (they've lived in many different towns and states throughout Savannah's life), Savannah doesn't let herself get too tied to Portland. Distracted on her walk home and trying to figure out how to apologize to Tim, Savannah doesn't notice she's not alone. All of her Kung Fu lessons can't save her from Sir, who overpowers Savannah and kidnaps her. Savannah isn't alone in the RV, though. She'll need to rely on her determination and convince Jenny that life is still worth living if they have any hope of getting free.
THOUGHTS: With fast-paced, compelling stories and characters readers will root for, it is no wonder why April Henry's books are popular in my high school library. The Girl in the White Van is no different and is a must have for secondary libraries where mysteries or other books by Henry are popular.

Realistic Fiction          Maryalice Bond, South Middleton SD
---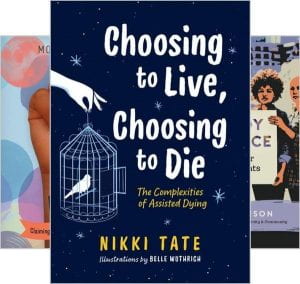 Orca Issues. Orca Book Publishers, 2019. $21.41 ea. $64.23 set of 4. 175 p. Grades 9 and up.
Polak, Monique. I Am a Feminist: Claiming the F-Word in Turbulent Times. 978-1-459-81892-7.
Siebert, Melanie. Heads Up – Changing Minds on Mental Health. 978-1-459-81911-5. (2020)
Stevenson, Robin. My Body My Choice: The Fight for Abortion Rights. 978-1-459-81712-8.
Tate, Nikki. Choosing to Live, Choosing to Die: The Complexities of Assisted Dying. 978-1-459-81889-7.
Polak's narrative explores multiple aspects of feminism starting with a chapter on its history from the suffragists of the early 20th century up to the current movement including the Women's Marches in 2017. The book covers feminism around the world, highlighting many issues girls and women on this continent do not typically have to deal with like lack of access to education and genital mutilation. It looks at feminism in the workplace, feminism as it relates to love and relationships, rape culture, body image, issues of diversity and sexuality, and more. Finally, Polak discusses the toxic masculinity that exists in our culture and offers suggestions for readers to support men in becoming feminists, too. The book contains colorful photos and illustrations on nearly every page. Sidebars highlight specific news stories, individuals making a difference, or unique products that support the movement like, for example, a nail polish that changes color when it comes in contact with a date rape drug. The book also contains a very thorough glossary and list of resources at the back. Though Polak is from Canada and many of her references and examples come from that country, she also cites people, studies, and stories from the United States, so readers from the US do not feel like the book is irrelevant.
THOUGHTS: This book is an excellent resource for students doing a research project on feminism or simply seeking personal awareness on the topic. A relatively quick read, it could be read cover-to-cover, but could also be easily searched for a single specific topic using the index. While the lexile suggests the writing is at a high 9th grade reading level, Polak's style is simple and conversational enough that it is accessible for a wide range of readers. Polak points out on several occasions that equal treatment for all is the aim of feminism, whether a woman wants to subscribe to traditional gender roles or not. As her title suggests, her purpose is to have all readers proclaim that they are feminists and shed the word's negative connotation it has gained in recent years.
305.42 Feminism          Sarah Strouse, Nazareth Area SD
---
Colbert, Brandy. The Revolution of Birdie Randolph. Little Brown, 2019. 978-0-316-44856-7. 336 p. $17.99 Grades 8 +. 
A sweet and empathetic coming of age story about a sixteen-year-old growing up in a rough neighborhood in Chicago. Dove Randoph, affectionately called Birdy by her family, has led a sheltered life kept away from trouble and temptation by her protective parents. The unexpected arrival of a new boyfriend and her long lost Aunt Carlene shows Birdie a different view of life away from the high expectations and straight lines drawn by her loving but controlling parents. These two new individuals in Birdie's life both have checkered pasts. Carlene is in recovery, overcoming years of drug addiction and life on the streets and Booker has spent some time in juvenile detention, which definitely marks him as unsuitable in the eyes of Birdy's parents. But both Carly and Booker expose Birdy to a new way of experiencing life, and this adds spark and adventure to her sedate existence. These new experiences and conversations open Birdy's eyes and lead her down a path of her own choosing, rather than that of her parents'. This touching novel shows a teen figuring out how to live life on her own terms, walking the line between her loyalty to her family and following her own heart. Colbert expertly weaves together so many interesting and important themes, rebellion, family, addiction, rehabilitation. She gives an empathetic portrayal of the troubled Carlene and Booker and shows the potential for redemption every person may have inside of them.
THOUGHTS: With several of the author's previous books on bestseller and awards lists, this novel is sure to be a teen favorite.
Realistic Fiction          Nancy Summers Abington SD

---
Morris, Brittney. Slay. Simon Pulse, 2019. 978-1-534-44542-0. 321 p. $18.99. Grades 7-12. 
Kiera Johnson lives a double life. By day she is one of four African American students at Jefferson Academy. She excels academically and works hard to fit in, never wanting to be seen as an outlier. But by night, Kiera lives in a world she has created, one in which she can truly be herself, the world of SLAY. An underground game that requires a passcode to get in, SLAY caters to the black community all over the world. More than 500,000 gamers use SLAY as a sanctuary from the real world, and Kiera, along with her developer Cicada, gives them all a safe place to be themselves. Known only as Emerald within the game, Kiera keeps her double life a secret from even her closest friends and family. But when an unexpected tragedy thrusts the game, and Emerald, into the limelight, Kiera must fight to keep her world and her online community safe from intruders.
THOUGHTS: Slay was an incredibly fun read. Morris explored the deeply important ideas of community and belonging in a way that was fresh. An empowering read.
Realistic Fiction          Samantha Helwig, Dover Area SD
---
Yoon, David. Frankly in Love. Putnam, 2019. 978-1-984-81220-9. 406 p. $18.99. Grades 9-12. 
Frank Li knows his parents are racist. They look down on anyone who isn't Korean, so much so that when his sister married a black man she was disowned. As Frank tries to cope with senior year and the girls that come with it, he finds himself in a cultural conundrum. His parents would like nothing more than for him to date a nice Korean-American girl, but Frank Li only has eyes for Brit Means, a white girl who is definitively not Korean. Joy Song, a close family friend, finds herself in a similar situation prompting the teenagers to make the obvious choice, pretend to date each other so neither their parents nor their significant others ever find out that there is an issue. What follows is a whirlwind story that will take the reader on a journey to explore race, relationships, and what it takes to be true to yourself.
THOUGHTS: Frank Li's story will resonate with anyone who has ever felt their choices would never be supported by their parents and has had to deal with the emotional fallout of that thought.
Realistic Fiction                Samantha Helwig, Dover Area SD
---
Wiegand, Alyssa, and Carla Carreon. Hack Your Cupboard: Make Great Food with What You've Got. Zest Books, 2019. 978-1-942-18607-6. 168 p. $19.99. Grades 9-12.
Let's face it: grocery shopping, cooking, and cleaning up after yourself in the kitchen are three big components of "adulting" that must all master eventually. Hack Your Cupboard is here to guide the way from cereal-for-dinner to a fancy date-night dinner with minimal kitchen catastrophes. Authors Alyssa Wiegand and Carla Carreon have organized their collaborative cookbook into four sections: Your First Kitchen, Dorm Room Dining, First Apartment Dining, and First Solo Kitchen. Within each section are tips on stocking your pantry, food storage, selecting kitchen equipment, and mastering kitchen techniques from beginner (basic vinaigrette) to intermediate (caramelizing onions) to advanced (deep frying). The cookbook's signature element is the concept of "hacking" recipes by using what's on hand to improve each dish or tailor it to your personal tastes. Recipe pages are liberally peppered with gourmet, spicy, budget, healthy, and hearty hacks: incorporating nuts or fresh herbs, adding protein like chicken or shrimp, marinating veggies for more flavor, and preparing part of the recipe in advance to maximize prep time. 
THOUGHTS: The cookbook benefits from the authors' "you've got this!" tone and beautiful, full-color photographs of each prepared recipe. Ramen noodles topped with shredded rotisserie chicken and red peppers have never looked so delicious! Hack Your Cupboard is a worthy addition to every library's cookbook section, and it will appeal to cooking novices or anyone looking for ways to rejuvenate their worn-out recipes.
641.5 Cooking          Amy V. Pickett, Ridley SD
---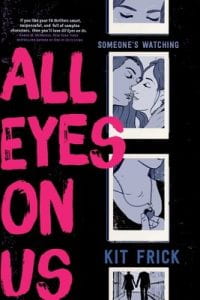 Frick, Kit. All Eyes on Us. Margaret K. Elderry, 2019. 978-1-534-40440-3. 374 p. $18.99. Grades 9-12. 
Logansville's elite girl Amanda Kelly has it all: she's pretty, she's popular, she's rich, and she's witty to boot. To top it all off her boyfriend is none other than Carter Shaw, of Shaw Realty, and together they make the perfect power couple, the new generation that will take over the town. But Amanda's life isn't as perfect as it seems; Carter's been cheating on her, slumming it with Rosalie from Culver Ridge. Rosalie, for whom going out with Carter is nothing more than a convenient cover, has no intentions of keeping Carter around once high school is over. She plans to move into an apartment with her girlfriend. All is well for both Amanda and Rosalie as long as no one knows. But when a Private number begins sending the girls threatening messages and ultimatums attempting to expose their secrets to their families and communities, will they choose to work together to save their futures?
THOUGHTS: A fun, fast-paced mystery that will keep you guessing until the end!
Mystery          Samantha Helwig, Dover Area SD
---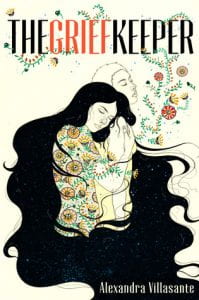 Villasante, Alexandra. The Grief Keeper. Putnam, 2019. 978-0-525-51402-2. 310 p. $17.99. Grades 9 and up. 
How much would you give up to ensure your safety? Your family's? Marisol and her little sister Gabi have fled El Salvador and purchased illegal passage into the United States. Their family, torn apart by gang violence, is no longer safe. The sole future the girls have is to be granted asylum. Trapped in a Pennsylvania immigrant detainment center, the only hope for the girls is their ability to prove their need to stay in the asylum interview. When the interview does not appear to go as Marisol had hoped, she and her sister flee the center at the first chance they get. Unexpectedly, an opportunity presents itself that seems to be too good to be true, take part in an experiment that will potentially treat the grief of others for one month, and they will be allowed to stay legally. Marisol jumps at the chance but the toll is one she never imagined. How much can one person be expected to endure?
THOUGHTS: Touching on immigration and exploitation, The Grief Keeper is a thought-provoking novel that brings to light the plight, hopes, and fears of those who have nowhere left to go.
Realistic Fiction           Samantha Helwig, Dover Area SD