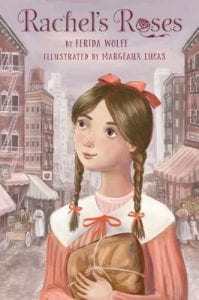 Wolff, Ferida. Rachel's Roses. Holiday House, 2019. 978-0-823-44365-9. 100 p. $15.99. Grades 2-5.
Rachel Berger is a third grade girl who lives in the Lower East Side of New York City during the early 1900s with her mother, father, grandmother, and little sister Hannah.  The family struggles economically, especially since her mother quit her job to start her own dressmaking business. As the big sister, Rachel is tired of her little sister copying her and following her around. Rosh Hashanah is approaching, and Rachel is hoping she can have a new skirt for the occasion and that it will be different from her sister's. There is no money for new clothes, but Rachel's mother gives her money for new buttons. At the trimmings store, she spies 3 beautiful buttons with roses in them. Although she does not have enough money to pay for them, she asks the shop owner to put them aside and says she will earn the money to buy them before the holiday. Rachel is able to find a job doing errands and purchases the buttons. Her feelings for her sister are out to the test when Hannah goes missing and Rachel must decide if the buttons can be put to better use for the sake of her family. The author creates a 19th century atmosphere with her description of the street vendors and school life, and the author's note explains more about her own family's customs during Rosh Hashanah. Lucas's black and white illustrations appear frequently throughout the text and help the reader visualize life in the early 20th century. 
THOUGHTS: This is a charming book that is perfect for independent readers who are not quite ready for lengthy texts but want to expand their horizons beyond series titles. Although this is not an essential purchase, it is a worthwhile addition to elementary library collections.
Historical Fiction          Denise Medwick, Retired, West Allegheny SD
---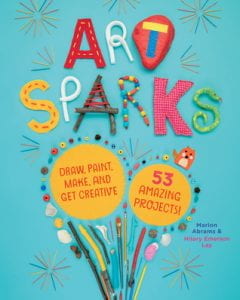 Abrams, Marion, and Hilary Emerson Lay. Art Sparks. Storey Publishing, 2019. 978-1-635-86211-9. 175 p. $26.95. Grades 2 and up.
This highly appealing craft book, born of the authors' Summer Craft Barn classes, is sure to delight crafters of all ages and interests. After an introduction to basic craft materials, the book is divided into 6 categories of crafts: painting, drawing, paper art, felt and fabric, art and nature, and sculpture. The projects run from simple to more complex, but none feel beyond the ability of tween and older crafters, or youngsters with adult assistance. Materials required for most projects are basic craft supplies, and other items are obtainable at a craft store. Each project outlines materials needed; full color photos illustrate step-by-step instructions and are so engaging you want to dive right in. There are multiple crafts inspired by a variety of international cultures, each accompanied by a brief explanation of the significance of the art to the culture. Most crafts can be wholly completed by the young crafter, but the authors advise that glue guns be used with adult supervision, and knife work completed by adults. The only questionable point is the suggested use of styrofoam meat trays, which, while the book notes they should be washed thoroughly before use, parents may prefer to avoid.
THOUGHTS: This book will be an excellent addition to a library craft section, as well as a great purchase for the young crafter in your life.
745.5 Crafts          Nancy Nadig, Penn Manor SD
---
Lieb, Josh. Chapter Two is Missing. Razorbill, 2019. 978-1-984-83548-2. 48 p. $17.99. Grades K+.   
Chapter One opens with a bang when the panicked narrator announces that Chapter Two is missing, and this riotous story is off and running. In the meta tradition of David Wiesner's The Three Pigs and Chloe and the Lion by Mac Barnett, the elements of a book become the story. Milo the Janitor relocates periods (to, perhaps, create an ellipse?) and heaps pagefuls of M's in the middle of another page. Detective McGarrigan has no news on the case, but no news is good news, right? Delightful comic illustrations by Kevin Cornell (The Chicken Squad) propel the humor along. When the who-done-it is finally revealed, readers may be too busy laughing to care.
THOUGHTS: While young readers may giggle at the drawings, the clever humor will appeal to older readers as well, and a close inspection of the illustrations will also prove rewarding.
Picture Book          Nancy Nadig, Penn Manor SD
---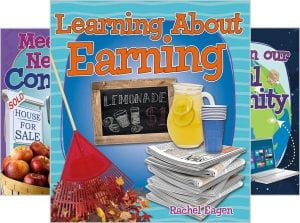 Money Sense: An Introduction to Financial Literacy. Crabtree, 2017 and 2019. $17.70 HC. $7.95  PB. $106.20 set of 6. 24 p. Grades K–3.
Eagan, Rachel. Why Does Money Matter? 2017.  978-0-778-72666-1. 332.4
—. Why Should I Save for a Rainy Day ? 2017. 978-0-778-72663-0. 332.024
—. What Do I Want? What Do I Need? 2017. 978-0-778-72664-7. 332.024
—. Learning about Earning 2017. 978-0-778-72665-4. 331.2
—. Meeting Needs in Our Community. 2019. 978-0-778-75185-4. 338
—. Trade in Our Global Community.  2019. 978-0-778-75186-1. 382
This series makes economics accessible for younger grades. These books introduce young children to the basic concepts such as supply and demand, needs and wants, and goods and services. General statements are illustrated with child friendly examples. The two most recent books, Meeting Needs in Our Community and Trade in Our Global Community, reach out into local and global economics and the interdependence of our global community. Back matter includes books for further reading, websites, a glossary, and an index. Each book has a link to Crabtree's secure website which has additional digital content. 
THOUGHTS: Economics should be studied even by younger students. These books can really have an impact, but I think they should be used intentionally, backed up by hands on activities. Because there are different Dewey classifications, I have included the specific number with each title above.
Financial Literacy          Jeannie Bellavance, Retired
---
Smith, Alex T. How Winston Delivered Christmas. Silver Dolphin, 2019. 978-1-68412-983-6. 175 p. Gr. 1-5. 
In delightfully retro style, Alex T. Smith tells the story of Winston, a plucky little city mouse, who finds a lost letter on Christmas Eve. The trouble? The letter is addressed to Santa Claus, and he will never receive the letter at this late hour unless Winston does something, and fast! Winston travels across the city, meeting helpful new friends like avian odd couple George and Edna who provide some intel on Santa's location, and rat Eduardo Fromage who shows Winston the finer points of life inside a fancy department store. Winston finally makes his way to Fortesque's Department Store where he hopes to meet up with Santa Claus, but he realizes that he's too late. Never one to give up, Winston attempts to fly himself to the North Pole, only to crash land in a serendipitous twist that makes his life (and the life of the letter writer!) very happy, indeed. Smith tells the story in 24 ½ chapters, meant to be read as an Advent story throughout the month of December. The vintage-looking illustrations are gorgeous and evoke a vision of long-past big city holidays, bustling with men in suits and fedoras and ladies in dresses and hats, all bustling about carrying towers of packages carefully wrapped at the department store (rather than delivered by Amazon). Christmas crafts, recipes, song lyrics, and activities are peppered throughout the book, and every page is decorated with a small illustration, flourish, or bit of whimsy that generally lend the book a very festive air. It's a beautiful book and story that deserves to be shared with a special child in your life.
THOUGHTS: Buy a copy for school and a copy for home, and enjoy sharing with Christmas-lovers young and old.
Action/Adventure          Lindsey Long, Lower Dauphin SD

---
Wang, Jen. Stargazing. First Second, 2019. 978-1-250-18387-3. 208 p. Grades 3-6.
Moon is unlike anyone Christine has ever known growing up as a Chinese American. Christine plays the violin and likes American pop music while Moon loves singing and dancing to K-Pop. Christine's parents are very strict while Moon's mother is very easy going. Christine's family makes their dan dan mian with pork while Moon and her mother are vegetarians (and Buddhists). Moon also has a reputation for having a hot temper and quick fists. The girls realize quickly, however, that they really like each other…they become quick friends and expand each other's worlds. Moon even tells Christine her deepest secret, that she's really a celestial being, and she has visions that let her see her friends in the sky. Christine struggles with her own insecurities as Moon becomes more popular, and it isn't until Moon has a seizure at a friend's birthday party that everyone learns the truth: Moon's celestial visions are being caused by a brain tumor. Moon needs Christine more than ever, but Christine can't face Moon after an unkind incident at the birthday party. In the end, Christine's father helps her see that she needs to be herself to be happy, and she and Moon make up and face the new world together. This book is loosely based on author/illustrator Jen Wang's own childhood and personal experience with a brain tumor. Several of my students have read and loved it! Our district has very few Chinese American students, and this book portrayed a community authentically to my students, a group of kids who likely know very little about this culture.
THOUGHTS: An excellent title for fans of realistic middle-grade graphic novels.
Graphic Novel          Lindsey Long, Lower Dauphin SD
---
Kenney, Karen Latchana. Ants: Secrets of their Cooperative Colonies, Capstone Press, 2019. 978-1-543-55553-0. 32 p. $7.95. Grades 3-4.

Did you know that there is an ant called Honeypot Ants that have abdomens the size of grapes? This book takes the reader through an ant's life and why they live together. The text of the book is definitely for upper elementary; the pictures and models are eye catching, and there are great captions. When there are new words, they are highlighted in red and defined at the bottom of the page making following along with this book easy to do. This Fact Finder book is one in a series where readers get to learn secrets about some interesting insects and animals.
THOUGHTS: I would love to use this book in a center, teaching students how to read for information. This book is also a great example of text structures while being friendly for younger grades to follow along.
595.74 Ants          Arryn Cumpston, Crawford Central SD

---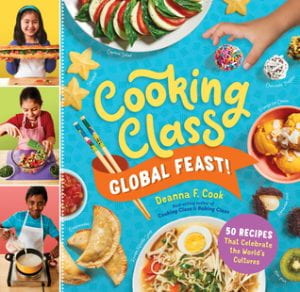 Cook, Deanna F. Cooking Class: Global Feast, Storey Publishing, 2019. 9781635862300.P143. $28.95. Gr 1-5
Cooking Class: Global Feast is an awesome cookbook filled with recipes from around the world written specifically for children. The table of contents is easy to read and divided by types of meals from breakfast to dessert. Each recipe includes the flag of the country from where the food is traditionally made. There is also a table of contents by country, allowing students to  plan a fully immersive experience easily. The book also starts with lessons for students who may not be comfortable in the kitchen. Going into the book the recipes are rated from one spoon, meaning they do not involve baking or cutting, to three spoons which asks that there is an adult or older sibling helping. Each recipe also has pictures of the process. I love this part of the book because it allows children to check their work and see if it looks similar to the picture. Readers are also introduced to each child who is baking with a mini biography about them.
THOUGHTS: My daughter has not put this book down. From the moment I got it home my 9 year old daughter has been planning meals and testing her baking chops. Baking and cooking is a great way for students to be comfortable with measurement and to experience science. The lessons at the beginning helped her to know what tools she needed to get and how to read the recipe.
641.5 Cooking           Arryn Cumpston Crawford Central SD

---
Qualey, Marsha. Kristyna Litten. Gracie La Roo: At Training Camp. Picture Window Books, 2019. 978-1-515-83777-0. 35 p. $14.58. Grades K-2.

It is time for swim camp, and all Gracie wants to do is swim. Why then are all of her friends busy and worried about everything else. Gracie gets frustrated when practice keeps getting rescheduled for poster making, and costume designing. Gracie ends up spending the day alone. What she does not realize is that even when she is alone her other teammates depend on her and value her opinion. They keep calling her in to help with their problems. When Gracie finally has had enough and goes to her room, the rest of the team ends up in a fit. Gracie points out that they have lost focus and leaves to swim. 
THOUGHTS: The illustrations and words in this book are simple and easy to follow. This is a great beginning chapter book that could easily also be used as a social story for students. Friendships are hard, and like Gracie we don't always agree with what friends are doing and sometimes we need to remind our friends what is important. The discussion questions and writing prompts at the end of the story would make this a great beginning of the school year read aloud for younger elementary students.
Early Chapter Book          Arryn Cumpston, Crawford Central SD