Lashner, William. Elizabeth Webster and the Court of Uncommon Pleas. Disney/Hyperion, 2019. 978-1-368-04128-7. 310 p. $16.99. Grades 5-8.
If Elizabeth Webster was unprepared when middle school celebrity Henry Harrison asked her to tutor him in math, she was thoroughly speechless when she discovers he really needs help dealing with a headless ghost who appears in his bedroom. Angry teenage spirit Beatrice Long has requested Lizzie's help, telling her, "Save me, save him". While Lizzie wants no part of exorcising Beatrice, she guesses her long absent father is somehow involved, and sets out to find him. When she learns he works for the law firm Webster & Son, Attorneys for the Damned, awkward pieces begin to fall into place. But with her father missing, Lizzie is on her own to placate Beatrice, solve the mystery of her death (and find her head), as well as rescue her father. And, apparently, take her place as a litigator before the Court of Uncommon Pleas. Lucky for Lizzie, she has the support of her best friend, Natalie, and her long despised stepfather (maybe she was wrong about him?), as well as several new friends who enthusiastically help her polish her litigation skills. How did Lizzie go from fly-under-the-radar middle schooler to Elizabeth Webster, barrister, facing down the fallen angel Abezethibou? Part mystery, part ghost story, and totally fun, Elizabeth Webster and the Court of Uncommon Pleas touches on family relationships as well as being willing to trust and to extend yourself.
THOUGHTS: Hand this rollicking good time to readers looking for a humorous book, as well as those who enjoy a light mystery or a spooky book.
Realistic Fantasy (Paranormal)           Nancy Nadig, Penn Manor SD
---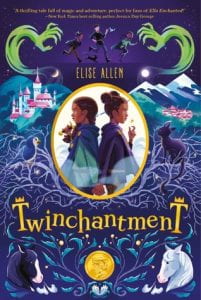 Allen, Elise. Twinchantment. Roaring Brook, 2019. 978-1-534-13288-7. 336 p. $17.99. Grades 4-8.
Being a princess means you can do whatever you want, and everyone has to listen to you, right? Normally in stories this is true, but for Flisarra her very existence is technically illegal. You see, the princess known as Flisarah is actually twins Sarah and Flissa, and in their kingdom being a twin is illegal as is anything else seen as magical. A long time ago magic was common and used everywhere. When one Mange tried to use dark magic to take over the kingdom, rules were created and only chosen mange are allowed magic for the protection of the kingdom. Flissa and Sarah must be very careful and never be seen together. That all changes when their mother is sick, and they believe it is because of a curse. The princesses now must sneak across their kingdom and enter the magical realm to bring back the very mange who tried to take over the kingdom. As they travel they discover life and what they have been taught may not always be what it seems.
THOUGHTS: This book would be great for students who like the fantasy genre and books like Harry Potter. The way the girls work together and build friendships throughout the book makes it a great middle grades read.
 Fantasy          Arryn Cumpston Crawford Central SD
---
Farrant, Natasha. A Talent for Trouble. Clarion, 2019 (US Edition).  978-1-328-58078-8. 258 p. $16.99. Gr. 5-7.
Alice Mistlethwaite has been sent off to Stormy Loch, a boarding school in Scotland, by her Aunt Patience and her father, Barney. Aunt Patience hopes that this will be a new start for the whole family who is grieving over the death of Alice's mother. Naturally a shy child who loves to write fantasy stories, Alice is apprehensive and lonely, and despite evidence to the contrary, she is devoted to her father. On the train ride to school she meets Jesse, another lonely child who feels lost and is worried about living up to the reputation of his older brothers. Then there is Fergus Mackenzie, who is very bright, plays mean pranks, and doesn't know how to focus his gifts. Major Fortescue, the headmaster is reminiscent of Dumbledore. Seemingly formidable he, as the reader will discover, knows just how to get his charges on the right path to self-understanding. The three students are assigned team for the Year Sevens' orienteering challenge in the hills of Scotland. This leads to perilous adventures through the rough terrain. Not only must they survive the trek, but they also escape some villainous characters who are after Alice because of her father.
THOUGHTS: The unidentified narrator really involves the reader and draws us into the story. The ending is not what most would expect – a grand reunion of father and daughter. It is so very difficult to realize that your parent is not the hero and that you have misplaced trust in your dead-beat dad. Life's lesson can be hard, but Alice is much stronger as are the others.
Realistic Fiction          Jeannie Bellavance, Retired
---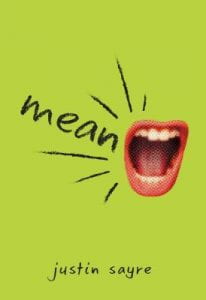 Sayre, Justin. Mean. Penguin Workshop, 2019. 978-1-524-78795-0. 232 p. $16.99. Grades 5-8. 
Set in the same world as his other novels, Husky and Pretty, Justin Sayre delivers a poignant look at what it means to find yourself when you don't know where to start. Ellen was once told she gets one adjective to describe herself when she gets to high school, and it turns out she's mean. She doesn't try to be; she just has trouble holding back her opinions because why should she have to? Together with best friends Ducks and Sophie, Ellen experiences regular school and, on her own, Hebrew school while preparing for her bat mitzvah. At school, everything is changing. Girls are starting to become boy crazy and change who they are. At Hebrew school, is she starting to become boy crazy herself? And what does that mean? Does she now have to change who she is? Throughout the novel Ellen navigates life's ups and downs with friends and family all while trying to answer the one essential question: on the day she becomes a woman, what kind of woman does she want to be?
THOUGHTS: Mean was a charming read about what it takes to grow into who you are meant to be and the people who help you along the way.
Realistic Fiction          Samantha Helwig, Dover Area SD
---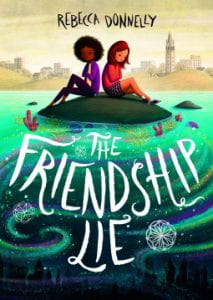 Donnelly, Rebecca. The Friendship Lie. Capstone Editions, 2019. 978-1-684-46061-8. 267 p. $15.95. Grades 4-6.
Cora Davis's parents know all about garbage, literally. They study where garbage goes after we toss it, and Cora has spent many an afternoon digging through garbage and sorting it. Lately, Cora feels like her life has been thrown in the trash when she and her best friend Sybella stop talking. 5th grade is not turning out the way that Cora wanted it to be. Woven throughout the book are also diary excerpts from a diary of a girl named Penny Ellen Chambord. The diary plays a large part in the friendship between the two girls and causes them to be able to see things from the other person's perspective. There is also a family element, as Cora's parents are separated, and that is causing tension in the family. Cora is a twin, and the relationship she has with her brother, who is the complete opposite of her, plays a rather large role. While Cora's friendship is falling apart, her parents' marriage is falling apart. Her mother is away for most of the book, and Cora 'calls' her and leaves her voicemails, which are a great insight into how Cora is feeling, both about her parents' relationship as well as her former friendship with Sybella.
THOUGHTS: There is a major focus on garbage and the science of garbage, so that might turn some readers off. However, at the heart of the book is a sweet story about two friends who have to work at their friendship and learn that friendships change and grow. Overall, I think this book is a great representation of what it's like for girls and boys to deal with friendships.
Realistic Fiction          Mary Hyson, Lehigh Valley Academy