Stone, Nic. Jackpot: All Bets Are Off. Crown, 2019. 978-1-984-82962-7. $17.99 343 p. Grades 8+.
Rico Danger (yes that's her name, pronounced) is a high school senior working at a convenience store to support her struggling family. She learns that a 100 million-dollar lottery ticket has been sold there on Christmas Eve while she was working and when no one steps up to claim it, she recalls a sweet older lady who visited that night. Believing that woman may be the holder of the winning ticket, Rico sets out on a quest to find her and hopefully get a tiny share of the payout. Rico finds an unlikely helper in her popular and super wealthy classmate, Zan. As they work together to try to find the lotto ticket holder, they realize they have a lot in common despite their family circumstances. Though the book does take on the serious topics of poverty, sacrifice, and family issues, it is overall a lighthearted read with a slowly building romance between opposites.
THOUGHTS: Nic Stone is another solid, up and coming African American author to follow. With popular titles in the last two years – Odd Man Out and the exceptional Dear Martin, Stone's latest book should be popular with high school students.
Realistic Fiction          Nancy Summers Abington SD
---
Drake, Julia. Last True Poets of the Sea. Hyperion, 2019. 978-1-368-04808-8. $17.99. 391 p. Grades 9 and up.
After her brother attempts suicide, Violet's family is torn apart. Her parents retreat in their grief at home in New York City; her brother is in a treatment center; and Violet, a sixteen-year-old wild child, is sent off to live with her uncle in her mother's hometown on the coast of Maine. While there she is determined to isolate herself, but she is sent to volunteer at the aquarium where she meets Orion, a local teen with a unique circle of friends. The story follows Violet as she faces her own trauma over her strained relationship with her brother and his mental illness. Woven in is her new quest to investigate her family's strange history, including the mystery of the famous shipwreck that her great great grandmother survived. Another element is a love triangle that develops between Violet, Orion, and Liv. With parallels to Shakespeare's Twelfth Night, this is a sweet and thoughtful novel with lovely prose, an enchanting setting, and vivid characters.
THOUGHTS: A lovely coming of age tale that addresses mental illness, family dynamics, sexual orientation, and first romance. Recommended for fans of Jandy Nelson's I'll Give You the Sun.
Realistic Fiction          Nancy Summers Abington SD
---
Cho, Kat. Wicked Fox. Putnam, 2019. 978-1-984-81234-6. 420 p. $18.99. Grades 8 and up. 
The gumiho, seductive foxes masquerading as women who eat the livers of men to survive are just myths, right? Jihoon has grown up hearing the stories of the gumiho from his grandmother, his halmeoni, but he knows that they are just scary stories, ones meant to keep children from the woods at night. That is until an otherworldly encounter in the forest brings all those stories to life. Miyoung, a gumiho, manages to save innocent bystander Jihoon when a dokkaebi, a goblin, attacks although she loses her fox bead in the process. Without the bead Miyoung is unable to hold the energy, the gi, she sucks from humans to survive, making it necessary to feed more often and making her more dangerous. But when their worlds collide in another life or death situation, Miyoung is faced with a choice she never thought possible: save herself or the life of a human.
THOUGHTS: Set in modern-day Seoul, this mythical love story paints a vivid picture of a world unseen, where monsters live alongside men and the stories that you grew up to discredit just may be the thing that saves your life.
Fantasy (Mythology)           Samantha Helwig, Dover Area SD
---
Woodson, Jacqueline. Red at the Bone. Riverhead Books, 2019. 978-0-525-53527-0. 208 p. $26.00. Grades 10+.
Woodson knows how to tug at your heartstrings. Whether you're a mother or not, this book so sharply addresses the complicated relationship of mothers, daughters, and extended relatives. The novel is told in a back and forth, switching from the perspective of a mother at age sixteen and her sixteen year old daughter as she gets ready to participate in her debut to society. Each character was authentic in their own way, making the story relatable to most readers. Woodson touches on themes of race, legacy, social class, parenting, coming of age, and family dynamics. The narratives toggle back and forth between 2001 and 1985, when Iris and her daughter were both sixteen, respectively. The family history allows Woodson to mention historical events such as the race riots in the early part of the 20th century as well as the attacks on September 11, 2001.
THOUGHTS: There are some heavy topics covered in this title that some young and immature readers might not be able to digest on their own including teenage pregnancy, dysfunctional mother/daughter relationships, drug abuse, 9/11, and sexuality. This book should be on the shelves of all high school libraries for mature readers.
Realistic Fiction          Samantha Hull, Ephrata Area SD
---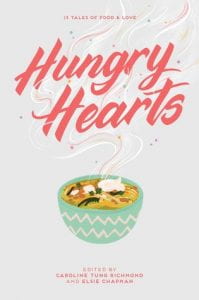 Chapman, Elsie. Hungry Hearts: 13 Tales of Food & Love. Simon Pulse, 2019. 978-1-534-42185-1. 368 p. $18.99. Grades 7-12.
A true collaboration between best-selling authors that are interconnected by not only location, but by a few characters as well. The thirteen stories include various different genres and tackle topics that are easier to handle with a sweet confection or a magic soup dumpling. Not only is the collection diverse in genre types, but also with characters including nontraditional families, gang violence, bi-racial families, people of color, and a lot of the author's #ownvoices. My favorite story in the collection is the final tale: "Panadería ~ Pastelería." The protagonist shows up in many other stories with a unique and handcrafted pastry at moments when characters didn't know they needed it more than anything in the world. This concluding story includes topics of generational differences and coming of age all while focusing on the moral of the story: do what's right, and you get to choose what is right.
THOUGHTS: This anthology would be a good addition to high school libraries that supply content for contemporary fiction. This title can be recommended to reluctant readers to provide a feeling of accomplishment in finishing one or two tales, but can also serve as exposure to a variety of genres for readers who are looking to branch out.
Short Stories          Samantha Hull, Ephrata Area SD
---
Boteju, Tanya. Kings, Queens, and In-Betweens. Simon Pulse, 2019. 978-1-534-43065-5. 384 p. $19.99. Grades 8-12.
Small town? Check. Bored teen? Check. Bi-racial queer protagonist? CHECK! Drag kings and queens and #ownvoices? Check! CHECK! CHECK! After spending time with her nerdy best friend at the town carnival, Nima stumbles into a drag show that leaves her with more questions than answers about herself and her world. Luckily, Deidre, a drag queen with flair, takes on Nima as a side project and not only serves as her mentor but another adult to trust when she isn't even sure where her mom is. As Nima muddles through discovering secrets about her mom, working through a crush, and getting on stage to finally participate in a show, there are quite a few subplots with different characters including her hippie dad, a gay family friend, and even a childhood friend who isn't sure of his place in the world. Written by a queer author who has knowledge about the drag community makes the story authentic and provides a true depiction for a reader who hasn't had exposure to drag.
THOUGHTS: A great addition to any library that needs more diversity, a better LGBTQ+ representation, or an example of a novel written with attention to precise detail or pronoun usage and hope. The storyline is a bit jumbled, but tells a hopeful story with a cast of diverse characters.
Realistic Fiction          Samantha Hull, Ephrata Area SD
---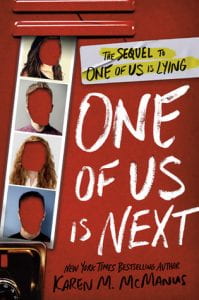 McManus, Karen. One of Us is Next. Delacorte Press, 2020. 978-0-525-70796-7. 384 p. $19.99. Grade. 8-12.
The sequel to One of Us is Lying has the same thrill, but it's missing some of the avant-garde pieces of the first book. Many of the main characters in the second book were featured in some manner during the debut. Mauve, Phoebe, and Knox take center stage in the newest mystery at Bayview High. Per McManus' classic whodunit writing format, the mystery of who is behind the deadly game of truth or dare keeps readers on the edge of their seat. A game of truth or dare via text message has all of Bayview High constantly checking their phones for updates. Truths are escaping that confuse even the sluethy-est among the characters, and the dares are getting lethal. The pacing is perfect, and the ending will be sure to shock even the most astute readers.
THOUGHTS: A book that should sit right beside its counterpart on every high school shelf but can just as easily stand alone. This is another great answer for a psychological thriller on a school library shelf to fit the craving many teens have from some of the trending adult novels of the same genre.
Mystery          Samantha Hull, Ephrata Area SD
A year after the Bayview Four are exonerated in the death of Simon Kelleher, several copycats have appeared, but not until a viral game of Truth or Dare begins has anyone taken the copycats seriously. Now, students are choosing to complete a Dare or have a Truth about them revealed. But, not everyone wants to play. Maeve, Phoebe, and Knox are all targets of the game who refuse to participate, opening themselves up to a horrible Truth being revealed. As they dig into the chatroom used by Simon during his revenge plot, they meet Darkestmind and begin investigating who is behind the viral Truth or Dare. When tragedy strikes and a student ends up dead, their inquiry into Darkestmind becomes a full investigation into him (or her), their dead peer, and the past, individually and in relation to others. As more tragedy strikes Bayview, will Maeve, Phoebe, and Knox be able to uncover Darkestmind before it's too late, or is revenge the new norm in Bayview?
THOUGHTS: Personally, I think One of Us is Lying is a fine stand-alone that didn't need a sequel. That being said, One of Us is Next is in high demand. It lacks some mystery because it is more predictable than the first, and I found it difficult to keep all of the minor characters straight and their connections to the others. It felt like more of a realistic fiction read for the majority of the text over a mystery read. I did not like the connection in the end to the characters and story; it was both predictable and disjointed. This text felt forced in comparison to McManus's previous two novels. It is still highly recommended, though, for YA collections.
Mystery        Erin Bechdel, Beaver Area SD
---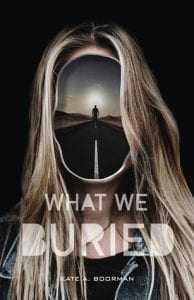 Boorman, Kate. What We Buried. Henry Holt and Co., 2019. 978-1-250-19167-0. 304 p. $17.99. Grades 8-12.  
What We Buried is a twisty mystery that constantly had me second guessing myself and my ability to keep characters, timelines, and realistic events in order. Liv, a former child pageant star and reality TV star, doesn't have a great track record with her brother, Jory. As a court case for emancipation nears a gritty end between Liv and her parents, Jory is sitting back and watching how the media and Liv's followers react to the news. Before the hearing, their parents disappear, and Liv and Jory are left to find out what happened to them in the desert of Nevada. There is never a clear sense of time or perception as the narration toggles back and forth between Liv and Jory. The time the siblings are forced to spend together makes them travel back to places from their childhood to reconsider their life choices so far.
THOUGHTS: A must have for any high school library looking to add to their thriller collection with a young adult perspective. The characters are hard to like, but the tension and sense of confusion encourage curious readers to not put the book down. The unreliable narrator can be a challenging concept for some readers.
Mystery          Samantha Hull, Ephrata Area SD
---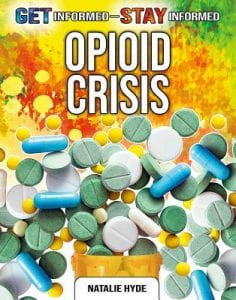 Hyde, Natalie. Opioid Crisis. Crabtree, 2019. 978-0-778-74973-8. 48 p. $9.95. Grades 7-10. 
This six chapter book focuses on what a responsible citizen can do to understand, inform, and take action on the epidemic that has "affected every community, class, ethnic group, industry, and age group." The first chapter defines the crisis and some of the key terms. In addition, there is a glossary in the back of the book. Although the second chapter uses the perspective of the opioid crisis to frame how to find quality and reliable information, most of the information could be applied to any general research project. Chapter three dives into the recreational and street use of opioids and how the crisis developed. Chapter four focuses on the effects the opioid epidemic has had on families, work society, and individuals. The last two chapters offer statistics on where the crisis stands and a look toward the future, including initiatives from the government. Each page includes color photographs, and there are many graphical representations and pop out text boxes.
THOUGHTS: Neatly packaged, this title should be in all middle and high school libraries to provide concise and accurate information on a very emotional and pervasive topic. Two chapters include valuable research and reliable information checks that can be helpful across topics.
362.29 Drugs          Samantha Hull, Ephrata Area SD
---
Hudak, Heather. #MeToo Movement. Crabtree, 2019. 978-0-778-74971-4. 48 p. $9.95. Grades 7-10. 
Organized in six chapters focusing on the definition and international issues of sexual harassment and abuse, #MeToo Movement covers the major points of the movement including a glossary and further reading suggestions. Each chapter ranges from four to twelve pages and many pages have multiple photographs, graphs, and other pop outs that make this current issue accessible to readers as middle grades. The history, including dates and information about the founder of the movement, Tarana Burke, provide context to readers who may be lucky enough to not have experienced sexual harassment or assault within their social circles. The last two chapters focus on the reader and provide ways to stay informed and ways to influence the future of the #MeToo movement.
THOUGHTS: This succinct nonfiction title should be on shelves in middle and high school libraries to provide resources on a topic that is current and pervasive across ages, races, and social economic classes. The inclusion of ways to encourage the reader to become active within the movement is particularly insightful as many students are not looking for resources just for an assignment, but to help shape their perspective and discover ways to make change.
Nonfiction          Samantha Hull, Ephrata Area SD
---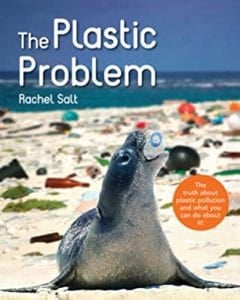 Salt, Rachel. The Plastic Problem. Firefly Books, 2019. 978-0-228-10231-1. 80 p. $9.95. Grades 7-10. 
Full of disturbing pictures and data on the plastic problem that is plaguing the globe. Each page has full color photos with enough text to get the information across to the reader, but not too much to make the work feel like a textbook or peer-reviewed journal article. Although it's not arranged in chapters, there is a table of contents that provides the reader the opportunity to focus on a specific topic. There is also a glossary and index in the back of the book. The flow of The Plastic Problem begins with definitions and some foundational knowledge about plastic and the plastic industry, including how humans use plastic and where it ends up. It continues into problems at the micro and macro level of producing, using, and discarding too much plastic and ends with suggestions for solutions that can be accomplished on local, small levels.
THOUGHTS: This book doesn't do a deep dive on any of the problems or solutions for the plastic problem, but provides enough information for a curious reader to get started. The title would be good for middle grade and possibly high school shelves, but should be accompanied by more in depth books to provide a more comprehensive study of a specific plastic problem.
363.72 Environment          Samantha Hull, Ephrata Area SD
---
Garrett, Camryn. Full Disclosure. Knopf Books for Young Readers, 2019. 978-1-984-82996-2. 320 p. $21.99. Grades 10-12.
Not many contemporary novels take a full dive into the world of HIV-positive main characters, especially based in current day. Starting at new high school is daunting, but when you're a teen who isn't sure about her sexuality and is HIV-positive, the task is that much more daunting. Simone finds herself at home with the drama kids and two other friends and even becomes comfortable enough to start a relationship with someone, but now she has to decide whether or not to disclose her medical history with Miles. Her dads don't make the potential for Simone to discuss it with her doctor any easier.
THOUGHTS: This book covers a lot of representation including LGBTQ+, HIV-positive, and African American (#ownvoice). It even hits on topics that most teens have to deal with like bullying and sexuality while layering on perspective and information about HIV that most teens might not remember from health class. This is a well-written debut novel that deserves space in a collection lacking diversity.
Realistic Fiction          Samantha Hull, Ephrata Area SD
---
Carter,T. E. All We Could Have Been. Feiwel & Friends, 2019. 978-1-250-17296-9. 304 p. $17.99. Grades 9-12.
Lexie's brother committed murder when he was 15 years old. Her brother has been locked away since the day of the murders. Despite having nothing to do with her brother's actions, Lexie has been treated like a criminal ever since. She has standing appointments with her therapist and finds control in her life by wearing the same color each day of the week. At the fifth school since she was 12, Lexie finds comfort in a neighbor and a peer in the drama club. She decides to try and control a bit more of her life and her friendships, but the results have rippling effects and leave her questioning every aspect of her life so far.
THOUGHTS: Carter represents mental illness and even a bit of asexuality, but in a dark and twisty way that isn't relatable to most readers. The lesson that is brought to life through the characters about not making assumptions about who someone is or believes is something that teens of all backgrounds can benefit from. Like much of her other work, this book is highly emotional and targets mature readers who have an understanding of grief, PTSD, and the uneasy terrain of high school gossip and drama (outside the actual drama club).
Realistic Fiction          Samantha Hull, Ephrata Area SD

---
Johnson, Maureen. The Hand on the Wall (Truly Devious Book 3). Katherine Tegen Books, 2020. 978-0-062-33811-2. 368 p. $17.99. Grades 9-12.
Following the death of Stevie's mentor, Dr. Fenton, Stevie uses information from Dr. Fenton, along with the clues she has figured out, to solve the mystery of the Truly Devious letter from 1936 and the kidnapping of Iris and Alice Ellingham. But, unsure of the current climate at Ellingham and who she can and cannot trust, Stevie decides to maintain secrecy about what she has learned and continue her investigation before revealing her findings. As a blizzard approaches, Ellingham is shut down and students are sent home, but for the students of Minerva, who follow the bright-idea of David and hide in order to remain behind. As David convinces them to investigate his father, Senator King, Stevie continues her own Ellingham investigation and soon learns of secrets hidden in the walls that confirm her initial discoveries and unveil the truth behind Truly Devious and the Ellingham murders of 1936.
THOUGHTS: Johnson masterfully concludes this trilogy with an ending that keeps readers on edge. Her intersection of present mystery with the 1930s Ellingham mystery keeps the reader rooted in each mystery and the connection between the two. This is a must-read trilogy for mystery lovers.
Mystery          Erin Bechdel, Beaver Area SD