Smith, Alex T. Mr. Penguin and the Fortress of Secrets. Peachtree. 2019. 978-1-682-63130-0. $16.95. Grades 2-4.
Another Mr. Penguin adventure! This time, Mr. Penguin is finishing a very important mission, when disaster seems to strike on his return home! With every move he makes, something bad happens! His plan crashes, small rodent animals are stolen, a mysterious castle that was once quiet is now making strange sounds, and he has no fish fingers to eat! Can Mr. Penguin solve the mystery of the castle AND return his parcel back to the museum? Read to find out!
THOUGHTS: Another funny Mr. Penguin adventure is here! Elementary readers will be excited to see the crazy leaps and bounds Mr. Penguin and his trusty spider side-kick Collin take. An enjoyable chapter book read!
Fantasy          Rachel Burkhouse, Otto-Eldred SD
---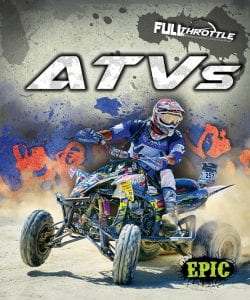 Shaffer, Lindsay. ATVs. Bellwether. 2019. 978-1-626-17870-0. $19.95. Grades 3-6.
This information guide to ATVs is a great resource for elementary readers interested in active outdoor recreation. ATVs feature a wide variety of information on the history, types, gear, and fast facts all about ATVs. This intermediate read has text and pictures that are engaging and informative, well balanced between the two. Elementary readers will enjoy the pictures, all the while learning new information about this fast vehicle. The back of the book contains a glossary, index, and additional information sources, both in print and on the web.
THOUGHTS: This is a fun informational piece for young active readers, part of the Full Throttle series!
629.228 ATVs, Vehicles          Rachel Burkhouse, Otto-Eldred SD
---
Adamson, Thomas K. Lowriders. Bellwether. 2019. 978-1-62617-873-1. $19.95. Grades 3-6.
Other Books in the Full Throttle Series (Series total: $239.40)
Dragsters – Adamson, Thomas K. 2019. 9781626179318
Indy Cars – Adamson, Thomas K. 2019. 9781626179325
Karts – Adamson, Thomas K. 2019. 9781626179332
Sport Cars – Adamson, Thomas K. 2019. 9781626179349
4×4 Trucks – Shaffer, Lindsay. 2018. 9781626178694
Dirt Bikes – Shaffer, Lindsay. 2018. 9781626178717
Hot Rods – Adamson, Thomas K. 2018. 9781626178724
Monster Trucks – Adamson, Thomas K. 2018. 9781626178748
Motocross Cycles – Shaffer, Lindsay.2018. 9781626178755
Stock Cars – Adamson, Thomas K. 2018. 9781626178762
Part of the Full Throttle series, Lowriders is an informational resource to the Lowrider vehicle, great for elementary readers. Full of pictures, text, fast facts, timelines, and more, this book is sure to pull in elementary readers that are interested in cars, specifically ones that seem to hop! Readers will learn a bit about competitions and the hydraulics that are used to make these lowriders bounce.
THOUGHTS: This is another fun informational read in the Full Throttle series!
629.222 Lowriders, Vehicles          Rachel Burkhouse, Otto-Eldred SD
---
Loveless, Gina, and Andrea Bell. Diary of a 5th Grade Outlaw. Andrews McMeel Publishing. 2019. 978-1-524-85548-2. $13.99. Grades 2-5.
It's only taken a month since Robin received her diary to start writing in it, but now she is committed! Unfortunately, Day 1 isn't the best beginning of a diary. It starts great but then ends terribly. She didn't mean to give Marinara a bloody nose when playing basketball. She just got angry when he was being rude to her. It seems from then on, things go downhill. Mary Ann still won't talk to her after missing her big day, and the bully keeps stealing everyone's Bonus Bucks. Add on that Robin accidentally got the Bonus Bucks banned, everyone is mad at her, and she still can't get Mary Ann to be her friend again… it seems that every good intention is ending badly! Can Robin, the 5th Grade Outlaw, solve these problems?
THOUGHTS: An Epic! Original story that is easy to read with large, spacious text; fun illustrations that create a graphic novel type feel; and written in a diary format. A fun read for a variety of readers who like some action that deserves a hero… or an outlaw!
Realistic Fiction           Rachel Burkhouse, Otto-Eldred SD
---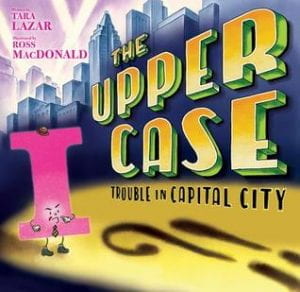 Lazar, Tara. The Upper Case: Trouble in Capital City. Disney Hyperion, 2019. 978-1-368-02765-6. Unpaged. $17.99. Grades K-9. 
There's trouble in River Capital City. All the upper case letters have disappeared except for Private I. Now he's on the case, trying to locate the missing letters in a city that, devoid of its capitals, no longer makes sense. This riotous book is filled with puns, both verbal and pictorial, with brightly colored, humorous illustrations by Ross MacDonald. As Private I moves about the city, conducting interviews and looking for clues, readers will giggle with delight. And the denouement! What a surprise! But also a subtle lesson that sometimes even the most outgoing of us need some quiet time.
THOUGHTS: This utterly delightful picture book, reminiscent of Audrey Woods' alphabet series, begs to be read aloud at story time, as well as given a closer one-on-one reading. There are so many puns and jokes to catch, it will stand up to multiple readings. A recommended purchase for libraries serving primary grades.
Picture Book          Nancy Nadig, Penn Manor SD
---
Green, Gail, and Marci Peschke. Kylie Jean Recipe Queen. Picture Window Books, 2019. $20.99 ea. $83.96 set of 4. 32 p. Grades 2-4. 
Breakfast Recipe Queen. 978-1-515-82850-1
Dinner Recipe Queen. 978-1-515-82849-5
Lunch Recipe Queen. 978-1-515-82848-8
Treat Recipe Queen. 978-1-515-82847-1
Fictional character Kylie Jean is back, this time in a non-fiction cooking series where she shares some of her favorite recipes. This reviewer had the opportunity to read the volume focusing on breakfast recipes. Recipes include smoothies, rainbow waffles, energy bars, and more–including a recipe for Fido! Designed for elementary-aged chefs, working with adult assistance, each recipe features step-by-step instructions (emphasizing points when adult assistance will be required), a full page photo of the finished product, as will as tips and creative options.
THOUGHTS: A nice addition for elementary libraries looking to update or expand their cooking collections (especially libraries that already own the Kylie Jean fiction series). Sure to hold appeal for aspiring chefs looking to try out new recipes.
641.5 Cooking            Elizabeth Henry, Lampeter-Strasburg SD
---
Nargi, Lela. Karl's New Beak: 3-D Printing Builds a Bird a Better Life. Capstone, 2019. 978-1-684-46026-7. 32 p. $17.95. Grades 1-3.
Karl, an Abyssinian ground hornbill at the Smithsonian's National Zoo, had a problem–a big problem. A large portion of his lower beak had worn away! This left him dependent on his keepers for special food, as he was not able to pinch insects or small mammals off the ground with his beak. His quality of life was impacted in other ways as well. He couldn't engage in hunting behaviors or interact with the surrounding environment as he normally would. In order to improve Karl's quality of life, his keepers decided to create a prosthetic beak using a 3-D printer. Author Lela Nargi relates Karl's journey and the 3-D beak creation process in Karl's New Beak. The text is accompanied by numerous large photos and drawings. A section including basic facts about the Abyssinian ground hornbill and a glossary are also included. As part of Capstone's 4-D line of books, readers can access supplemental video material via an app or online.

THOUGHTS: This engaging title is a must buy for elementary library collections, especially those looking to expand their STEM-related collections. Karl's story lends itself to lessons on engineering, 3-D printing, cooperation and innovation, just to name a few.
636.089 Veterinary medicine          Elizabeth Henry, Lampeter-Strasburg SD

---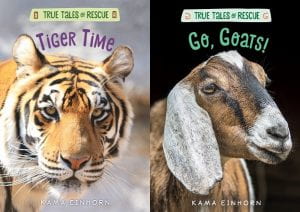 Einhorn, Kama. True Tales of Rescue. Houghton Mifflin Harcourt, 2019. $14.99 ea. 143 p. Grades 3-7. 
    Go, Goats!. 978-132-876706-6
    Tiger Time. 978-132-876707-3
The purpose of the True Tales of Rescue series is to inform readers about animal sanctuaries and their mission of animal rescue, recovery, rehabilitation, and release. Go, Goats! examines the farm animal rescue efforts of the Catskill Animal Sanctuary. The narrator of the book is Lucia, the oldest goat at the sanctuary. She takes readers on a tour of the facility and describes the journey of the largest group of goats the sanctuary has ever rescued. Along the way, readers learn about the steps in the animal rescue process, the services provided by the sanctuary, the daily life of the animals, and facts about goats. Tiger Time is narrated by Kamal the tiger, a resident of the Wild Animal Sanctuary in Colorado. He informs readers about various aspects of wild animal rescue and how these creatures are rehabilitated and live in the sanctuary. Readers also learn many facts about tigers. The series is written in an engaging and conversational style. Readers feel like they are sitting down and having a chat with Lucia and Kamal. The text is accompanied by numerous photographs of the animals and the sanctuaries. Suggestions for supporting sanctuaries and animals are also provided.

THOUGHTS: This series is sure to be popular with animal lovers. The conversational style of the text makes the series a great non-fiction option for reluctant readers. In addition to these newest titles, librarians should also consider purchasing the prior titles in the series.
636.7, 599 Farm Animals, Animals          Elizabeth Henry, Lampeter-Strasburg SD

---
Hamilton, Kimberlie. Fearless Felines: 30 True Tales of Courageous Cats. Scholastic, 2019. 978-1-338-35583-3. $9.99. 160 p. Grades 3-7.
Fearless Felines recounts the stories of cats from around the world and throughout history who led amazing and unique lives. For example there's Sam, who spent time onboard both German and English Naval vessels in World War II; Morris, who found fame on TV commercials; Nora, the piano playing kitty; and Snowball, the Canadian cat who helped police in an investigation. Interspersed among the cat tales are lists of various feline factoids, quizzes, and historical cat lists/information. Each single page cat profile is accompanied by a full page illustration by one of seventeen artists.

THOUGHTS: A quick and enjoyable read, this title is sure to be a hit with your school's many cat owners and fans. The text is enhanced by the variety of illustrations, completed in various styles and mediums, which helps to bring the unique personality of each cat to life.
636.8 Cats          Elizabeth Henry, Lampeter-Strasburg SD

---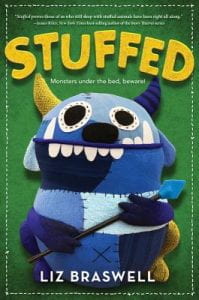 Braswell, Liz. Stuffed. Disney, 2019. 978-1-368-03701-3. 244 p. $16.99. Grades 3-6.
Clark's mom is sure that, at 10 years old, Clark is too old to play with stuffed animals. But for Clark, it isn't play; it's protection from the monsters he thinks come out at night. When a new playdate friend confirms that monsters are real, and "stuffies" are the defense, Clark begins to understand what is wrong with his father, who has taken to bed and looks weaker by the day. In a last ditch effort to make Clark "grow up," his mom sends him to Camp I Can, a camp for children to break dependencies. Luckily, Clark connects with the crafts counselor who knows all about stuffies and comes up with a plan to save his dad before it's too late. This sweet book gives voice to what all children know: stuffed animals are real. In a trading card-like structure, stuffies are given defensive point values for various characteristics, and being home-made, with love, is a big power boost. Clark epitomizes the frustration children feel at not being taken seriously by adults, but luckily he has a fan in his goth older sister, a unique character in her own right. The story includes occasional narration from one of Clark's stuffies, which adds a twist of suspense to the story. Author Braswell also includes instructions to make one's own stuffies.
THOUGHTS: Any reader who has ever loved a stuffed animal will delight in Stuffed.
Fantasy          Nancy Nadig, Penn Manor SD

---
Pasternick, Sofiya. Anya and the Dragon. Versify, 2019. 978-0-358-00607-7. 394 p. $16.99. Grades 3-7.
Anya's Babulya, grandmother, always tells her to not make trouble, not to stand out. This comes from her grandmother's lifetime of experience as a Jew in Russia. But Anya attracts attention for another reason when she bravely assaults a cruel warrior from the north who threatens the village. Her bravery is noticed by Yedsha, the Tsar's fool, who just arrived in her small village, ostensibly on a mission to study the magical creatures that dwell there. He is really seeking a dragon, thought to be extinct, and hires Anya to guide him around the area and look for one. Anya is in need of money, as the village magistrate is in the process of evicting her family from their house unless they pay back taxes her mother owes. However, when Anya finds a young dragon and discovers what a thoughtful, caring creature the dragon is, she is torn between saving her family or saving the dragon. The story reads like a cozy Russian folk tale, full of magic, mythical creatures, ghosts, and evil soldiers. Anya is drawn into the warmth of the fool's large family, making friends with his youngest son Ivan. But as Anya prepares for her Bat Mitzvah, her Torah readings cause her to question the morality of her work with Yedsha Ivanovitch. Is it acceptable to take one life to save many? Is an animal life as valuable as a human life? Jewish culture and history run through the story like the threads of magic the villagers use. The conclusion of the book highlights Anya's bravery and cleverness, and leaves readers wanting more. Luckly, a sequel is on the way.
THOUGHTS: Another stellar entry in the cultural folktale/adventure genre, this time from Kwame Alexander's imprint. The story is fast paced, with magic, a generous supply of magical creatures, and villains too. Anya is thoughtful, loyal, and quick on her feet. While she continuously rues that she alone in the village has no magic, it is obvious that she has many other gifts. This book will find a home with any reader who loves magical adventures and folk tales.
Fantasy          Nancy Nadig, Penn Manor SD
---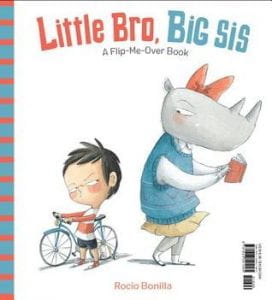 Bonilla, Rocio. Little Bro, Big Sis. Charlesbridge, 2019. 978-1-623-54109-5. 56 p. $16.99. Grades K-2.
Big Sis is an overbearing rhinoceros according to Little Bro, but she does have some positive qualities. Little Bro is an annoying monkey who always gets in the way, according to Big Sis, but he does have some endearing moments. As Little Bro and Big Sis consider their relationship, they realize that maybe it isn't so bad having one sibling, especially when a new baby comes into the family.
THOUGHTS: With humorous illustrations that support the development between the two siblings, Little Bro, Big Sis is a Flip-Me-Over Book that tells the same story from each sibling's perspective.  It is a fun, funny picture book about sibling relationships and what happens when a family grows from two children to three. This is a great story for siblings to explore their own feelings towards one another and their feelings when their family changes.
Picture Book          Erin Bechdel, Beaver Area SD
---
Greenfield, Eloise. Thinker: My Puppy Poet and Me. Ill. Ehsan Abdollahi, Sourcebooks Jabberwocky, 2019. 978-1-492-67724-6. 32 p. $15.99. Grades PreK and up.
Jace and Thinker are both poets. When Thinker comes to live with Jace and his family, he is welcomed into the family. As Thinker and Jace share their poetry with one another, they share their thoughts and feelings, their music from their words. But, when Jace has to go to school and Thinker cannot, Thinker begins to worry that Jace is ashamed of him and his poems. He worries that he is not good enough for Jace and needs to be more of a dog in public and less of himself, the poet. When pet day comes, Thinker promises to only bark and not embarrass Jace, but he cannot limit who he is, so he takes the stage to recite poetry, and soon all of the pets are sharing their skills, singing, dancing, walking upside down, and more.  Jace is proud of Thinker for staying true to himself and sharing his poetry.
THOUGHTS: Thinker: My Puppy Poet and Me is a wonderful collection of poems that reminds readers always to remain true to who you are and not worry about what others think. Not only are the poems fun, sharing a story of man's best friend and understanding of character, but the illustrations are gorgeous. Created using paper cuts, each illustration adds a brightness to the poem and connects each element of the poet's story together.  The poems and illustrations continually remind the reader that being true to you is the key.
Poetry        Erin Bechdel, Beaver Area SD
---
Geddes, Serena. Rosie and Rasmus. Aladdin, 2019. 978-1-4814-9874-6. Unpaged. $17.99. Grades K-12.
Rosie and Rasmus both have a wish. Rosie wishes for a friend, and Rasmus wants to fly. One day when Rosie goes out by the water, she meets Rasmus. She teaches him things that she enjoys, and he shows her lots of things that can fly. Rosie encourages Rasmus to continue trying to fly. When Rasmus finally grows his wings and learns to fly, he and Rosie must part ways. Although Rosie is sad to lose her friend, she realizes that perhaps she can do for another what Rasmus did for her.
THOUGHTS: Rosie and Rasmus is an endearing picture book about friendship, encouragement, perseverance, and loss. The watercolor illustrations are beautiful and add to the beauty of this story of friendship, growth, and loss. This is a wonderful book for children who are struggling to fit in socially, who are shy, or who are just looking for a friend.
Picture Book          Erin Bechdel, Beaver Area SD
---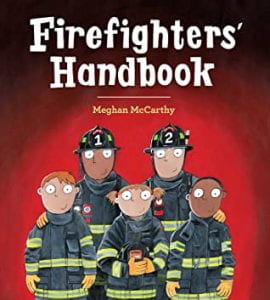 McCarthy, Meghan. Firefighters' Handbook. Simon & Schuster, 2019. 978-1-534-41733-5. Unpaged. $17.99. Grades K-2.

Well-known children's non-fiction author-illustrator Megan McCarthy's newest title introduces young readers to the career of firefighting. The physical requirements of the job, including types overall fitness activities (running, biking, etc.) as well as job-specific fitness requirements (climbing stairs, lifting equipment, etc.) are presented and discussed. Diagrams and descriptions explain firefighting gear, equipment, and vehicles. Types of firefighting situations and scenarios as well as jobs and duties carried out in the firehouse are also shown and described. Back matter includes an interview with a retired battalion chief and his answers to some questions from children.

THOUGHTS: Readers with an interest in firefighting will be sure to appreciate this title. The illustrations are appealing and engaging, and the text clearly explains all the facets of the firefighting profession to younger readers. Highly recommended.

628.9 Firefighting           Elizabeth Henry, Lampeter-Strasburg SD
---
Meyer, Eileen R. The Superlative A. Lincoln: Poems About Our 16th President. Charlesbridge, 2019. 978-1-580-89937-6. 48 p. $17.99. Grades K-4.

The Superlative A. Lincoln relates key events and milestones in Abraham Lincoln's life via 19 poems. Each poem is titled with a different superlative statement. "Best Lumberjack" relates Lincoln's prowess with an ax, "Best Yarn Spinner" focuses on his ability to tell a tale, and "Best Use of an Accessory" is written from the point of view of Lincoln's famous stovepipe hat. Accompanying each poem is a paragraph that explains the history behind the poetry. The text is complimented by Dave Szalay's illustrations, which accompany each poem. The illustrations, while digitally created, have a vintage vibe and feel that seem perfect for a history-related title.

THOUGHTS: These fun poems are a great way to engage students and share some important facts about our 16th President. The title could be used in various lessons, including poetry, Presidents Day, and Abraham Lincoln. Highly recommended for elementary collections.

811 Poetry          Elizabeth Henry, Lampeter-Strasburg SD
---
Maloney, Brenna. Good Dad Diego. Viking, 2019. 978-0-451-48126-9. Unpaged. $17.99. Grades PreK-1.

Diego the dog is a pug who has a tough job–he is a father! In that capacity, he has to wear many hats. Sometimes he is the law of the household, focusing on preventing his puppies from misbehaving. Other roles he takes on include cook, dishwasher, nurse, and repairman. The most important hat he wears, though, is simply Dad. He loves his pups and wants to care for them and set a good example. This photographic picture book features illustrations of Diego wearing his different hats (for example, a policeman's hat when he is the law, a chef's hat when he is the cook). While most photos focus on Diego, the closing pages introduce readers to his adorable pups.
THOUGHTS: Sure to be a hit with dog lovers, this title would make a great read aloud and might also prompt discussion on the various jobs and roles carried out within households.

Picture Book          Elizabeth Henry, Lampeter-Strasburg SD

---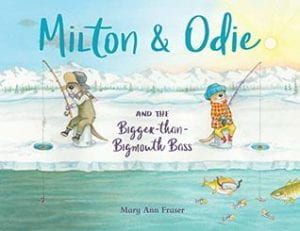 Fraser, Mary Ann. Milton & Odie and the Bigger-than-Bigmouth Bass. Charlesbridge, 2019. 978-1-623-54098-2. Unpaged. $16.99. Grades PreK-2.

As the story opens, otters Milton and Odie have woken up in their homes with the same idea-they will spend the day ice fishing! They travel to separate areas of a lake and drop their lines in the water. However, Milton and Odie's personalities could not be more different. Milton has a grumpy personality and a pessimistic attitude. He's sure he is unlikely to catch anything as the lake probably doesn't have anything worth catching. Odie, on the other hand, is cheerful and always sees the positive side of things. For example, when he reels in an abandoned fishing net rather than a fish, he views it as a great and useful find. When fate (and tangled fishing lines) bring these two polar opposites together, they learn a lesson about the power of teamwork and patience, and optimistic outlooks.
THOUGHTS: This delightful story is sure to bring a smile to the face of readers and would make an excellent read aloud, as Milton and Odie have such distinct personalities. The book could easily be incorporated into lessons and discussions on topics such as friendship, feelings, and emotions.

Picture Book          Elizabeth Henry, Lampeter-Strasburg SD
---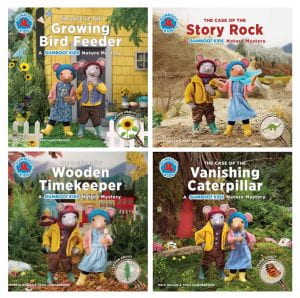 Hogan, Eric, and Tara Hungerford. Gumboot Kids Nature Mysteries. Firefly Books, 2019. $19.95 ea. 32 p. Grades PreK-2.

The Case of the Growing Bird Feeder. 978-0-228-10189-5.
The Case of the Story Rock. 978-0-228-10191-8.
The Case of the Vanishing Caterpillar. 978-0-228-10193-2.
The Case of the Wooden Timekeeper. 978-0-228-10195-6.

The Gumboot Kids Nature Mysteries are adapted from a popular Canadian children's television program. Each volume features main characters Scout and Daisy, mice best friends, who embark on a journey to solve a nature-related mystery (for example, "why did my caterpillar friend disappear?"). They use their prior knowledge and observations recorded in a field book to guide them as they go out into nature to investigate further. Next, they consult books in the library to verify what they have learned (or to add to their knowledge) in order to solve the mystery. With their case now closed, they return to the outdoors and take a "mindful moment" to reflect on the knowledge they have gained. Each book contains a "Field Notes" section with information, definitions, photos, diagrams, etc. about the mystery topic as well as a nature craft related to the story.

THOUGHTS: As a librarian, I really liked how these books introduced and reinforced the idea of the research process for younger readers throughout the storyline. Scout and Daisy identify a question (aka the mystery), make and record observations, and conduct research in the library in order to solve the mystery. The series encourages readers to go out into nature, explore and engage with the world around them and to be curious. (Note: Familiarity with the Gumboot Kids television program is not needed in order to understand and enjoy these titles).

500s Natural Sciences        Elizabeth Henry, Lampeter-Strasburg SD
---
Poliquin, Rachel. Beastly Puzzles: A Brain-Boggling Animal Guessing Game. Ill. Byron Eggenschwiler. Kids Can Press, 2019. 978-1-771-38913-6. 32 p. $16.99. Grades 2-5.
Beastly Puzzles is a guessing game for readers to see how much they know, or think they know, about an animal. Each tri-fold spread begins in a monochromatic room, a study, a sewing room, a bedroom, etc., with colorful pictures of clues. The clues help readers answer the question, "What animal could you make with…", along with a hint at the bottom of the page. After readers put their critical thinking to a test to figure out the animal represented by the clues, the page folds out into the animal and information about it.
THOUGHTS: This is a fun, challenging way to test critical thinking, animal knowledge, and learn about animals. It is a great addition to elementary libraries.
793.73 Puzzle Book          Erin Bechdel, Beaver Area SD
---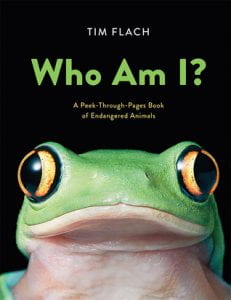 Flach, Tim. Who Am I? A Peek-Through-Pages Book of Endangered Animals. Abrams Books for Young Readers, 2019. 978-1-419-73646-9. Unpaged. $18.99. Grades PreK-2.
Who Am I? guides young readers through twelve endangered species by providing clues about each one. The clues allow readers to use their knowledge of animals to guess the endangered species. Some are obvious: the giant panda, a polar bear, and a gorilla. Others are not: the crowned sifaka, the white-bellied pangolin, and the axolotl.  Each set of clues provides information about the animal. Additional information about each animal is located in the back of the book in the "Who are we?" section. This text also includes, "Wanted! Caretakers for Planet Earth – How You Can Help," a section about what readers and humanity can do to help endangered animals and the planet in general.
THOUGHTS: This title is a fun way for early elementary students to learn about endangered species. It rotates between those they may know and those they probably do not. It is a great source for introducing endangered animals and also elementary appropriate research (or search).
591.68 Endangered Animals          Erin Bechdel, Beaver Area SD
---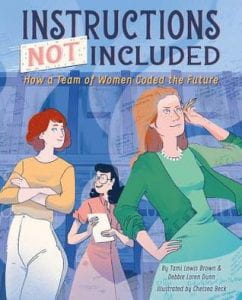 Brown, Tami Lewis, and Debbie Loren Dunn. Instructions Not Included: How a Team of Women Coded the Future. Ill. Chelsea Beck. Disney Hyperion, 2019. 978-1-368-01105-1. 64 p. $17.99. Grades 1-4.
Betty Snyder, Jean Jennings, and Kay McNulty all came from different backgrounds but had one thing in common: their understanding of math. Brought together during World War II, these three women were tasked to use their math skills to program ENIAC, one of the world's earliest computers. With no instructions, the women set out to create a code for ENIAC that would prove a computer's worth in both war and peace. But, programming a 13-ton machine with no prior knowledge, except math, was not easy. The women worked first to calculate all of the aspects needed to program ENIAC, and then they had to test it. They were on a deadline and ENIAC did not compute properly. What was wrong? How would they figure out their problem before it was too late?
THOUGHTS: Instructions Not Included is the story of three women who were computer science pioneers.  Using only their knowledge of math, they were able to program one of the earliest computers to use for war. Both Jean Jennings and Betty Snyder remained in the computer science field after the ENIAC project. Betty went on to help write both COBOL and FORTRAN computer languages with Grace Hopper and others. Jean helped develop stored-programming. The "Author's Note" at the end of the book provides additional details about each woman. Resources for further reading are also provided. This is an informative picture book to help students recognize the importance of math and the development of computer science.
004 Computer Science; 920 Biography Compilation          Erin Bechdel, Beaver Area SD