Wang, Corrie. City of Beasts. Freeform Books, 2019. 978-1-368-02662-8. $17.99. 374 p. Grades 9 and up.
Glori and her multi-generational group of co-habitant fees (females) are content living their lives on Grand Island outside what used to be the city of Buffalo. Nearly 17 years ago, a nuclear war killed most of civilization and left most of the planet uninhabitable. After years of natural disasters and unrest culminated with the world-wide nuclear attacks, males and females in the area around Buffalo decided to live separately. The nuclear bombings (referred to as The Night) left females unable to procreate anyway…or so they thought. Then five years ago, Glori's mother, Majesty, gave birth to a beast (a male) they named Two Five. Mystery surrounding his birth aside, the "family" raises the male in secret… until Two Five is kidnapped and taken by beasts to Buffalo. Of course, Glori decides she must rescue her brother, against the wishes of her grandmother, the leader of the fees on Grand Island. She and Su, her best friend and co-habitant, sneak over the bridge to the city to try and rescue Two Five where they meet Sway, a beast who is nothing like the terrifying stereotype of males they were taught. Glori and Su discover there is much more to their rescue mission when they learn about the politics of this society that has been kept from them their entire lives. Not only are they trying to rescue Two Five, but they also end up fighting in a war between beasts and fees that has been 17 years in the making.
THOUGHTS: Complex world-building and relationships coupled with timely themes of politics, science, and gender stereotypes make this an intriguing read for fans of dystopia.
Dystopian          Sarah Strouse, Nazareth Area SD
---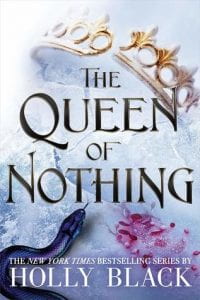 Black, Holly. The Queen of Nothing (Folk of Air Book 3). Little, Brown and Company, 2019. 978-0-316-31042-0. 320 p. $19.99. Grades 9-12.
Following her exile to the mortal world by King Carden, Jude, Queen of Elfhame, is forced to return, in defiance of her exile, to Elfhame as her twin sister, Taryn, following the death of Taryn's husband Lock.  Although only meant to be there a few hours, Jude ends up back with her father, Madoc, in his military camp. As Jude learns of Madoc's plan to take the Blood Crown from Carden and rule Elfhame, her guise of being Taryn is also revealed.  Ending up at the court, Jude is accepted back as Queen of Elfhame by King Carden, and they begin their rule together. When Madoc challenges Carden for the crown, Carden's actions release the spell placed upon the crown on himself. Will Jude be able to save Elfhame, Carden, and herself, or will the magic destroy all of Elfhame and all Jude has known and loved?
THOUGHTS: Black's end of the Folk of Air trilogy develops well, but falls a bit flat with the resolution.  Conflicts are a bit too tidy with the end, although all of the rising action, climax, and falling action are excellent.  Students who enjoy fantasy and/or romance will enjoy this trilogy. The final book includes much more romance than the previous texts which was a bit awkward and led to the flat resolution.
Fantasy, Romance          Erin Bechdel, Beaver Area SD