Rutkowski, Marie. The Midnight Lie. Farrar, Strous and Giroux, 2020. 978-0-374-30638-0. 358 p. $18.99. Grades 9-12.
Nirrim lives in the Ward, and life there is not fun or easy. You must follow the rules or you will be forced to face the ramifications of your actions. For Nirrim who is half-caste, her life is even harder as everything she does is policed and she is forced to live very simply. Early in her life, Nirrim was taken in by Raven who she looks up to as a mother figure, even though it's clear to the reader that Raven isn't a good person. Enter Sid, who causes Nirrim to think about things a different way. However, Nirrim has a secret, one that she keeps very closely guarded for if it were to get out, it would be disastrous.
THOUGHTS: This is an amazing fantasy story with lush, lyrical language and a fantastic set of characters. There is a female/female romance which is wonderful to read and doesn't take away from the rest of the story. This book is set in the world of Marie Rutkowski's Winner's trilogy, but you don't need to read that series to find your way through this book. Overall, I'd highly recommend this book.
Fantasy          Mary Hyson, Lehigh Valley Academy Charter
---
Albertalli, Becky, and Aisha Saeed. Yes No Maybe So. Balzer + Bray, 2020. 978-0-062-93704-9. 436 p. $19.99. Grades 8-12.
Jamie Goldberg and Maya Rehman were friends as 6-year olds but haven't seen each other in a decade. Suddenly they find themselves tossed into canvassing for a local state senate candidate in suburban Atlanta. Neither teen is a natural fit for canvassing. Jamie, whose mom works for another state senator, is tongue-tied and awkward (see: topping a Target display of tangelos in the book's opening pages). Maya, who is fasting for Ramadan and whose parents are going through a painful trial separation, is motivated by the promise of a car. A bumpy start to their civic engagement (complete with plenty of foot-in-mouth moments and some outright racism directed at Maya) transitions into a true partnership between friends with shared values … and huge crushes on each other. Plenty of absorbing subplots keep the pace hopping: Jamie's grandmother and her viral "InstaGramm" account, Maya's falling out with her college-bound BFF, and the specter of public speaking at the upcoming bat mitzvah for Jamie's little sister. A proposed bill that would ban religious garments (like the hijab that Maya's mother wears) raises their personal stakes in the election.
THOUGHTS: Yes No Maybe So is both woke and thoroughly adorable, and Jamie's and Maya's voices are equally strong and compelling. Readers will sigh swooningly at Jamie's and Maya's ultra-tentative romance, giggle at the supporting characters' antics, perhaps be inspired to find their political voices, as the co-authors did following the 2016 election.
Realistic Fiction          Amy V. Pickett, Ridley SD
---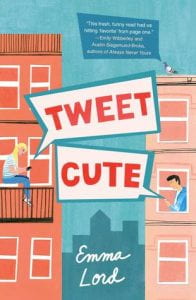 Lord, Emma. Tweet Cute. Wednesday Books, 2020. 978-1-250-61867-2. 368 p. $17.99. Grades 8-12.
Debut author Emma Lord puts a fresh, Gen-Z spin on You've Got Mail in this ultra-cute contemporary romance! Four years ago, Pepper's mom divorced her dad and moved them to New York City to focus on growing the family's fast food chain, Big League Burger. A classic overachiever, Pepper has done her best to fit in at her fancy private school, but she still feels like a small-town fish out of water. Her mom coaxes Pepper to oversee the company's social media presence, which Pepper reluctantly adds to her full itinerary of swim team, baking blog with sister Paige, mostly straight A's, and not getting lost on the subway. Jack is a NYC native, less popular twin, and heir apparent to his family's deli, Girl Cheesing. He's also an ace app developer who has the whole school hooked on his anonymous chat platform, Weazel. As Wolf, he enjoys refreshingly candid exchanges with Bluebird (guess who?), but would she like him IRL? Speaking of IRL, Big League Burger has a new menu item that's suspiciously identical to Girl Cheesing's own Grandma's Special, and a Twitter war between them goes viral. It sounds complicated, but Lord keeps all the plates spinning with aplomb.
THOUGHTS: A strong cast of supporting characters and well-timed plot turns prevent predictability in a read that's both savory and sweet! Emma Lord, formerly a lifestyle editor at Bustle, clearly knows NYC's foodie-verse inside and out. With so many mouthwatering sandwiches and sweet confections, Tweet Cute is just begging to be incorporated into a potluck book club meeting!
Realistic Fiction          Amy V. Pickett, Ridley SD
---
Barnes, Jennifer Lynn. The Inheritance Games. Little, Brown and Company, 2020. 978-1-368-05240-5. 400 p. $17.99. Gr. 7 and up.
Holy cannoli!  Jennifer Lynn Barnes is amazing! Avery Kylie Grambs lost her mother at the age of 15. Two years later she is whisked off to Texas to Tobias Hawthorne's estate where she learns that this stranger has left her a multi-billion dollar inheritance. Leaving minimal inheritance to his children and grandchildren, Avery must live at Hawthorne House with the family for a year in order to inherit the estate. Soon Avery realizes that her inheritance is a game she must play with the Hawthorne grandsons: Nash, Grayson, Jameson, and Alexander. As clues are discovered by Avery, Grayson, and Jameson, mysteries of the past are also uncovered. Avery is determined to figure out why she was chosen by Tobias Hawthorne to inherit his estate instead of his family. Soon, Avery realizes that everything is a game and in order to stay alive, she must play and win. When the answer is revealed, Avery learns there is much more to the Hawthorne family and its past than meets the eye.
THOUGHTS: This is an amazing mystery. Jennifer Lynn Barnes is a genius mystery writer. The story keeps readers mesmerized by the characters and then PUNCH right to the gut with a change this reader didn't see coming. Words cannot express the awesomeness of The Inheritance Games and Jennifer Lynn Barnes's ability to weave a story together flawlessly. The ending makes me need book two NOW!
Mystery          Erin Bechdel, Beaver Area SD