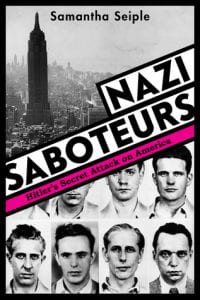 Seiple, Samantha. Nazi Saboteurs: Hitler's Secret Attack on America. Scholastic Focus, 2019. 978-1-338-25924-7. 224 p. $17.99. Grades 4-8.

In June 1942 eight men came ashore in New York and Florida. Their mission: to carry out acts of sabotage on American industries working to support the war effort. These German born men had all spent time in America but had returned to Germany for a variety of reasons, before they were recruited to be saboteurs. Their mission was doomed almost from the start. Though well equipped with explosives, their training in sabotage and spycraft had been mere weeks. The group members distrusted one another and some even wanted to kill their leader. It seemed almost inevitable that the group landing in New York had the misfortune to run into a Coast Guardsman on patrol immediately when they walked ashore. Though they managed to escape, their sabotage plans were quickly abandoned. Within a week, their leader George Dasch, had turned himself into the FBI. Within two weeks, all the men were in custody. Shortly thereafter, they were tried by a military tribunal. The verdict: six were sentenced to death; two were sentenced to prison terms. The book includes short biographical profiles of the saboteurs as well as a selection of historical photos. The title concludes by discussing how military tribunals have been viewed as controversial throughout U.S. history and discusses the use of tribunals in the case of 9/11 conspirators.
THOUGHTS: This title sheds light on a story from U.S History that I doubt many students have heard of before. Part WWII story, part spy thriller, and part bumbling/inept criminal story, it is sure to hold appeal for World War II aficionados and history buffs.
940.54 World War II          Elizabeth Henry, Lampeter-Strasburg SD
---
Pearson, P. O'Connell. Fighting for the Forest: How FDR's Civilian Conservation Corps Helped Save America. Simon & Schuster, 2019. 978-1-534-42932-1. 197 p. $17.99. Grades 5-8. 
When President Franklin Delano Roosevelt took office in 1933, the outlook across the nation was bleak. Millions of Americans were without work. People went to bed at night hungry. Working with his Cabinet (and with the cooperation of Congress), Roosevelt proposed and implemented various New Deal policies to reform industries, bring relief to Americans, and put people to work. One such program was the Civilian Conservation Corps (CCC). A cooperative program of the Departments of Interior, Labor, Agriculture and War (Defense), the CCC recruited young men in need of jobs and put them to work building parks and working on conservation projects in forests and on farmland. The men were paid a wage and provided with housing, uniforms, and meals. Readers learn about the operation of the CCC by examining one CCC project–Shenandoah National Park. First person accounts of CCC boys who lived in the CCC camps and worked on the park helps to bring the story of the CCC to life. While the CCC had many positive impacts, the author also presents information on racial inequalities within the CCC and how some of the Corps projects may have ultimately had unintended  negative impact on the environment. The text is supplemented by numerous photographs as well as sidebars spotlighting selected topics.
THOUGHTS: This title does a great job of explaining and bringing the CCC to life for today's readers. Since many CCC recruits were teens, readers will be able to relate to the first person accounts shared within the book. Recommended.
333.75 Forestry, Parks          Elizabeth Henry, Lampeter-Strasburg SD