Wiles, Deborah. Kent State. Scholastic Press, 2020. 978-1-338-35628-1. 144 p. $17.99. Grades 7 and up.
May 4, 1970. Sandy Scheuer, Bill Schroeder, Jeff Miller, Allison Krause. "Four dead in Ohio." ("Ohio" by Neil Young, Performed by Crosby, Stills, Nash, and Young). At a time when much of the nation was protesting the war in Vietnam and invasion of Cambodia, students at Kent State had had enough. Beginning with campus protests on Friday, May 1, 1970, and the burning of the ROTC building to the burning of buildings in the town of Kent on Saturday, May 2, 1970, the protests in Kent culminated with the killing of four students and wounding of nine others on Monday, May 4, 1970, by the Ohio National Guard. Where were the protectors? For a war being fought around the globe, the Kent State shootings "brought the war home to American soil" (145). Author Deborah Wiles relives this fateful time in American history in Kent State.  Shared through conversation by those who experienced this horrific event, Wiles explores the event from the perspective of student protestors, student bystanders, black students, townies, and National Guard members as they converse and share their memories of this fateful event. Each voice is unnamed and poignant as their memories and understanding of those fateful days is shared. Using different print types, readers are immersed into the conversation as a listener, another bystander, hearing history come alive by those who lived it. Wiles explains in "A Note about May 4 and This Story," how she used primary source documents and oral histories from the archives at both Kent State University and Kent, Ohio, to create a conversation of memories, hardships, fear, and regret. "What might have happened? We have no answers for that. We have only this moment, now. We can make decisions to be informed as citizens, not accepting what we hear or see or read until we've dug deeper on our own, for context, for truth. We can listen. We can share. We can make commitments to the tenets of democracy that say we have freedom of speech, press, assembly, and petition in our public places" (146).
THOUGHTS: This is a must-have for all middle school and high school collections. Deborah Wiles brilliantly brings to life the tragedy of Kent State that not only engages readers in a turbulent time of American history but also forces readers to question what they know about history in order to better understand its application today. Wiles does not sugar-coat the violence of the period, nor does she ignore the various voices and experiences of those living in Kent as they experienced the protests. Much like her use of primary sources in The 60s Trilogy, Wiles' use of primary sources to create a conversation of past experience leads to an understanding of the event while leaving the reader wanting more. This is a fabulous historical fiction novel to pair with informational texts about Vietnam and Kent State.
Historical Fiction        Erin Bechdel, Beaver Area SD
After conducting extensive research, Wiles recreates the chaos of Kent State University's campus on May 4, 1970, with distinct narratives (protestor, Guardsman, townie, student) to share many perspectives. An anti-war demonstration turned violent and resulted in the killing of four students and wounding of nine others. The fear and confusion, anger and sadness of those involved is portrayed through short snippets of free verse which encourages readers to approach history by considering many viewpoints. Each narrator is unnamed, and readers feel connected to their stories. Narratives are displayed in various fonts to differentiate.
THOUGHTS: This historical fiction belongs in high school libraries and would pair well with an American history reading collection of major events, especially those that may not receive as much attention.
Historical Fiction          Maryalice Bond, South Middleton SD
---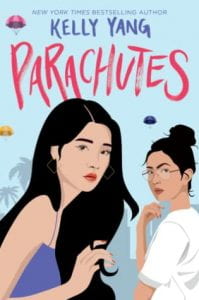 Yang, Kelly. Parachutes. Katherine Tegen Books, 2020. 978-0-062-94108-4. 496 p. $18.99. Grades 9 and up.
Yang begins this "story of [her] heart" with a letter to readers and a trigger warning about the book's content (sexual harassment and rape).
Due to her posh lifestyle in Shanghai, Claire Wang may seem oblivious to many of the typical woes of being a teenager. Claire holds a lot of pressure on her seventeen year old shoulders. Her father has a not so secret mistress – she actually reached out to Claire on WeChat – and her mother, hides her dissatisfaction by spending money on fancy clothes and trips to upscale restaurants. Family pressure and preparation for the gaokao (Chinese college entrance exam) drive Claire's life; she doesn't understand how teens in American movies seem to have so much free time, as her days are dictated by endless hours of homework and tutoring. Despite all of these outward pressures, Claire manages to spend time with her boyfriend and a group of friends. After an unfortunate assignment result and despite Claire's wishes, her parents decide she should be foreign educated, attending American Preparatory school in LA, where she will live with a host family. Afterwards, Claire will "stand out" upon her return to China, and as an added bonus, she'll avoid the gaokaos, having a better shot at getting into one of the UCs. Dani lives in East Covina, CA and is a student at American Preparatory, where she participates in band and shines on the Debate Team. Like her grandmother and great grandmother before her, Dani and her mom both work as maids, and Dani does not shy away from the hard work. This helps them afford living expenses and send $500 a month to family in the Philippines. It isn't easy being a maid to the elite students of American Preparatory, but Dani needs the money to be able to travel to the Snider Tournament for debate and to afford Yale, the college of her dreams. To help the family with increasing expenses, Dani's mom decides to rent out their spare room to a nice girl from China who will attend school with Dani: Claire. Told in alternating narratives, Dani and Claire don't interact much; they are from entirely different worlds. Despite drastically different circumstances, Dani and Claire must learn to live together and even learn how to understand each other.
THOUGHTS: Parachutes is a beautiful YA novel that intertwines two painful narratives. This is a must have for all high school library collections. Be sure to read the author's note too!
Realistic Fiction          Maryalice Bond, South Middleton SD
---
Lawson, Liz. The Lucky Ones. Delacorte Press, 2020. 978-0-593-11849-8. 352 p. $18.99. Grades 9 and up. 
"The Lucky Ones is a book about what happens after the news cameras leave and the reporters stop calling." May McGintee is a "lucky one," though she feels like anything but lucky. Wracked by PTSD, May is also angry. She's the only survivor to walk out of the band room on the day when her twin brother and closest friends are killed during a school shooting. Feeling guilt, an immense amount of loss, as well as constantly fearing for her safety, no one could possibly understand how May feels – even after eleven months and therapy sessions. She finds ways to process her anger, but others see them as destructive. Zach's life hasn't been the same for the last eleven months either but for a very different reason. Zach is angry too. As a result of his mom's decision, he lost everything, and his home, the only place he can be himself, is being vandalized. It doesn't help that his mom is never home, and his dad is an absent parent, barely able to get himself out of bed or even get dressed. Zach and May each have one friend that sticks with them through everything. With their support, Zach and May just might be able to find a way to move forward.
THOUGHTS: This book tackles a heavy topic, well-covered in the young adult genre, but the fresh approach of looking at the aftermath when news cameras have moved onto the next big story gives this debut a worthy spot in high school libraries.
Realistic Fiction          Maryalice Bond, South Middleton SD
---
Gulledge, Laura Lee. The Dark Matter of Mona Starr. Amulet Books. 2020. 978-1-419-73423-6. 192 p. $22.99. Grades 8+.
High schooler Mona Starr suffers from depression, which feels like an encompassing fog of "Dark Matter" that invades every crevice of her thoughts. It makes Mona feel overwhelmed, alone, and insignificant. Her best friend Nash has recently moved to Hawaii, but at his and her parents' urging she begins seeing Dr. Vega, a therapist who helps Mona study her Matter and forge a path toward health. After emergency surgery to correct a rare condition, Mona also learns to embrace the support of her "Artners:" her partners in Art, though not without some additional growing pains. "Maybe art can help transform embarrassment and suffering into insight," Mona realizes, "one heartbreak at a time." Some readers will find Mona's progress frustratingly halting, but depression is a very frustrating disorder and that is realistically portrayed here. Laura Lee Gulledge's pencil-shaded illustrations, with golden spot color, are so stunningly evocative that readers will catch themselves just staring at the pages. Her portrayal of Mona's internal world is brilliant, especially the panel that captures how it feels to be an introvert.
THOUGHTS: The Dark Matter of Mona Starr is an intimate, moving depiction of Mona's journey toward emotional and physical wellness, embracing her unique self, and accepting the loving support of people who care most about her. Gulledge even includes a Self-Care Plan template at the close of the book so her readers can implement some of the practices that guide Mona in her journey.
Graphic Novel          Amy V. Pickett, Ridley SD
---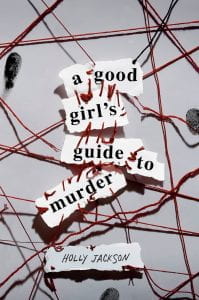 Jackson, Holly. A Good Girl's Guide to Murder. Delacorte Press. 2020. 978-1-984-89636-0. 400 p. $17.99. Grades 9-12.
Pippa Fitz-Amobi is a good girl: high achiever, faithful friend, devoted daughter, and big sister. So it's a bit out of character for her to solve a murder for her senior capstone project, especially because it's one that's already been solved. Five years ago, high school senior Andie Bell disappeared from their small town of Fairfield, Connecticut. Her body was never found, but the remains of her boyfriend, Salil "Sal" Singh, were discovered in the woods along with evidence that he had killed Andie and then committed suicide out of guilt. Pippa's instincts, honed on true crime podcasts and documentaries, tell her that Sal is innocent. She aims to raise enough doubts about Sal's guilt to convince the police to revisit the case. With the help of Sal's younger brother, Ravi, Pippa susses out one lead after another, untangling clues and connections hidden within interview transcripts, journal entries, and text messages. Meanwhile someone with much to lose is watching their every move — and he (or she?) is unafraid to follow through on threats against what Pippa holds dearest when she refuses to stop digging. Holly Jackson skillfully weaves the elements of a solid mystery into her debut: suspense, red herrings, breathless amateur surveillance, and even a spooky dark alley. A huge twist, revealed just when the crimes have seemingly been solved, propels the pace right to the final page.
THOUGHTS: Mystery fans, take note: You'll be hooked from the "Murder Map" that appears on page 29! This fast-paced whodunnit is perfect for fans of Karen M. McManus' thrillers, especially Two Can Keep a Secret. Note that this novel's potentially sensitive topics include suicide, sexual assault, and an animal in peril.
Mystery          Amy V. Pickett, Ridley SD