Yang, Gene Luen. Dragon Hoops. First Second, 2020. 978-1-626-72079-4. 446 p. $19.99. Grades 7+.
Gene Luen Yang has always hated sports, but he loves stories, especially writing and drawing graphic novels. He's in need of a new idea for his next book when he overhears students at Bishop O'Dowd (the Oakland, CA, high school where he teaches) talking about the biggest story on campus: the basketball team! Yang ventures across campus and gets to know Coach Lou, who graduated from Bishop O'Dowd in 1989 and played ball with the Dragons. He's been to the state championship game once as a player and five times as a coach but has never brought home the trophy. There are two reasons this year might finally be the Dragons' year: Ivan Rabb and Paris Austin. As Yang gets to know their stories, he realizes that they are every bit as thrilling as the comics he loves. But unlike a superhero story, in basketball there is no guarantee that the heroes will always win. Yang skillfully weaves high-energy, game-changing moments from the history of basketball with Coach Lou's equally high-stakes 2015 season. This very successfully paces the drama and also helps readers better understand the action on the court during game scenes. Throughout Dragon Hoops, themes of breaking barriers, challenging one's own limits, and literally changing the game (even at the risk of making a big mistake) are depicted with the motif of feet stepping and the word "STEP," cueing the reader that a pivotal moment is at hand.
THOUGHTS: Gene Luen Yang was the 2016-2017 Library of Congress' National Ambassador for Young People's Literature (a position currently held by Jason Reynolds). His skill as both an artist and a storyteller is fabulously showcased in Dragon Hoops. Throughout the book, Yang debates whether or not to include Mike Phelps, retired O'Dowd teacher and Dragons coach, in the story. At the risk of a spoiler, Phelps resigned following a molestation charge that was never prosecuted. The charge is not described in detail but Yang includes it in the narrative.
Graphic Novel          Amy V. Pickett, Ridley SD
---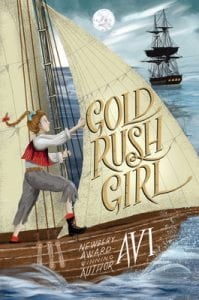 Avi. Gold Rush Girl. Candlewick, 2020. 978-1-536-20679-1. 306 p. $17.99. Grades 3-7.
Victoria Blaisdell finds life as a thirteen-year-old young lady in Providence, Rhode Island quite boring. She desires action, independence, and adventure. This is not how young ladies act in 1848. Her sole escape is sneaking off to the library and checking out stacks of books to read in private. She adores her younger brother, Jacob, but realizes her parents are under the control of her domineering aunt. All this changes when her father loses his job in an economic panic. While her parents dither, Tory obtains a job. Then the news comes of a gold strike in California. Tory's father sees this as the answer to his woes and determines he and Jacob will sail for California. Tory is just as determined to go along, eventually stowing away on the ship. Life in San Francisco is not at all what the Blaisdells expected to find. Eventually Tory and Jacob are left behind in their tent home in the muddy, crude city, while their father heads to the gold fields. Resourceful Tory finds construction work and other odd jobs to support herself and Jacob, but Jacob becomes bored and dissatisfied. Is Tory too enthralled with her freedom and new friends to notice Jacob's unhappiness? When Jacob goes missing, she knows she must find him before her father returns and their mother arrives. Tory, a memorable female character, strong, intelligent, and independent, guides the reader through gold rush in San Francisco. The sprawling, brawling town is no place for a lady, but Tory makes it her own. Avi brings the era to life, from the muddy, miserable tent cities to the brutish practice of crimping – kidnapping men to work on ships whose crews have deserted to search for gold. While some readers may find the exposition in the first half of the book a bit slow, once Tory is on the hunt for Jacob the suspense keeps you reading until the very end.
THOUGHTS:  Another meticulous book from a master. Tory is a memorable young lady, and the images of gold rush San Francisco will remain long after the book is complete.
Historical Fiction           Nancy Nadig, Penn Manor SD
(1849 California Gold Rush)

---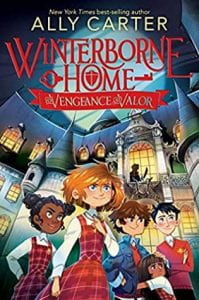 Carter, Ally. Winterborne Home for Vengeance and Valor. Houghton Mifflin Harcourt, 2020. 978-0-358-39370-2. 322 p. $16.99. Grades 3-7.
Carter brings the delightfully snappy writing, humor, and plot of her Gallagher Girls series to the middle grade set. April is used to moving from home to home, as she is temporarily without a parent (DON'T call her an orphan. Her mom is coming back for her. Someday. Soon.). She has experienced foster care, good and bad, as well as group homes. While on a field trip to the opening of the Winterborne Gallery, April is shocked to see the Winterborne family crest is identical to that on the one item she has from her mother, a key she wears on a chain around her neck. Everyone knows the tragic story of the wealthy Winterbornes. The perfect family was killed when their boat exploded, all except young Gabriel Winterborne. He, however, disappeared from sight on his 21st birthday, leaving the family fortune in limbo. Now the ancestral manor houses a select group of orphans, and after a small incident involving setting the museum on fire, April is invited to move to the home, joining Sadie, Violet, Tim, and Colin. April isn't there long before she realizes someone is sneaking around the house at night. Utilizing spy skills that will surely earn her a scholarship to the Gallagher Academy, April, with the very able assistance of her new friends, begins to unravel the long buried secrets of the Winterborne family. And, along the way she discovers there are different kinds of family and home.
THOUGHTS: Young mystery fans will love this first book in a new series. Plucky characters, boo-worthy, villains and a fast moving plot will be sure to captivate readers.
Mystery          Nancy Nadig, Penn Manor SD