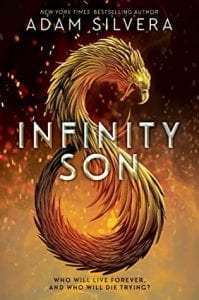 Silvera, Adam. Infinity Son. HarperTeen, 2020. 978-0-062-98378-7. 353 p. $18.99. Grades 7-12.
Twin brothers Emil and Brighton grew up idolizing Spell Walkers, the Celestials who use their powers to maintain order. But now that they're turning 18, Emil thinks his brother needs to put the hero-worship aside and face the future realistically. But Brighton thrives on subscribers and likes on his Celestials of New York YouTube channel, and he wants fame so bad he can taste it. When the pair are attacked by a Spector, one who drank Celestial blood to acquire powers, mild mannered Emil erupts in rare Phoenix Fire, to his amazement and Brighton's cold envy. The family is brought to a Spell Walker compound for protection, and Emil is convinced to join the unit, even though he is an introverted pacifist who isn't sure the Spell Walkers always use their powers for good. As Emil reluctantly assists in missions, Brighton becomes the team's public relations director, while his jealousy of his brother, and his disgust with Emil's pacifism, continue to degrade the one invincible bond between them. Silvera adds another dimension to the superhero genre with his action-packed book. Emil's reluctance to be a hero contrasts sharply with Brighton's driven need for fame and power. The Celestials are morally ambiguous, even though they believe their actions are done for the greater good. There are no clear heroes and villains here, and Emil illustrates the danger of having powers others desire. Several big reveals later in the book set the stage for an eagerly awaited sequel.
THOUGHTS: Well developed characters paired with action and suspense make this book a winner. Hand this to fans of Marissa Meyer's Renegades series or other superhero readers.
Science Fiction          Nancy Nadig, Penn Manor SD
---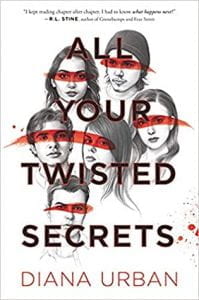 Urban, Diana. All Your Twisted Secrets. HarperTeen, 2020. 978-0-062-90821-6. 390 p. $17.99. Grades 8+.
The beginning of the book starts off so tritely: six stereotypical high school students are notified they have won a prestigious scholarship. The music nerd, the jock, the alpha cheerleader, the stoner, the valedictorian, and the genius loner all show up at the restaurant for the dinner/scholarship presentation, only to find out something is horribly wrong. Then the addictive wild ride begins. Narrated by Amber, the music nerd, the six find themselves locked in a basement dining room, with a ticking bomb, a loaded hypodermic needle, and a note that warns the students that within an hour, one of them must be killed with the poison loaded hypodermic, or the bomb will explode and they all will die. Flashbacks fill in the back story, as the minutes tick down and the frantic teens turn on each other in order to survive. As the plot unfolds, the relationships between the six are uncovered, and true feelings ruthlessly rise to the surface. Subtly woven throughout is the backstory of Amber's brilliant older sister who committed suicide due to cyberbulling.The suspense is top notch, and you cannot put the book down until its shocking, gut wrenching conclusion.
THOUGHTS: This cross between Karen McManus' One of Us is Lying and We Were Liars by E. Lockhart is sure to fly off the shelf. The ending scarred me for weeks.
Mystery          Nancy Nadig, Penn Manor SD
---
Lu, Marie. The Kingdom of Back. Putnam, 2020. 978-1-524-73901-0. 313 p. $18.99. Grade. 7-12.
Once upon a time there was an extraordinarily talented pianist who was also a gifted composer, by the name of Mozart. Nannerl Mozart. The older sister of the Mozart still adored the world over, Nannerl knows from a young age that, as a woman, her moment in the spotlight will be fleeting. Her father constantly tells her so. He values her musical ability as a means to earn money and recognition for the family, but once she reaches marriageable age, her public performances will end. As for her compositions, well, don't be ridiculous. Women don't compose. Lu takes the bare bones of what is known about Mozart's sister, and weaves an enchanting historical fantasy that pulses with the frustrations Nannerl must have felt being a gifted woman in a society who had no need of such a person. As the siblings toured Europe, performing for royalty and earning the fame and fortune their father desired, they amused themselves by inventing the kingdom of Back. It is this magical realm that drives Lu's story. In the kingdom, Nannerl is offered the opportunity of lasting fame, to have her name and her music remembered through the ages, but it may be a bargain too costly to make. Lu skillfully crafts the loving relationship between the siblings, and how Nannerl chafes under her father's restrictions. She tantalizingly creates a scenario where young Mozart is influenced by Nannerl's compositions, seeks her help with his own compositions, and even has her compositions published under his own name, all the more intriguing  because the world will never know how much Nannerl truly did influence her brother. This unique blend of fact and fantasy creates a world the reader will remember, as well as brings to light a talented woman too long lost to history.
THOUGHTS: This gorgeously written, uniquely plotted book may take some booktalking, but readers will be enthralled once they read a few pages.
Fantasy (Historical)           Nancy Nadig, Penn Manor SD
---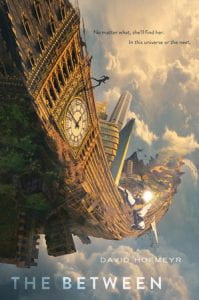 Hofmeyr, David. The Between. Delacorte, 2020. 978-0-385-74475-1. 376 p. $17.99. Grades 7+.

One moment Ana Moon is a normal high school girl, sneaking out to meet her best friend, Bea. The next, the train they're riding on freezes in place and time, and a monstrous creature snatches Bea and takes off. When a shocked Ana makes it back to her dad's flat, everything has changed. Dad is different; the flat is slightly different; and, most disturbingly, when Ana calls Bea, she is told that Bea died a year ago. By the time Malik, a cute guy Ana had been flirting with on the train, shows up at her bedroom window in the middle of the night, it barely registers as odd. Malik explains to Ana that she is no longer in the world she knows. She is a Pathfinder who can fall between the seven worlds. Bea has been taken by a reaper, and Ana must trust Malik, a fellow Pathfinder, if she hopes to find Bea. Ana enters a society she can barely comprehend, joining Malik's clan and working with him and his team. As Ana is indoctrinated into her new reality, it becomes evident that she is not just a new Pathfinder, but perhaps the one Pathfinder who is the key to the mystical Seventh Gate. She may be the one to stop the war between the Pathfinders and the brutal Order. Hofmeyr compacts what might have been a seven volume series into one energetic, action packed story. Ana is a dynamic heroine, who plausibly grows into her new role while traversing continuously shifting ground. Her single minded goal of rescuing Bea, is never forgotten, and is a rare display of a literary friendship that is not overshadowed by romance. While there is an attraction between Malik and Ana, Bea remains her focus.
THOUGHTS: This book has it all: action, friendship, romance, betrayal. It should find a home with Sci Fi readers as well as action/adventure fans who appreciate a few battle scenes in their books.
Science Fiction          Nancy Nadig, Penn Manor SD

---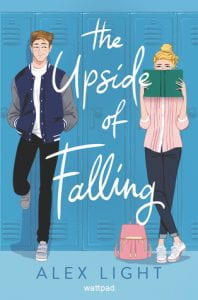 Light, Alex. The Upside of Falling. Harperteen, 2020. 978-0-062-91805-5. 279 p. $17.99. Grades 8+.
Reclusive, bookish Becca flat out does not believe in true love. Not after her parents' messy, painful divorce. But, aggravated by her former best friend's taunting about Becca's lack of a lovelife, Becca spontaneously declares she is in a relationship. This might have fallen flat seconds after it came out of her mouth had not high school hunk Brett Wells come over, thrown his arm around her and confirmed that they are secretly dating. It turns out he is in need of a girlfriend to satisfy his good-old-boy father. So begins a relationship born of mutual convenience, that turns into a needed friendship for both of them. And could it even end up in love? This Wattpad romance doesn't cover any new territory, but it is light, sweet, fun, and just the sort of addictive story that will be devoured by dedicated romance readers. Sadly, 10 pages from the end, the book loses continuity. While young readers most likely will not notice or care, it reveals the need for an editor's hand.
THOUGHTS:  I adored this book for 269 pages. Then the characters acknowledge their love by immediately having (off page) sex, despite the fact that Brett's mother had him when she was 17, and his father repeatedly discusses how he had to give up on his college plans and football future to stay home and help raise Brett. (And despite the fact that a few weeks ago Becca had never even kissed a boy.) This likely will not bother most readers, who will thoroughly enjoy the dreamy romance.  
Romance          Nancy Nadig, Penn Manor SD

---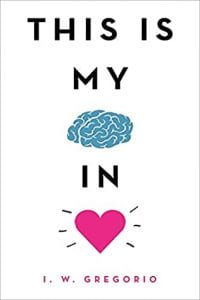 Gregorio, I. W. This is My Brain in Love. Little, Brown, 2020. 978-0-316-42382-3. 367 p. $17.99. Grades 7-12. 
Jocelyn is stunned when her father announces that the family's restaurant, A-Plus Chinese Garden, is floundering and he may move the family back to New York City from Utica, NY. Will is crushed when he fails to garner a plum editorial position on the school newspaper. Jocelyn convinces her father to hire a social media consultant to improve the restaurant's visibility. Will finds himself needing a summer job. Jocelyn hires Will. The pair bring a boatload of baggage to the table from the start. Will, of mixed Nigerian and American heritage, filters the world through the lens of an African American male teenager, and suffers with anxiety. Jocelyn is almost crippled by her family's emotionally reticent Asian culture. The pair click and begin dragging the restaurant into the digital era. Not unexpectedly, sparks fly, only to meet the disapproval of Jocelyn's strict, racially prejudiced parents. But what seems like a trope-fulfilling romance veers off into a thoughtful exploration of mental health when Jocelyn's erratic mood swings begin to trigger Will's anxiety. Will, who has been in therapy for years, notices that Jocelyn may have some undiagnosed issues herself, but knows broaching the topic could cause a rift in their nascent relationship. As Jocelyn struggles to confront her depression, she finds an unexpected ally in her mother, who reveals she has been taking depression medication for years. Told from the alternating perspectives of Will and Jocelyn, the story maintains its relationship-cute vibe while honestly exploring mental health issues in teens, including the pros and cons of taking medication. A subplot involving Will tutoring Jocelyn's younger brother, who clearly suffers from ADHD, as well as a reference to a friend with autism, may feel like a few issues too many  but does not detract from the story and might pique recognition in a reader.
THOUGHTS:  This book is a winner. An adorable romance exploring racial issues as well as mental health topics, it should fly off the shelf. Purchase multiple copies.
Romance          Nancy Nadig, Penn Manor SD