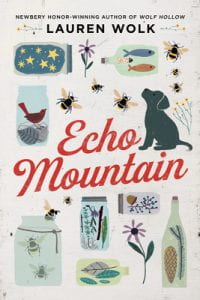 Wolk, Lauren. Echo Mountain. Dutton Children's Books, 2020. 978-0-525-55556-8. 356 p. $17.99. Grades 6-8.
Like her award-winning novel, Wolf Hollow, Lauren Wolk repeats her lyrical style in the historical fiction work, Echo Mountain. Ellie, the twelve-year-old narrator, and her family have moved to a remote part of Maine when the Great Depression hits. With his able middle child at his side, Ellie's father builds their cabin. Her mother, a music teacher, puts down her mandolin and picks up the ceaseless household chores that come from being poor and living off the land–tasks older sister Esther endures but detests. The little brother, Sam, is impetuous and lively; the mountain is the only home he remembers. When the novel opens, Ellie's father has been in a coma for months. While clearing land, he is felled by a tree. The details of this accident form Ellie's dilemma and burden. A thoughtful girl, Ellie keeps still and accepts the blame for her father's injury while always searching for natural remedies that will jolt him from his oh too silent sleep. While on these scavenger hunts, Ellie is surprised by tiny carvings of animals where she walks and believes someone is leaving them for her. These tokens are more meaningful for Ellie because they make her feel noticed, something she needs since her father's accident. Of necessity, she's a loner on the edge of childhood, and the story that ensues brings her to the brink of young adulthood. One day, a matted-haired dog appears at the edge of Ellie's property, and she follows it to the other side of the mountain where the more established folks live. There she discovers the cabin of Echo Mountain's legendary "hag," feverish in her bed, in a room with carving tools and jars of herbs and medicinal cures. With the guidance of the hag–who is a healer– and the help of Larkin, the woman's grandson, Ellie shows extraordinary resourcefulness in doctoring the old woman and her own father. The situation weaves the threads of the story tightly together with the kind of coincidences that deliver a wondrous tale. This quiet story of resilience during difficult times tells of a family who, in Ellie's words, "…went looking for a way to survive until the world tipped back to well."
THOUGHTS: This book concentrates on personal issues, rather than global ideas. Sensitive middle school students who like to wrap themselves in multi-faceted characters will gravitate to Ellie. It also provides a study of the dynamics of relationships: how Ellie relates to her mother and sister; how the different neighbors either share or refrain from sharing; how rumor feeds the negative attitude of the mountain people toward the hag; how humans deal with guilt and remorse. Similar to books like The Line Tender by Kate Allen and The War That Saved My Life by Kimberly Brubaker Bryant.
Historical Fiction (Great Depression, 1930's)          Bernadette Cooke, SD Philadelphia