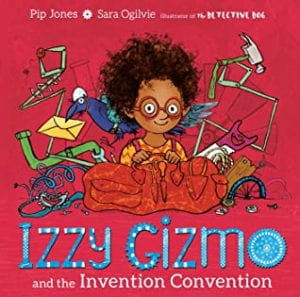 Jones, Pip, and Sara Ogilvie. Izzy Gizmo and the Invention Convention. Peachtree, 2020. 978-1-682-63164-5. Unpaged. $17.99. PreK-3.
Young inventor Izzy Gizmo returns for a second outing (Izzy Gizmo 2018), showcasing her creative mind and determined spirit. Izzy is delighted to receive an invitation to Technoff Isle's Invention Convention. She arrives at Technoff Isle with grandpa and pet crow, Fixer, in tow, and meets her fierce, determined competition. With only one day to create an amazing invention, Izzy gets to work, but is quickly stymied at every turn by the ultra-aggressive Abi von Lavish. Left with limited supplies, Izzy's frustration grows as each idea is quickly discarded. However, watching (obviously spoiled) Abi discard broken tools and supplies, Izzy becomes inspired to build a tool-recycling machine and gets to work. As the hours tick down, her temper flares when the invention fails to work, and Izzy snaps at those attempting to help her. Eventually she gets the message, and Fixer's advice saves the machine and the day. The book is a credible entry in the STEM market, nicely emphasizing the need for trial and error when inventing. Ogilvie's illustrations are charming, imbuing all the characters with delightful personalities and clearly, amusingly, displaying Izzy's emotions. While the story is cute, the narration is hindered by unnecessary rhyming; a prose text would better suit the theme and message of the story (like Ashley Spires' The Most Magnificent Thing).
THOUGHTS: A fun addition to a STEM collection, introducing several themes, including recycling, creating, and accepting help. This book could generate discussion prior to starting a Maker Space unit.
Picture Book          Nancy Nadig, Penn Manor SD