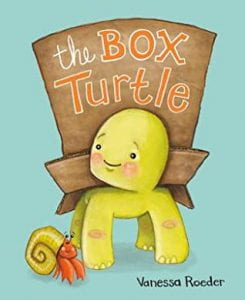 Roeder, Vanessa. The Box Turtle.  Dial Books, 2020. Unpaged. $17.99 978-07352-3050-7  Grades K-2.
When Terrance the turtle is born without a shell, his parents provide a shell and a name, "both of which fit just right."  Terrance grows and finds his shell keeps him dry, safe, and able to share space with a friendly hermit crab. But one day, three turtles pronounce his shell "weird," and Terrance begins a search for a substitute. He finds–and discards–a mailbox (it "showed to much cheek"), a hat box, a jack-in-the-box, a boom box, a lunch box, a flower box, a treasure chest, and a kitty litter box (which "stunk"). It is then that his unnamed crab friend offers his own shell, and Terrance realizes that the crab is "so much more than just a shell," and a turtle is, too! He seeks out his original shell and after refurbishing it, walks proudly once more, this time easily dismissing the bully turtles' "weird" claim.
THOUGHTS: This title works for social-emotional learning about the concepts of friendship and accepting oneself (and others) for who they are.
Picture Book          Melissa Scott, Shenango Area SD