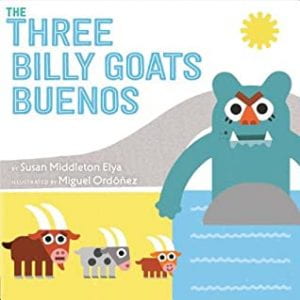 Elya, Susan Middleton, and Miguel Ordóñez. The Three Billy Goats Buenos. G.P. Putnam's  Sons, 2020. 978-0-399-54739-3. Unpaged. $16.99. Prek-2.
Middleton gives a familiar folk tale a fascinating new twist, while incorporating Spanish language vocabulary. The three goats need to cross the bridge guarded by the grumpy gigante. Each of the first two goats manages to convince the troll that the next goat would be better to eat. But it's Número Tres who turns the book, and the story, on its head. The third goat wonders why the troll is so angry. Taking a look, he notices she has a large thorn lodged in her toe. He empathizes with the troll and enlists his siblings in gathering hierbas to make a healing poultice, which he applies after gently pulling out the offending thorn. The grateful troll then allows her new amigos to pass. After finishing the book, readers will wonder why they themselves never considered what made the troll so mean in the original story. The text is composed in rhyming couplets, with Spanish words bolded so readers can refer to the glossary conveniently placed at the front of the book, rather than the back. Illustrations are sparse and bold, reminiscent of cut paper, yet emotions are clearly defined through expressive eyes. Young readers will delight in this unique approach to the story, and will sympathize with the hurting gigante.  
THOUGHTS: This understated book will be a wonderful selection at story time. It pairs with twisted fairy tale units, as well as discussions about empathy.
Picture Book          Nancy Nadig, Penn Manor SD