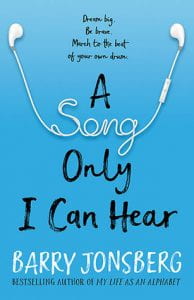 Jonsberg, Barry. A Song Only I Can Hear. Simon and Schuster, 2020. 978-1-534-44252-8. 293 p. $17.99. Grades 6-8.
Rob is shy and prone to panic attacks, but otherwise is content with life. When gorgeous Destry transfers to the school; however, Rob discovers love. But how does an extraordinarily shy person get noticed? Rob's beloved blankety-blank foul-mouthed grandfather (and best friend) provides some assistance early on, encouraging non-athletic Rob to play in the high-school's annual soccer game against their arch-rival school. Surprising everyone, Rob shines at goalie; unfortunately, Destry misses the game. Soon after, Rob begins receiving texts from an unknown individual containing challenges designed to overcome shyness and bolster Rob's confidence. This sweet story, however, is only one layer of a more complex issue. Astute readers may pick up on clues throughout the story (Rob mentions having to work out a problem with the school uniform, will not use public restrooms, and has image issues.), but most will be surprised that Rob, born Roberta, is a transgender male. (Readers who happen to read the Author's Note first also will be clued into the big reveal). This thoughtful, quiet book, with its unique approach, is an outstanding entrant in the LGBTQ market. Readers accept Rob as a boy from the opening page and are rooting for this sweet, intelligent, quirky youth to succeed in overcoming his shyness. By the time of Rob's announcement, readers are squarely on his side. An ingenious denouement allows readers to backtrack through the story with Rob and appreciate the full impact of his actions and the precipitating events.
THOUGHTS: This book deserves to be in all middle school libraries. Nowhere in the book is Rob's gender debated or questioned, helping readers understand that Rob's perception of himself is the perception that matters. As Rob says, "I don't have problems with my identity…It's other people who have that." Hopefully, A Song Only I Can Hear will show readers the truth, and heart, of that statement.
Realistic Fiction          Nancy Nadig, Penn Manor SD