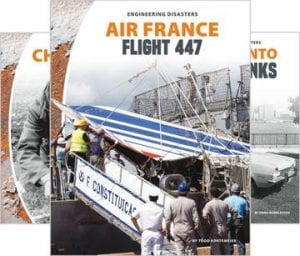 Engineering Disasters. ABDO Books, 2020. $23.00 ea. $138.00 set of 6. 48 p. Grades 5-8. 
Huddleston, Emma. Ford Pinto Fuel Tanks. 978-1-532-19-072-8.
—. The Johnstown Flood. 978-1-532-19073-5.
—. The New Orleans Levee Failure. 978-1-532-19074-2.
Kortemeier, Todd. Air France Flight 447. 978-1-532-19070-4
—. Chernobyl. 978-1-532-19071-1.
—.  The Space Shuttle Challenger. 978-1-532-19075-9.
This series looks at well-intentioned concepts which ultimately failed in some way. The solid format covers the disaster, the search for the cause, and the changes enacted to avoid further disasters. The text is clear and factual, with various sidebars and charts adding meaningful supplemental perspectives. A full-page "Straight to the Source" occurs twice in the book, linking another text with useful questions for further thinking and writing, while a "Stop and Think" segment is part of the well-rounded back matter of Fast Facts, glossary, index, and ABDO's free online resources.
THOUGHTS: This is a well-presented series on major failures and how the engineering in question has changed. (Title reviewed: The Space Shuttle Challenger.)
363 Manmade Disasters            Melissa Scott, Shenango Area SD