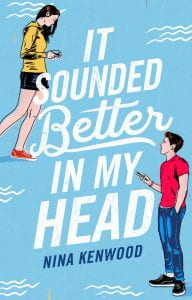 Kenwood, Nina. It Sounded Better in My Head. Flatiron Books, 2020. 978-1-250-21926-8. 260 p. $18.99. Grade. 8-12.
Natalie had a good grip on her life until her parents jovially announce they're getting a divorce. They've known this for months but waited until the Christmas holidays and high school graduation (which coincide in Australia, where the book was first published). A rarity for literature, Natalie has a great relationship with her parents and is devastated by the news and hurt by their deceit. She turns to her support network, her best friends Lucy and Zach. But since they started dating, Natalie sometimes feels like a third wheel. Having suffered through severe, scarring acne during puberty, Natalie has a shattered self image and has not dated. At a party, she connects with Alex, Zach's older brother, but quickly convinces herself Alex's interest was an act of kindness perpetrated by Zach. But an accidental case of musical bedrooms at a beach house over New Year's brings Natalie and Alex back into close proximity, and as they talk they again feel a positive connection. However, Natalie's lack of confidence and poor self image quickly threaten to sabotage the burgeoning relationship. This engaging book covers a topic not discussed in YA literature, the trauma of severe teen acne, and the scars it leaves, both physical and psychological. Natalie is a bright teen with caring parents and friends, but the long term effects of her acne are evident in her image, (styling her hair to cover which side of her face looks worse) confidence, and self-worth. American readers will need to translate Australian terms and references but will recognize themselves in the three friends as they shakily navigate through the next phase in their lives.
THOUGHTS: A welcome addition to YA realistic fiction collections. While some characters have sex off-page, Natalie and Alex discuss the issue and decide they are not ready.
Realistic Fiction          Nancy Nadig, Penn Manor SD