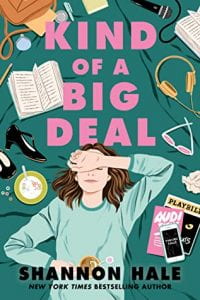 Hale, Shannon. Kind of a Big Deal. Roaring Brook, 2020. 978-1-250-20623-7. 400 p. $18.99. Grades 7-12.
Back in high school, Josie was kind of a big deal. A talented actress, she left school early to take Broadway by storm. Only, it didn't quite work out the way it was supposed to. Now, a Broadway failure with monumental credit card debt, she's living in Missoula, Montana, working as a nanny and trying to recapture that magnificent life she remembers, back when she was a big deal. After impulsively purchasing a romance novel one day while taking her adorable charge, Mia, to the park, Josie opens the book (the first she's read since The Scarlet Letter in school) and shortly finds herself experiencing the plot from inside the story. A la The Wizard of Oz, the story is peopled with individuals she passed around town: customers in the bookstore, the sales clerk, individuals in the park. Josie is both fascinated and terrified by the experience: she likes the take-charge person she is in the story, but struggles to get back to reality and make sure Mia is safe. But the adventure is addictive, and once Josie finishes reading the first book, she's back for more. As Josie genre-jumps, the experiences work as bibliotherapy, assisting her in assessing her life, and realizing she needs to move on from high school, and let her supportive best friend and her boyfriend move on as well. But, it turns out, the creative muses are not done with Josie, and when she gets wrapped up in one book too many, she will need to rely on all the skills and knowledge she has gained to save herself, as well as others trapped in the world of stories. Hale presents a delightful YA story. Josie is an appealingly sweet character, and her journeys inside the books will be amusing to any reader. Like Josie's book hopping episodes, the plot refuses to stand still, continually twisting in another direction until the surprise ending. While Josie is on the cusp of adulthood, the book is refreshingly free of sex, profanity, and other vices. Like on the stage, Josie is the star, and she is all the story needs. Readers will cheer for her to realize she is a big deal, in the story of her own making.
THOUGHTS:  Hale's YA entry is a bubbly read with a deeper message. Dedicated readers will enjoy the genre spoofs (the dystopian ordeal is far and away the best segment), but it will be interesting to see if students not yet through high school can relate to Josie needing to walk away from those years and move on. I hope so! I want more Hale YA books.
Fantasy (Realistic)          Nancy Nadig, Penn Manor SD