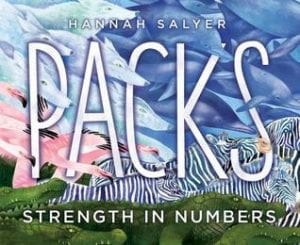 Salyer, Hannah. Packs: Strength in Numbers. Houghton Mifflin Harcourt, 2020. 978-1-328-57788-7. 44 p. $17.99. Grades K-3. 
This nonfiction title celebrates togetherness in the animal kingdom, highlighting many forms of animal cooperation. From packs and herds to huddles and pods, the author shows how animals are better together. Spotlighting animals who are at risk of losing their homes due to climate change, poaching, or habitat loss, each spread includes three descriptive sentences sharing how animals cooperate for the benefit of the group. The spread about bees explains how some of the swarm buzzes from flower to flower, while others stay home tending to the hive and making honey. Together, they work. Additional pages spotlight information about ants, bats, lions, fish, wildebeest, frogs, coral, flamingos, and mongooses. The final page features groups of humans enjoying a variety of outdoor activities, again underlining the idea that people need each other too. The cut paper, gouache, acrylic paint, and colored pencil illustrations were finished digitally and are the true stars of this book. Each full-bleed double-page spread features a single animal as well as a large group of the same animal. Seeing so many of the same creatures together in large groups echos the idea of strength in numbers and solidifies the refrain that together we are better than we are individually. An Author's Note encourages readers to learn more about the threatened animals featured in this book by reading and researching how every creature plays an important role in our planet's survival. The final page includes full names and diagrams of each animal included in the book.
THOUGHTS: This first-purchase title will be a beautiful addition to elementary library collections. Students will pour over the illustrations while also gleaning knowledge about cooperation in the animal kingdom.
591.5 Animal Behavior          Anne Bozievich, Southern York County SD