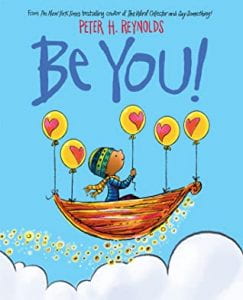 Reynolds, Peter H. Be You! Orchard Books, 2020. 978-1-338-57231-5. 32 p. Grades K-5.
Beginning with a page of whimsical adjectives in a rainbow of colors, Reynolds tells readers, "You were born to be so many things." With a diverse cast of characters, Reynolds celebrates individuality in a simple way: "Be connected," for example, is illustrated with riders on a two person bicycle. Each simple statement is elaborated upon on the next page which will lead to great discussions of how individuals can live the ideals presented throughout the text in their own lives. Stunning, brightly colored illustrations complement the text without detracting from the message. Teachers and counselors can use one page spreads to teach a whole lesson or enjoy the book in its entirety, asking children to pick their favorite "Be _____" as a prompt. This work is sure to be a beloved gift for new births or graduates much in the way Oh, the Places You'll Go! is.
THOUGHTS: Fans of Reynolds' previous work will rejoice with this newest book. A must have for all elementary collections, this title will make a great read aloud or addition to a Social Emotional Learning lesson.
Picture Book          Maryalice Bond, South Middleton SD
A baby smiles from the first pages of this book, along with the text, "You were born to be you." In the pages that follow, various children (of many ethnicities) are illustrated to accompany the "Be" statements offered by Reynolds. "Be you, be ready, be curious, be adventurous, be connected, be persistent, be different, be kind, be understanding, be brave, be your own thinker, be okay being alone, be patient, be okay reaching out for help….no matter what, you will always be loved."  Each "Be" statement includes some further example, such as: "Be brave./Try new things. Take a deep breath and plunge forward into new experiences.  It gets easier every time you try." Reynolds' book doubles as an inspirational graduation (or baby) gift and a helpful social-emotional learning text for any age. Readers could be encouraged to add their own description or definition to the "Be" statements, or they may wish to create additional personal "Be" statements. The book's hopeful yet realistic feel will encourage many young people that it's okay to be unique, to have needs, and to help others.
THOUGHTS: This book is a useful addition to libraries for young elementary readers. The success of Reynolds' previous picture book titles (I am Love; I am Human; The Word Collector) using the same artwork, will guarantee interest in this title.
Picture Book            Melissa Scott, Shenango Area SD