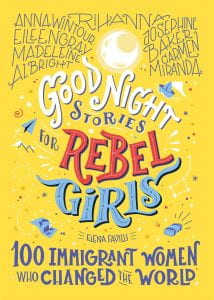 Favilli, Elena. Good Night Stories for Rebel Girls: 100 Immigrant Women Who Changed the World. Rebel Girls, 2020. 978-1-733-32929-3. 305. $35.00. Grades 6-8.
This collection of short stories explores the real lives of one hundred women who have immigrated to countries all over the world. Each one-page biography notes the country of origin, the country the woman resided in after immigrating, an illustration depicting the featured woman, and often a quote. Although short, each biography explains how each person has found success in the career she is passionate about. Included are a mix of historical figures like Rose Fortune, who was Canada's first female policeman; and contemporary figures like Reyna Duong, who currently employs people with down-syndrome at the restaurant she owns. Immigrants featured have found success in the fields of finance, psychiatry, engineering, art, politics, activism, and more. After reading these biographies, readers will believe that no dream is too large and no person is too small to realize their potential.
THOUGHTS: Teachers can use this collection of stories as a daily read-aloud or writing prompt. Each story is sure to spark conversation and further research. The book will inspire readers to be brave, independent, and to overcome adversity. Display with other books in the Rebel Girls series to attract readers.
305.4 Social Groups Women          Jaynie Korzi, South Middleton SD