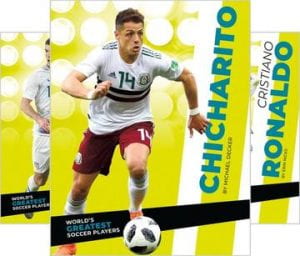 World's Greatest Soccer Players. SportsZone, an imprint of Abdo Publishing, 2020. $20.95. $167.60 for 8. 32 p. Grades 3-8. 
Decker, Michael. Chicharito. 978-1-5321-9061-2.
—. Luka Modric. 978-1-5321-9064-3.
—. Paul Pogba. 978-1-5321-9066-7.
Kortemeier, Todd. Harry Kane. 978-1-5321-9062-9.
—. Christian Pulisic. 978-1-5321-9067-4.
Nicks, Erin. Cristiano Ronaldo. 978-1-5321-9068-1.
—. Lionel Messi. 978-1-5321-9063-6.
—. Neymar. 978-1-5321-9065-0.
This reviewer read Harry Kane in the World's Greatest Soccer Players series. This series highlights some of the greatest current players in the world's most popular game. Each book in the series tells the story of a player from their childhood through their professional career. Books include many colorful photos, side bars with even more player information, a glossary, and an index. Reinforced Library Bound covers.
THOUGHTS: This series is a great addition for a library looking to update their sports biography section with current athletes. (Title Reviewed: Harry Kane)
796.33 Football (Soccer)                 Krista Fitzpatrick- Waldron Mercy Academy