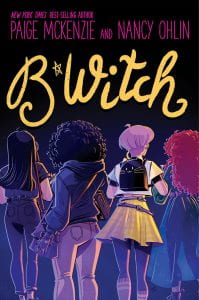 Ohlin, Nancy, and Paige McKenzie. B*Witch. Little, Brown Books for Young Readers, 2020. 978-1-368-02876-9. 336. $17.99. Grades 7-12.
All Iris wants is to get through the first day of school without a panic attack and to keep her magical abilities hidden. After all, being a witch in contemporary society is not easy due to the President's resolve to prosecute all witches and a new bigot gang, Antima, who search for witches all across the United States. Used to hiding her witch identity, Iris is thrilled when she is befriended by Greta who is a coven leader and a witch like her. When Greta's coven is sent a mysterious magical shadow message, they, and rival coven The Triad, must work together to protect themselves and solve a murder.
THOUGHTS: Lovers of fantasy will enjoy this mysterious novel about magic and friendship told in multiple perspectives. There are plenty of surprises and contemporary references which create excitement and leave the reader eager for a sequel.
Fantasy (Paranormal)    Jaynie Korzi, South Middleton SD