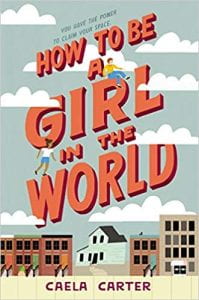 Carter, Caela. How to Be a Girl in the World. Harper Collins Childrens, 2020. 294 p. $16.99 978-0-062-67270-4 Grades 5-8.
Lydia has spent the entire summer in pants, long sleeves, and turtlenecks, despite the heat, despite her single mom's concerned comments, and despite friends' odd looks. Lydia knows she's not normal, and she doesn't want to talk about it. Lydia, her biracial cousin Emma, and Lydia's mom are proudly moving from an apartment to a dilapidated house of their own. Living in the house will require a huge amount of work (it's chock full of dusty furniture left behind), but Lydia sees in it a chance to be safe. She would love to escape the nicknames, looks and comments of the boys at her private school. She shivers at men's glances on the subway, or sitting too close. She feels extremely uncomfortable with her mom's boyfriend Jeremy, whose hugs are just a little too long or too tight, and who assumes a greater friendliness with Lydia and Emma than Lydia would like. But no one else seems to notice any problem, so Lydia knows it's her. She's not normal, and if she can't fix it, at least she can hide herself. Then maybe she'll feel protected. In the new house, she finds a room full of herbs in jars and a book of spells. It's exactly what she needs and even allows her to re-forge a connection with the best friend she's ignored for the summer. They both try the spells, but the boys' behavior and Jeremy's behavior only becomes more troublesome, and an outburst from Lydia results in her being suspended from school. Lydia finally confides in her mother about the boys' treatment of her, and her mother swiftly comes to her aid. When Lydia next explains Jeremy's actions, her mother is devastated but resolute that Jeremy will never set foot in their house again. To Lydia, the revelatory message that she alone makes "the rules" concerning her body is freeing, and the new understanding and openness with those around her helps her to learn to own those rules.
THOUGHTS: This is a powerful, "ordinary" story that every middle school girl would benefit from reading. It's for every girl who's ever been told, "it's no big deal," "you're such a baby," "that's part of being a girl," etc. And it's for every boy who's ever been told, "she likes it," "you're just being a boy," or "looking doesn't hurt."  Pair with Barbara Dee's Maybe He Just Likes You.
Realistic Fiction          Melissa Scott, Shenango Area SD