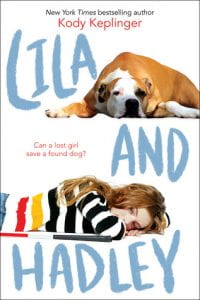 Keplinger, Kody. Lila and Hadley. Scholastic Press, 2020. 978-1-338-30609-5. 256. $16.99. Grades 3-7.
Hadley has a right to be angry. Her mom is going to jail for stealing money from her boss, so Hadley has to live with the sister she hasn't seen in three years. To make matters worse, her vision is failing due to retinitis pigmentosa, a condition meaning she will eventually become legally blind. Depressed and angry that her life is spinning out of control, Hadley reluctantly visits the animal rescue where her sister works. Despite not being a "dog-person," she is surprised when Lila the pitbull takes a liking to her. Since she has no other plans during summer break, Hadley begrudgingly agrees to help foster and train the dog. While Hadley helps Lila, the dog also helps her with mobility training, lessons Hadley takes to learn how to use a cane, and meet a new friend. Together, the pair slowly become comfortable enough for Lila to find her forever home and Hadley to forgive her family for their faults and accept the help and love she needs.
THOUGHTS: A cute but predictable novel that young middle grade students will enjoy, especially animal lovers. The narrator's casual language and the easy ending may be off putting to some readers, but the book will be a good addition to an upper elementary or middle grade collection needing diverse stories.
Realistic Fiction          Jaynie Korzi, South Middleton SD