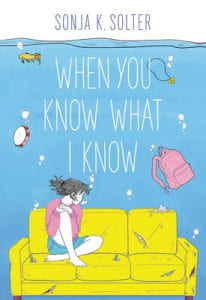 Solter, Sonja. When You Know What I Know. Little, Brown & Company, 2020. 212 p. $16.99. 978-0316-53544-1 Grades 5-8.
Ten-year-old Tori is struggling with the aftermath of sexual abuse by her once-favorite uncle. She feels shame, anger, loss, sadness, and fear. She tells her mom, who is reluctant to believe her, and her grandmother takes her uncle's side. Since her single mom relied on Tori's grandmother and uncle for any childcare for Tori and her eight-year-old sister Taylor, the family strain increases. Their responses make Tori feel worse: "Maybe I shouldn't have told," and her secret is building a wedge between her and her friends as well. This novel told in verse reveals her confusion and pain without being specific about the incident. Eventually, another girl accuses her uncle of abuse, and Tori finds a freeing yet sickening feeling of vindication, along with support from her mother and grandmother.  By novel's end, she discovers she is able to forget the incident for a few hours. The memories still return, "But still./A day like today…/It's possible./I know that now."
THOUGHTS: Solter's novel provides acknowledgement of sexual abuse of young people and the difficulty of not being believed when speaking up; this honesty will provide hope for survivors as well. The content, in no way explicit, is appropriate for upper elementary and middle school readers. The Author's Note states, "My hope for this book is that readers will be encouraged to tell their own truths, and–if someone doesn't believe them at first–to keep on telling until they get the help they need. Healing takes time…[and] is not only possible, it IS where all of our stories are going" (208).
Realistic Fiction          Melissa Scott, Shenango Area SD
Novel in Verse