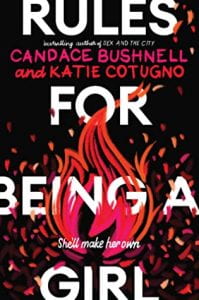 Bushnell, Candace, and Katie Cotugno. Rules for Being a Girl. Balzer & Bray. 2020. 304 p. $19.99 978-0-062-80337-5. Grades 10-12.
For Marin and best friend Chloe, life is going well. They co-edit the school paper together, they're top students, and they have family support to head for the colleges of their dreams.  Their English teacher, Mr. Beckett, "Bex," is seriously intelligent and cool, and treats students as equals with funny stories and insightful classes. Bex goes too far and comes on to Marin (he kisses her), leaving Marin shocked into silence. Had she encouraged him?  Why didn't she anticipate that? What should she do now? She tries to act as though nothing happened, and Bex attempts a "re-set" of their relationship, saying it was an accident, and blaming her. When Marin finally tells Chloe, Chloe believes Marin is either lying or at fault.  Next, when Marin tells her principal, she is told she must have misunderstood and a full investigation will have to be done, since it's her word against Mr. Beckett. Quickly, everyone's talking, joking, or blaming Marin, her English grades dive, and the worst knife of all is that Marin fails to gain acceptance to her dream university due to the incident (and alumnus Mr. Beckett's tip-off to university staff). Her world has exploded, and Marin is struggling against demeaning comments and, suddenly, it seems, all of the ridiculous assumptions people make about girls and women. Finally, Chloe reveals that Mr. Beckett had pulled her into a relationship in the fall, and Marin's truth devastated her. Together, they publish an open letter to staff and students in the school newspaper, asking for any others to come forward. They do, the girls are finally believed, and Mr. Beckett is dismissed without investigation.
THOUGHTS: The characterization of Marin seems contradictory–she is both incredibly intelligent and mature, unbothered by peer reactions, yet initially unaware of–or unbothered by–even the simplest of girl stereotypes. As long as the stereotypes didn't 'hurt' her, she was living a golden life. Bushnell and Cotugno present only a semi-realistic version of a school setting (the school's actions on the allegations are poorly researched), and she gives a far-too-tidy, happy ending–including enlightened boyfriend–for Marin.  This book would be stronger if Mr. Beckett had not been a teacher, but a family friend or a boss, and if Marin's cultural and social awareness matched her intelligence.
Realistic Fiction          Melissa Scott, Shenango Area SD