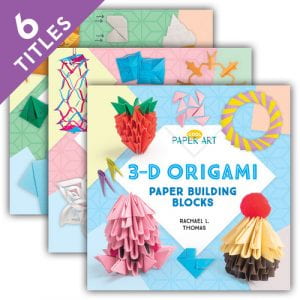 Cool Paper Art. Abdo Publishing, 2020. $20.95 ea. $125.70 set of 6. Grades 3-6.
Borgert-Spaniol, Megan. Accordion Folding: Simple Paper Folding. 978-1-532-11943-9.
—. Karakuri: Paper Made to Move. 978-1-532-11944-6.
—. Papermaking: Handmade paper and Paper Products – 978-1-532-11947-7.
Thomas, Rachael L. Kirigami: Paper Cutting and Folding. 978-1-532-11945-3.
—. Origami: Classic Paper Folding. 978-1-532-11946-0.
—. 3-D Origami: Paper Building Blocks. 978-1-532-11948-4.
Karakuri: Paper Made to Move is an introductory book for readers to the Japanese art of making movement with paper. Provided with specific directions and photographs to match, readers are able to take paper and create different types of movement, including slides, levers, cranks, and cams. These simple mechanisms can be used to introduce readers to different movements and higher level ideas of physics with paper.
THOUGHTS: I am excited to provide this book to our district's STEM teacher, who can teach many of these concepts through paper and art! This series offers a great way to bridge science and fine arts across the curriculum!
736.98 BOR                                        Rachel Burkhouse, Otto-Eldred SD